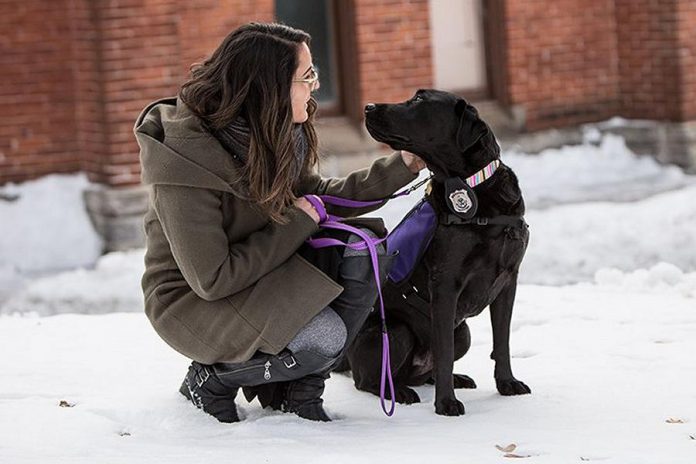 Peterborough's Alice Czitrom is among 15 people and organizations across Ontario to receive a 2020-21 Victim Services Award of Distinction from the Ministry of the Attorney General.
Czitrom is the primary handler of Pixie, the Peterborough Police Service's first-ever facility dog.
"In the face of unprecedented challenges, these dedicated professionals, generous volunteers and outstanding organizations have demonstrated an irrepressible drive to raise awareness of victims' issues, increase access to crisis intervention services and provide compassionate support in times of need," Attorney General Doug Downey said in a statement on Wednesday (April 14).
Advertisement - story continues below
A facility dog is a professionally trained dog that works alongside professionals to provide emotional support to people experiencing trauma and stress, including at police stations and court houses and when testifying virtually.
A social worker by training, Czitrom developed the Peterborough Police Service's first facility dog program in 2019 and is the civilian coordinator of the police service's Victim Services Unit.
Pixie, a five-year-old Labrador cross trained and accredited by National Service Dogs of Canada, joined the Peterborough Police Service in January 2020. As well as providing comfort and support to victims and others, Pixie serves as a goodwill ambassador of goodwill between police officers and community residents.
Since becoming the Peterborough police service's first facility dog, Pixie has provided support at 40 police interviews, five police scenes to help calm the situation, three critical stress debriefings, eight court accompaniments, 25 community presentations, and over 100 meetings between victims and police.
If you want to keep up with Pixie's work, you can follow her on Instagram account at @ptbopoliceK9pixie.
Other recipients of the 2020-21 Victim Services Award of Distinction include:
Individual Recipients
Salem Berhane – Windsor
Cynthia Bland – Ottawa
Ian Kelly – Toronto
Erin Lee – Carleton Place
Patti Lessard – Mattawa
Georgette Parsons – Sarnia
Shauna Pitawanakwat – Sioux Lookout
Shalini Konanur – Toronto
Advertisement - story continues below
Groups and Organizations
EveryMind Child Witness Program – Mississauga
Luke's Place Support and Resource Centre for Women and Children – Oshawa
Muskoka Victim Services, Volunteer Team – Bracebridge
Rainy River District Victim Services – Fort Frances
Sexual Assault Support Centre of Waterloo Region – Kitchener
Sonhatisi:wa – Ohsweken