The following news headlines are aggregated from external websites using Google News or RSS feeds supplied with permission for use from the publishers. We provide these headlines for the convenience of our readers and are not responsible for content on external websites (please refer to our privacy policy for more information).
CBC.ca
One of America's most controversial politicians is causing a stir far north of the campaign trail: at a Canadian university that once granted him a doctorate. Far-right candidate Doug Mastriano didn't deserve his degree, says a professor listed on the dissertation who says he's horrified of the ex-student winning power next month.
Mark Selvidge lost his right-side peripheral vision after a car accident. After 21 years, he reflects on what it means now that a new opportunity allowed him to fully see.
Sign up for our VIP ENEWS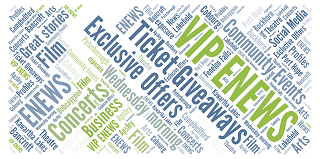 Delivered every Wednesday morning, our VIP Enews has featured news and events for the week, along with ticket giveaways and offers for our VIP Readers!
Submit your event for FREE!