Douro's Karl Moher was chosen as Citizen of the Year at the Kawartha Chamber of Commerce and Tourism's 17th Annual Awards of Excellence Gala, held last night (November 4th) at Elmhirst's Resort in Keene.
Moher, who is Deputy Mayor of the Township of Douro-Dummer and recently retired from his financial services career, was recognized for his lifelong contributions to the community. The award was presented to Moher by RBC's Kris Keller, who is also president of the board of the Kawartha Chamber.
The Young Professional award went to Peterborough's Adam Noble, the young entrepreneur who founded biotech company Noblegen.
The new executive director of Community Futures Peterborough, Jeff Day, presented Adam with the award, which was dedicated to the memory of the late Judy Hefferman.
Elmhirst's Resort, the host venue for the gala, won the Tourism/Hospitality Excellence award. Owner Peter Elmhirst accepted the award on behalf of the family-owned resort.
The Outstanding Business Achievement award went to Nexicom. John Downs, General Manager at Nexicom and former co-owner (Nexicom was recently sold to Clayton Zekelman of MNSi Telecom), accepted the award on behalf of the Millbrook-based company.
Other winners included Blue Pigeon Resort in Bobcaygeon (Commercial Development or Renovation), Cottage Country Connection (Entrepreneur Innovation), Camp Kawartha (Not-for-Profit Excellence), Sunblockers (Retailer of the Year), and Clearview Cottage Resort (Customer Service Excellence).
The Kawartha Chamber of Commerce and Tourism received more than 80 nominations for the awards. Five anonymous and impartial judges reviewed the nominations to select the finalists and winners.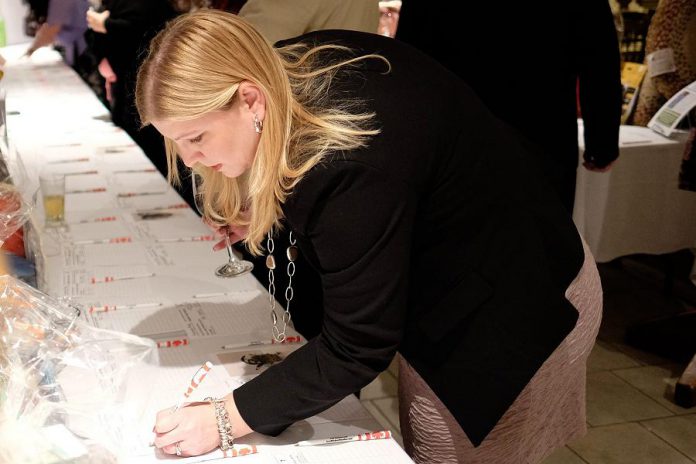 At the awards ceremony, the Kawartha Chamber also announced the winner of its #WealthofChoice contest to promote the Chamber's new website. Peter Gallow won a $1,000 gift certificate, which can be used at any of the Chamber's 350 members or donated to a not-for-profit organization.
The awards ceremony was emceed by Country 105's Miles Gibney. Live auctions were conducted during dinner by Keith Monk for 10 high-value items, and a large number of silent auction items also available.
Marlon Hazlewood of Hazlewood Images was the official photographer for the event.
Here's a complete list of finalists and recipients:
Commercial Development or Renovation (Sponsored by Ennismore Automotive Repair)
Blue Pigeon Resort – Recipient
Lakefield College School
Sunblockers
Entrepreneur Innovation (Sponsored by BDC)
Cottage Country Connection – Recipient
Hard Winter Bread Company
Indian River Reptile Zoo
Not-for-Profit Excellence (Sponsored by Darling Insurance)
Apsley & District Lions Club
Camp Kawartha – Recipient
Habitat for Humanity Peterborough & District
Lakefield Animal Welfare Society
Morton Community Healthcare Centre
Retailer of the Year (Sponsored by Nexicom)
Celtic Connection
Classy Chassis & Cycles
Discovery Dream Homes
Lakefield Pantry
Sunblockers – Recipient
Tourism/Hospitality Excellence (Sponsored by Peterborough Economic Development)
Beachwood Resort & Frederick's Restaurant
Clearview Cottage Resort
Elmhirst's Resort – Recipient
Stoney Lake Market & Grill
Customer Service Excellence (Sponsored by Eastview Property Management)
Accurate Accounting & Tax Services
Clearview Cottage Resort – Recipient
Griffin's Greenhouses
Logan Tree Experts
Sunblockers
the chocolate rabbit
Outstanding Business Achievement (Sponsored by County of Peterborough)
Discovery Dream Homes
Griffin's Greenhouses
Nexicom – Recipient
Young Professional (Sponsored by Community Futures Peterborough)
Citizen of the Year (Sponsored by RBC)