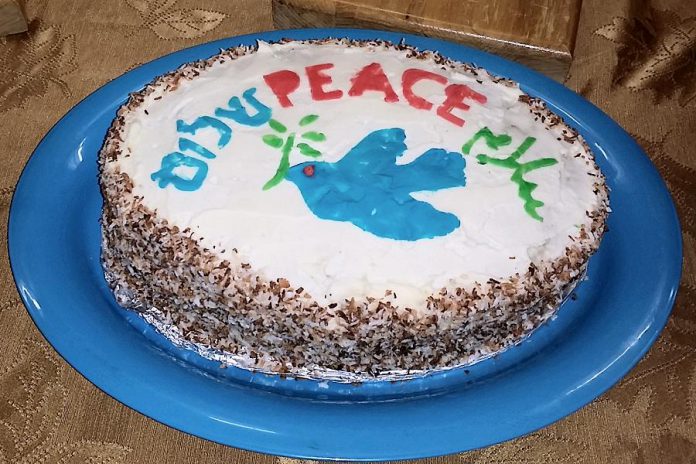 "In the end, what will hurt the most is not the words of our enemies but the silence of our friends."
In the midst of "a different battle for peace," Reverend Martin Luther King gifted his profound wisdom to the discussion. On Wednesday night (February 8) at Peterborough's Beth Israel Synagogue, followers of a number of faiths were again buoyed by Dr. King's words — this time spoken with emphatic passion by Reverend Bill Peacock of Fairview United Church.
"Let us not be silent in our caring, our words or our actions," urged Rev. Peacock, one of 10 people who spoke at "Standing With Our Neighbours", a multi-faith prayer service held as a response to the January 29th killing of six people and the wounding of 19 others at the Centre culturel islamique de Québec in Quebec City. Alexandre Bissonnette, 27, has been charged in connection with the shooting rampage.
While the words offered by each speaker were different, the message was the same: acts of terror don't remotely speak to who Canadians are and the values they hold but, to avoid complacency, Canadians must speak out, and speak out loudly, against intolerance and hatred of all people of all faiths.
"We are at a crossroads in the world today … the political environment is deteriorating and hatred is being allowed to grow," lamented Dr. Dan Houpt, a spiritual leader at the synagogue.
"What happened in Quebec did not happen in a vacuum. It was a result of intolerance of the other. As a Jew, I'm acutely sensitive to this. My people lost six million souls while the world watched."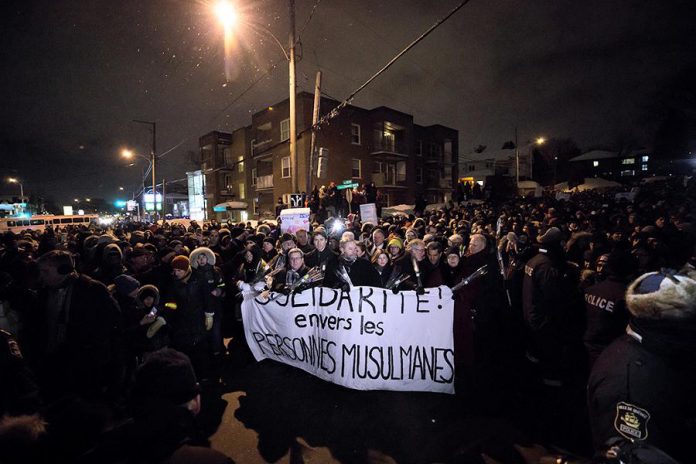 For those who think "this heinous event" is an isolated one, involving "some other people, some other community," Dr. Houpt paraphrased the well-known words of German Protestant minister Martin Niemoller, an outspoken foe of Adolph Hitler.
"First, they came for the Jews and I did not speak out because I was not a Jew. Then they came for the Communists but I did not speak out because I was not a Communist. Then they came for the trade unionists but I did not speak out because I was not a trade unionist. Then they came for me and there was no one left to speak for me."
Well represented at the gathering was Peterborough's Al Salaam Mosque, with Iman Shazim Khan reminding that "no religion teaches hate" before terming the prayer service "one of the many good things that have come out of this tragic event."
Mosque president Magdy Kamar echoed that sentiment, saying "terrorism has no religion" but, having been "committed in the name of all religions, it's not something new." He concluded by saying "We must stand together and remind ourselves that we are united by our differences, not in spite of them."
But words alone don't represent the mosque's reaction to the shooting tragedy. On Friday (February 10), a bus bound for Quebec City will depart at 4 a.m. from the Al Salaam Mosque at 784 Parkhill Road West. Besides bringing their condolences and support to the Muslim community in that city, its passengers will bring financial donations collected at Wednesday's prayer service.
Seats are still available but Mr. Kamar urges those interested in making the trip act quickly. He can be reached at 705-760-0351.
"Actions speak louder than words and we're trying to prove that by going there," said Mr. Kamar, later noting, as part of an obligation to create more awareness of Islam, the mosque is looking at soon hosting an open house.
"The more people know about Muslims and Islam, the more acceptance. They don't know anything about us and they believe only what they may hear."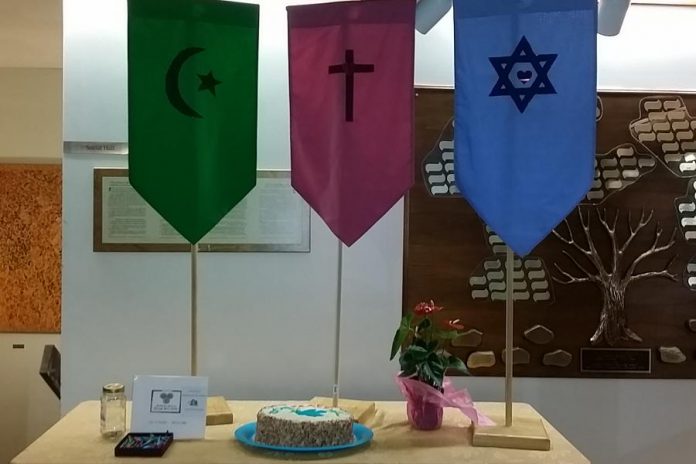 All three levels of government were all also front-and-centre at the prayer service in the form of Peterborough Mayor Daryl Bennett, MPP Jeff Leal, and Lauren Hunter, speaking on behalf of MP Maryam Monsef.
In his remarks, MP Leal decried the rise of Islamphobia — "This hatred of our fellow citizens" — and termed the mosque shooting "a wake-up call to all of us … love always conquers hate and we must pursue that every day."
Reverend Julie Stoneburg of the Unitarian Fellowship of Peterborough spoke in a similar vein, admitting to having no immunity to fear but also possessing the realization that "the demonization of others and hatred don't ever make things better."
"It's not enough for me to say what I believe. I must live it and challenge myself to do more to show love wherever I can and work to bring justice and peace into our world, beginning right here in Peterborough."
Afterwards, synagogue president Larry Gilman, who organized the event and brought each speaker to the front, said it was put together as a "show of solidarity with our Muslim brothers and sisters…this is what Peterborough is all about."
It's not the first time the synagogue has opened its doors wide to the Muslim community. Following a November 2015 act of arson at the mosque — a hate crime, as determined by city police — the synagogue rolled out the welcome mat for local Muslims to pray.
"It (the prayer service) is very overwhelming and heartwarming but it's not surprising," said a grateful Mr. Kamar.
"I've lived in Peterborough for 26 years and I've had all the good experiences. Such generosity isn't new. It's something I experience every day."
VIDEO: "The Masjid" – Matthew Hayes