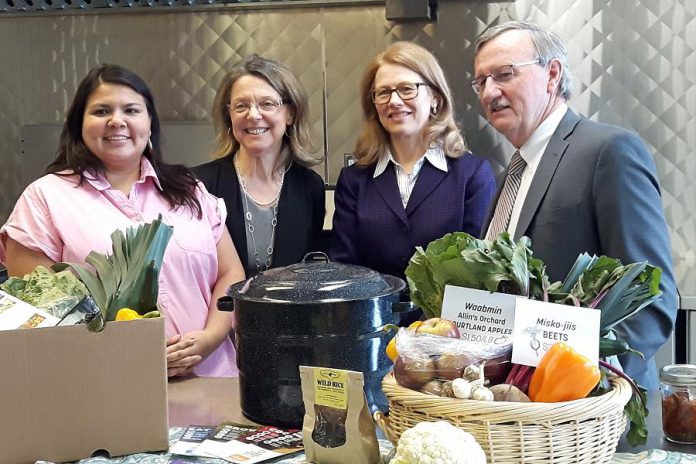 Dr. David Williams, Ontario's Chief Medical Officer of Health, was at Peterborough Public Health today (February 28) to release his new annual report, entitled Improving the Odds: Championing Health Equity in Ontario.
In his report, Dr. Williams calls on all sectors to work collectively on community development to address the social, economic, and environmental barriers to good health. He notes that well-designed community initiatives supporting social cohesion are key to improving health outcomes.
"Public health units have the expertise, interconnectivity and experience to lead community development, which can reduce inequities through its mitigating effects on poor health outcomes," Dr. Williams says. "My report calls for system-wide and cross-government action to advance health equity in our province."
The Nourish program at Curve Lake First Nation is one of the examples in the report of how local partnerships can improve health outcomes.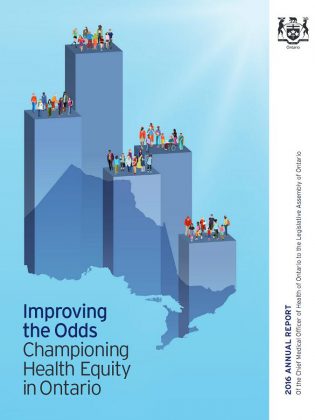 The report states that Curve Lake First Nation was facing a growing problem with food insecurity and high rates of type 2 diabetes, exacerbated by few good quality job opportunities. The Band Council responded by developing a food bank at its health centre, but members recognized more needed to be done to address the underlying factors. The Band Council also wanted to respond to its residents' desire for increased access to healthy foods including more locally grown vegetables and fruit.
Curve Lake First Nations staff worked with Nourish — a collaborative partnership of the YWCA Peterborough Haliburton, Peterborough Public Health, and GreenUP — which uses food to build healthy inclusive communities through eating, cooking, growing and advocating. Nourish, which grew out of the Peterborough Food Action Network (a working group of the Peterborough Poverty Reduction Network, chaired by the local medical officer of health), tries to increase access to healthy foods.
Peterborough Public Health supports Nourish by co-leading the initiative, helping to develop the programs, establishing food literacy standards and sharing a teaching kitchen facility. Public health unit staff have also offered a five-week food literacy program called Come Cook With Us and food handler training/certification at Curve Lake First Nation.
The Nourish program at Curve Lake First Nation, developed with the community, included:
community dinners to bring people together to discuss ideas for interventions and encourage a sense of belonging
monthly Just Food boxes, which are now coordinated by Band staff
a pop-up farmers' market that featured less commonly known local produce, as well as how to use those products to make healthy, easy-to-make meals
incentives such as Nourish Market Dollars given to people who participate in food literacy activities, which encourage them to try activities at home and nudge them to join other food programs
growing, cooking and canning activities/workshops including collective kitchens programs for youth on healthier eating
Nibi Giinwiindawan – We Are Water, an Indigenous Youth and Water Curriculum for children in grades 4 to 6 developed by Curve Lake Elders and other partners with financial support from Healthy Kids Community Challenge Peterborough.
"The Peterborough area is a great example of how communities can mobilize in creative ways to address health inequities like income and food insecurity," says Dr. Rosana Salvaterra, Medical Officer of Health at Peterborough Public Health.
"Dr. Williams' report clearly shows how these local initiatives must connect to broader system-wide changes to sustainably improve public health. Only then can we effectively narrow the gap in health outcomes."
The full 52-page annual report is available for download from the Ministry of Health's website.