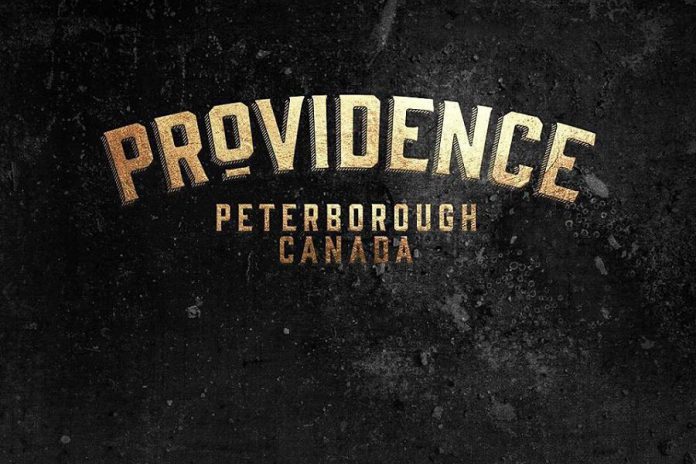 This week's business news includes a new men's wear retail experience called Providence coming to downtown Peterborough, the retirement of well-known Peterborough media personality Graham Hart, federal funding for Westben Arts Festival Theatre in Campbellford, the status of the new Venture13 innovation centre in Cobourg, and drop-in information sessions for businesses on new health inspection disclosure rules.
In regional business events, the final pitch of the 2018 Bears' Lair Entrepreneurial Competition is happening on April 18th, and new events added this week include the Port Hope Chamber Business Awards Ceremony on April 21st, the annual general meeting and community open house hosted by Peterborough & the Kawarthas Economic Development on April 26th, a free renovation workshop from Kawartha Lakes Construction on April 26th, and the nomination deadline for the Lindsay Chamber of Commerce 2018 Excellence Awards on April 27th.
We publish businessNOW every Monday. If you want your business news or events to appear in businessNOW, please email business@kawarthanow.com.
---
A new combination men's wear store, cafe, bar, and barber shop called Providence is opening in downtown Peterborough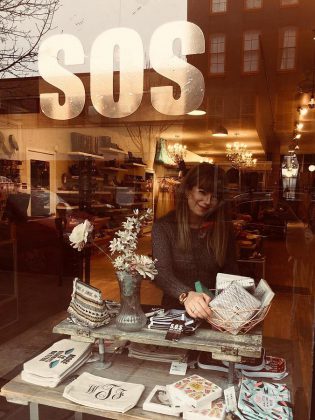 Entrepreneurs Mike and Shelby Watt are making some changes to their existing businesses in downtown Peterborough while launching a unique branch new venture.
The Watts are the owners and operators of SOS Save Our Souls (previously a men's and women's shoe store), Plush Boutique (previously a men's and women's clothing and accessory store), and Flavour Fashion (a men's and women's clothing store oriented towards a younger market and home to the Ptbo Northern Originals clothing brand).
While Flavour Fashion will remain the same, SOS has closed at its current location and has relocated to the former Plush location (384 George St N., Peterborough), which is now called SOS. The men's shoes from SOS, as well as the men's clothing from Plush, will be moving into a brand new store on Hunter Street called Providence.
Providence will be located at 131 Hunter Street West, near the corner of Hunter and Water Street, in the former location of Catalina's — the combination hair salon, vintage store, bar and live performance space which closed in December 2017.
What makes Providence a unique retail experience is that it won't just be selling men's clothing and shoes — the store will also feature a cafe, a licensed bar, a men's grooming area, and a patio.
VIDEO: Mike Watt explains the changes to SOS and Plush
"You can start your day with an espresso and come in and shop men's fashion," says Mike Watt in a promotional video. "It's fully licensed now as well. We've got a patio going out back. We are putting in a grooming area too where guys can get shaved and haircuts.
"It's just going to give us a clean space now where we can really lay things out for guys and give them that head to toe look. We're excited about it and we think it's the right move to move forward in downtown."
Providence (131 Hunter St. W., Peterborough) will open for the first time on Friday, April 17th from 8 a.m. to 8 p.m.
Although SOS is already open in its new location, Shelby Watt will also be having a closing sale at the former location soon.
CHEX TV personality Graham Hart is retiring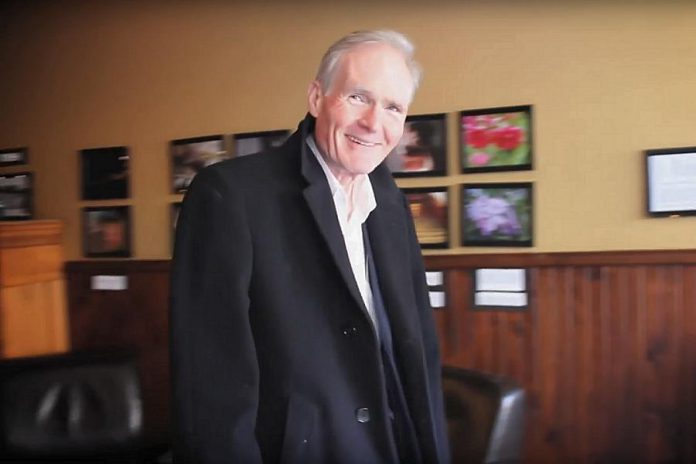 Graham Hart, one of Peterborough's most well-known media personalities, is retiring on April 30, 2018 after 45 years at CHEX Television.
Born in Dartmouth Nova Scotia, Graham graduated from Dartmouth High and studied engineering at Dalhousie University before turning to broadcasting. He worked at radio stations in Bridgewater and Halifax in Nova Scotia, as well as Chatham, Hamilton, and Niagara Falls in Ontario, before accepting a position with CHEX TV in Peterborough in 1973. He left CHEX in 1975 for Europe, returned to Canada seven months later to work at CBC in Dartmouth, and then returned to CHEX.
Graham was a familiar face on CHEX-TV as a news anchor, and later held a number of management positions including news director and executive vice president of one of the company's radio stations. From the late 1970s to 1998, he hosted Campus Quiz, a local quiz show that pitted Grade 8 classes from the region against each other. He also hosted an interview show called Hart's Beat, where he interviewed local news makers as well as others such as former Prime Minister John Turner.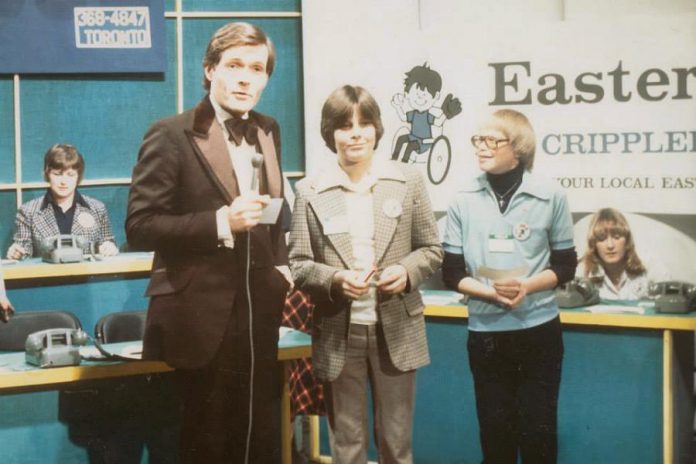 Graham is also well known and highly respected for his work in the community, including with Arbour Theatre, the Peterborough Festival of the Arts, the Ontario March of Dimes, the Peterborough Canadian Mental Association, the Peterborough Family Resource Centre, the Save The Market Hall Committee, the Peterborough Concert Association, the Peterborough Pathway of Fame, the Annual CHEX Easter Seals Telethon for children with disabilities, the Lakefield Animal Welfare Society, and more.
In 2015, the City of Peterborough awarded Graham with a Lifetime Achievement Award during the annual Civic Awards ceremony.
The announcement of Graham's retirement on social media drew many congratulations, kudos, and best wishes. Here are a few:
"Working with Graham was honestly like watching a master class in broadcasting," writes Jay Scotland, former CHEX and current CBC meteorologist.
"Graham is indeed 'a class act', professionally and personally," writes former Peterborough mayor Sylvia Sutherland. "We go back to 1976, when he auditioned me for what became a 10-year stint on 'The Afternoon Show', and a few months of producing 'Hart's Beat'. His well-earned retirement is going to leave a huge gap at the station."
"The best of the best", writes actor Linda Kash. "A lifetime of achievement."
"Graham hired me," writes Peterborough Chamber president and CEO Stuart Harrison. "Other than that he's had a stellar career!"
Westben Arts Festival Theatre in Campbellford receives $100,000 in federal funding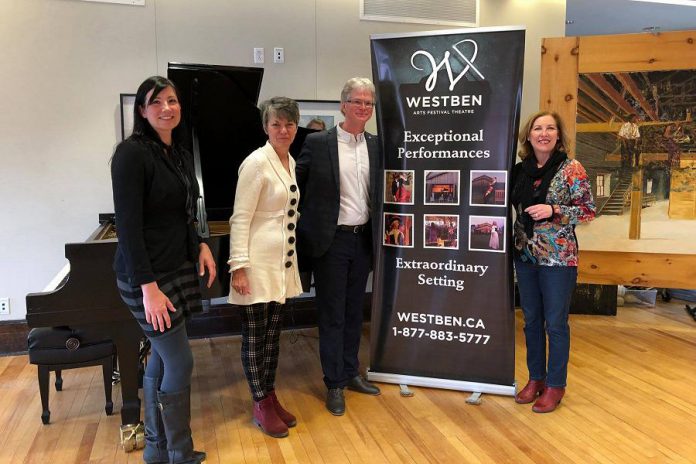 Last Monday (April 9), Northumberland—Peterborough South MP Kim Rudd announced that Westben Arts Festival Theatre in Campbellford will receive $100,000 through the Canada Arts Presentation Fund.
Rudd made the announcement on behalf of Minister of Canadian Heritage Mélanie Joly, whose ministry administers the fund providing financial assistance to organizations that professionally present arts festivals or performing arts series, and organizations that offer support to arts presenters.
The funds will provide support for Westben's "Concerts at the Barn" series over the next two years.
"Westben is one of the finest examples of community theatre in this province, with world-class performances taking place here every year," Rudd said. "Westben remains a thriving cultural hub, and this funding today will help advance their programs."
For more information about Westben Arts Festival Theatre, visit www.westben.ca.
Venture13 innovation centre in Cobourg is nearing completion
Venture13, a new state-of-the-art technology centre for startups and entrepreneurs in Northumberland County, is nearing completion and is slated to open on May 17, 2018.
Located in Cobourg at 739 D'Arcy St. in the Northam industrial park, the 30,000-square-foot business hub will include a 15,000-square-foot entrepreneurial space, a 75-seat lecture hall, partner offices, public and private meeting rooms, and maker spaces for design, prototype, and creation.
Venture13, led by the Town of Cobourg in partnership with Northumberland Community Futures Development Corporation, is based on similar innovation centres in other cities such as The Hub in Peterborough.
The name comes from "Building 13", the original name of the building owned by the Town of Cobourg that was once the site of the Canadian Forces Base central "Depot". At its peak in 1955, the Royal Canadian Ordinance Corps provided 735 local jobs.
Fleming College, the main post-secondary school institutional partner in Venture13, recently invested $100,000 in Venture13. The funds will to support the technical components in the centre, including audio visual suites that will allow for real-time remote lectures. The college will be providing regular courses at Venture13.
More than 180 activities have already booked for the centre. Northumberland Makers, a community organization teaching do-it-yourself skills and project-based applied and experiential learning, will help provide programming in the centre's MakerLab, including bi-weekly safety and equipment training, a Tedx-inspired talk series, and a one-week Lego robotic camp for children in the summer.
For more information, visit financingandstrategy.com/venture-13/.
Health unit hosting drop-in information sessions for businesses on new health inspection disclosure rules
The Haliburton, Kawartha, Pine Ridge District Health Unit is hosting a series of drop-in information sessions for local businesses affected by new health inspection disclosure rules.
The Ontario Ministry of Health and Long Term Care enacted new public health standards that came into effect on January 1, 2018. The provincial requirements, which are designed to increase accessibility to information, include a requirement that health units post all health inspection and re-inspection results for affected businesses on a public website.
Affected businesses include restaurants and food premises (including cafeterias, grocery stores, banquet halls, and catering kitchens), beauty and body art businesses (including tattoo parlours, barber shops, nail/hair salons, and body piercing studios), and recreational water facilities (including public pools, spas/hot tubs, splash pads, and wading pools).
As well as the public posting of inspection results, the new standards require affected businesses to post a sign on their premises showing the results of their most recent health unit inspection. Food premises must also have someone trained in safe food handling on site at all times when their premise is open or operating.
To adhere to the new requirements, the health unit will be launching a new program called HKPR CheckINspection on July 1, 2018. Residents able to visit the health unit's website and find a link to a list of all the applicable businesses, their location, type of operation, and the dates and results of recent inspections. Inspection reports will be backdated to January 1, 2018 and will remain online for two years.
As part of the campaign, the health unit is working with area business owners to provide them with information about the new requirements and is developing a new public education campaign for residents.
The health unit is hosting three drop-in information sessions for businesses in the City of Kawartha Lakes on Monday, April 23rd from 7 to 9 p.m. at the health unit's Lindsay office (108 Angeline St. S., Lindsay), in Northumberland County on Monday, April 23rd from 7 to 9 p.m. at the health unit Port Hope office (200 Rose Glen Rd., Port Hope), and in Haliburton County on Monday, April 30th from 7 to 9 p.m. at Haliburton United Church (10 George St., Haliburton).
For more information, contact the Health Unit at 1-866-888-4577 or email info@hkpr.on.ca.
Medical Officer of Health at Peterborough DBIA Breakfast Network on April 18
Dr. Rosana Salvaterra, Medical Officer of Health with Peterborough Public Health, will be the guest speaker at the next Peterborough Downtown Business Improvement Area (DBIA) Breakfast Network on Wednesday, April 18th.
The DBIA Breakfast Network meets on the third Wednesday of the month at Empress Gardens at 131 Charlotte Street and is open to everyone.
Breakfast begins at 7:30 a.m. with Dr. Salvaterra speaking at 8 a.m. Tickets are $5 at the door.
2018 Bears' Lair Entrepreneurial Competition Final Pitch on April 18
The six finalists in the 2018 Bears' Lair Entrepreneurial Competition will be pitching their businesses to a panel of judges on Wednesday, April 18th at The Venue (286 George St. N., Peterborough).
The finalist in the innovation stream are ViSmart, Transit One, and Kavtek, and the finalists in the goods and services stream are Full Tilt Cycle, Percheron Plastic Inc. and Indigo Green.
Doors open at 6 p.m. with the event beginning at 6:30 p.m. A panel of judges — Nicole Verkindt, founder and CEO of Canadian technology company OMX; Rhonda Barnet, President and COO at Steelworks Design Inc. and Chair of Canadian Manufacturers & Exporters Board of Directors; and Geordie Konrad, co-founder of digital innovation company Konrad Group — will score the finalists' presentations based on innovation, commercialization, diversification, business plan quality, and the benefit to the local economy.
The two winners (one for the innovation stream and one for the goods and services stream) will be announced at 8:45 p.m.
Tickets are $10 and can be ordered online at bearsptbo18.eventbrite.ca.
Application deadline for Slingshot incubation program for young entrepreneurs is April 20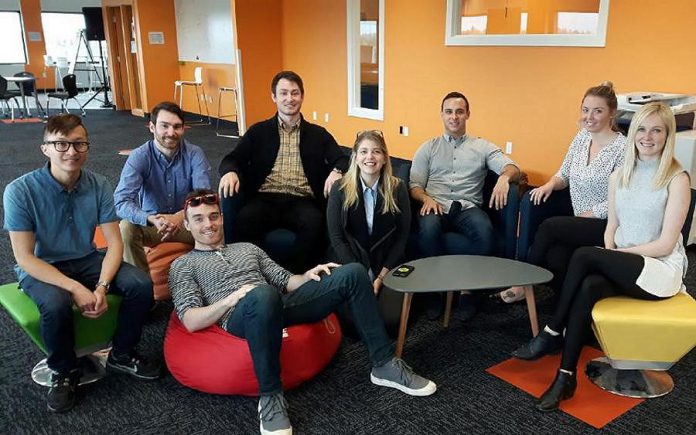 The application deadline for Slingshot, the Innovation Cluster and FastStart Peterborough's summer incubation program for young entrepreneurs between the ages of 18 and 29, is midnight on Monday, April 20th.
Successful applicants will receive coworking space in the downtown Cube along with tools, resources, and funding opportunities to grow their business — a value of $5,000 for four months.
Participants in the inaugural Slingshot program in 2017 included businesses related to social media, drones, hockey, influencer marketing, podcasting, and digital solutions. (Photo: Innovation Cluster)
Applicants must be between the ages of 18 and 29, planning to start their company in Peterborough and the Kawarthas, and have an idea for a company or have been operational for under one year. Applicants outside of the region are encouraged to apply if they intend on making the move to Peterborough.
At the end of the summer, the most successful company will receive a $1,000 cash prize along with other prizes. Last year's winner was Vetterview, a social media influencer marketplace created by founder and Slingshot participant Alex Gastle. He is now in London, England growing the company.
Successful applicants will move into the Cube to begin working on their company on May 1st. For more information or to apply, visit www.innovationcluster.ca/slingshot/.
Port Hope Chamber Business Awards Ceremony on April 21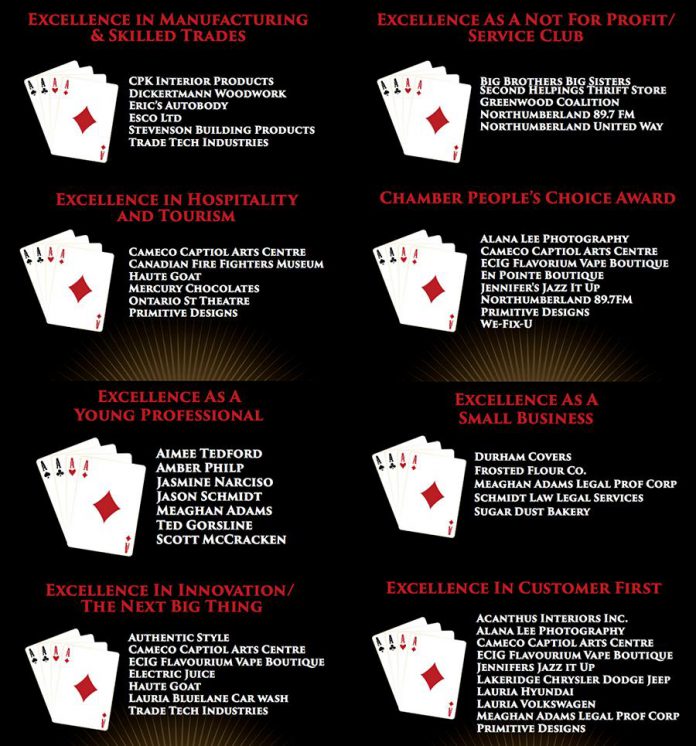 The Port Hope and District Chamber of Commerce is hosting its 21st annual Business Excellence Awards ceremony on Saturday, April 21st at Dalewood Golf Club (7465 Dale Rd. Cobourg).
The event, with a "Casino Royale" theme, begins with social hour and networking at 5:30 p.m. followed by dinner and the awards at 6:30 p.m.
Tickets are $100+HST and can be reserved by calling 905-885-5519 or emailing admin@porthopechamber.com.
Peterborough & the Kawarthas Economic Development Annual General Meeting and Open House on April 26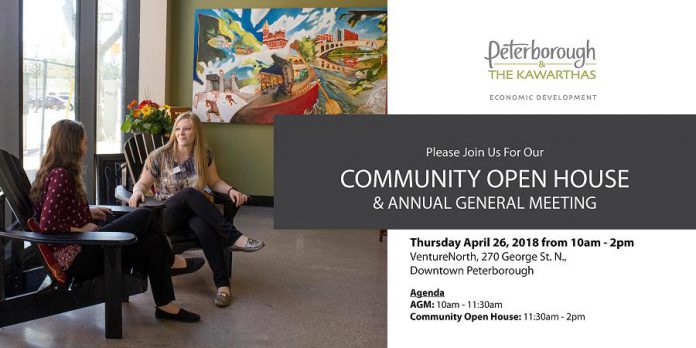 Peterborough & the Kawarthas Economic Development (PKED) is holding its Annual General Meeting followed by a Community Open House on Thursday, April 26th at VentureNorth (270 George St. N., Peterborough).
The open house, which takes place from 11:30 a.m. to 2 p.m. on the main level, offers the general public the opportunity to learn more about the economic organization's role in the community.
A celebration of the PKED's first year at VentureNorth, the open house will include a meet-and-greet with the organization's clients and a tour of offices including the Visitor Centre and the Business Advisory Centre. Refreshments will be available, catered by Hard Winter Bread Co. and EC Catering.
PKED's Annual General Meeting (AGM) takes place from 10 a.m. to 11:30 a.m. on the lower level and will include reports, the election/reappointment of board members, by-law amendments, an update from PKED President and CEO Rhonda Keenan, and volunteer and board member recognition. Seating is limited for the AGM and free registration is required at pked-agm-2018.eventbrite.ca.
Kawartha Lakes Construction offering free renovation workshop on April 26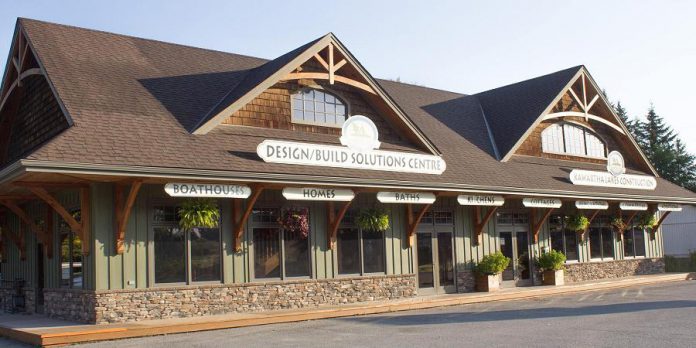 Kawartha Lakes Construction (KLC) is hosting "The Value of Design-Build: Your Guide to a Stress-Free Renovation" from 6 to 8 p.m. on Thursday, April 26th at its offices at 3359 Lakefield Road in Lakefield.
The free event includes an interactive presentation led by KLC's Scott Wootton which discusses the elements of a great project and why solid planning is so important, including local by-laws to be aware of and choosing the right products and materials for your project.
Following the presentation, you will be able to spend one-on-one time with KLC's team of designers and project developers to discuss your questions and concerns. Light refreshments will be provided.
Space is limited, so you must register in advance at Eventbrite.
Innovation Cluster Agriculture Tech Power Breakfast on April 27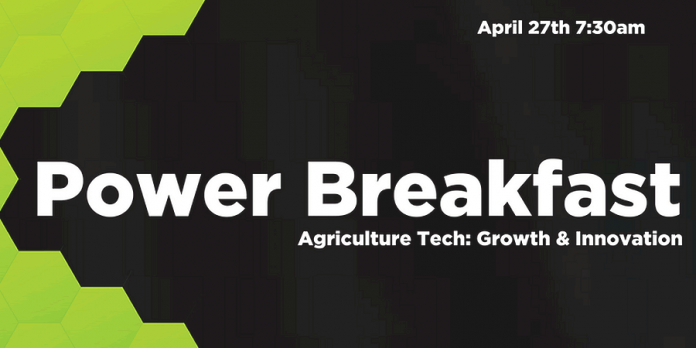 The Innovation Cluster's next quarterly Power Breakfast is on the topic of growth and innovation in agriculture technology and takes place on Friday, April 27th at the Holiday Inn Peterborough Waterfront (150 George St., Peterborough).
Presented by Southern Ontario Fund for Investment in Innovation, guest speakers are Jeal Leal (Peterborough MPP, Minister of Agriculture, Food and Rural Affairs, and Minister Responsible for Small Business), Thien Quoc Nguyen and Suresh Narine of the Trent Centre for Biomaterials Research at Trent University, and Darren Goldin (Co-Founder and VP of Operations for Entomo Farms).
The breakfast event takes place from 7:30 to 9 a.m. and features a buffet breakfast of eggs benedict, fresh baked muffins, seasonal fruit yougurt parfaits, smoothies, and pan-friend potatoes.
The Power Breakfast is free, but registration is required.
Nominations for Lindsay Chamber of Commerce 2018 Excellence Awards open until April 27
Nominations for the Lindsay and District Chamber of Commerce's 2018 Excellence Awards are open until Friday, April 27th.
Awards will be given out for Agricultural Excellence, Arts Excellence, Business Leader of the Year, Citizen of the Year, Customer Service Excellence, Design Excellence, Employer of the Year, Marketing Excellence, New Business of the Year, Not-For-Profit Excellence, Tourism Excellence, and Youth Mentorship Excellence.
The winners will be announced at the Evening of Excellence awards ceremony on Friday, June 1st at Lakeview Arts Barn in Bobcaygeon.
For more information and nomination forms, visit www.lindsaychamber.com
Bobcaygeon Chamber of Commerce Awards of Excellence on April 28
The Bobcaygeon Chamber of Commerce's annual Awards of Excellence takes place from 5:30 to 10:30 p.m. on Saturday, April 28th at the Lakeview Arts Barn (2300 Pigeon Lake Rd., Bobcaygeon).
Awards will be presented in the following categories: Employee Achievement, Not for Profit Achievement, Business Achievement, Citizen of the Year, New Business Achievement, Tourism Achievement, Hospitality, and Creative Arts Achievement.
For more information, visit www.bobcaygeon.org.
Trent Hills Chamber Business Excellence Awards Ceremony on April 28
The Trent Hills Chamber of Commerce awards ceremony for the 2018 Celebration of Business Excellence takes place from 7 to 9 p.m. on Saturday, April 28th at Island Park Retirement Residence (18 Trent Drive, Campbellford).
Awards will be presented in the following categories: Emerging Entrepreneur Award, Customer Experience Award (Service-Based), Customer Experience Award (Product-Based), Pride And Progress Award, Ignite 2018 – Business, Ignite 2018 – Non-Profit Organization, Excellence In Business, Community Impact Award, Inclusive Community Employer Award, and Chair's Award.
A cocktail reception begins at 7 p.m. followed by the awards ceremony at 8 p.m.
Tickets are $35+HST, available at trenthillschamber.ca/business-awards/.
Business Owners Sharing Solutions (BOSS) – Mental Health in the Workplace on May 9
The Kawartha Chamber of Commerce & Tourism's next Business Owners Sharing Solutions (BOSS) seminar takes place from 7:30 to 9:30 a.m. on Wednesday, May 9th at the Lakefield Legion (10 Nicholls St., Lakefield).
The session will focus on coping strategies and techniques to encourage mental wellness in your workplace, with panelists Jack Veitch of the Canadian Mental Health Association, Dave Pogue of Team 55, and Ashley Challinor of the Ontario Chamber of Commerce.
The cost is $15 for Chamber members and $25 for non-members.