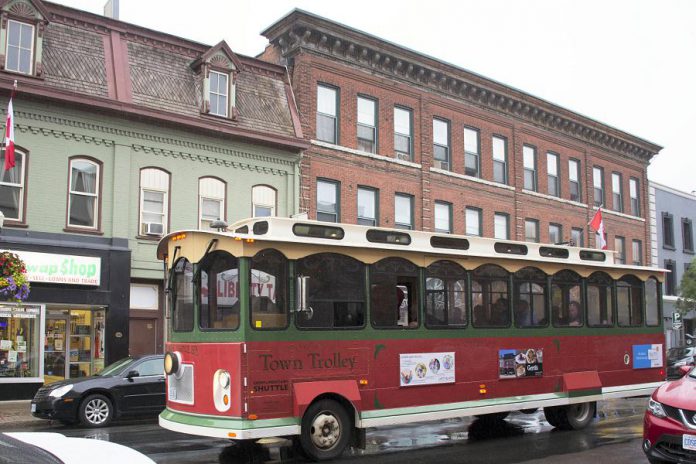 A new free trolley service is starting in downtown Peterborough this summer.
The Peterborough Downtown Business Improvement Area (DBIA) is launching the trolley service from downtown to Del Crary Park for the free Peterborough Musicfest concerts, which take place every Wednesday and Saturday night during the summer.
Free trolley rides will begin on Saturday, June 30th and run through Saturday, August 25th.
"We wanted to support Musicfest in a way that also helps our downtown," says DBIA executive director Terry Guiel. "The San Francisco-style trolley car really takes people back in time and that is the charm we wanted to capture."
Guiel and Councillor Dean Pappas looked at ways to get Musicfest patrons parking, shopping, and dining downtown before and after the concerts. The trolley caught their eye during Doors Open Peterborough in May, when there was a lot of positive reaction from the community.
"The trolley is an engaging way to link two amazing things about this city, downtown Peterborough and Musicfest," says Pappas. "This is going to be good for local businesses, good for people with accessibility challenges, and good for all of us who are heading to Del Crary Park this summer for an amazing lineup of entertainment at this year's Musicfest."
The trolley is owned and operated by Michael Bryant of Dromoland out of Little Britain. It is actually a converted bus made to look like a trolley. Bryant will bring in a trolley load of visitors with him from Kawartha Lakes each concert night and take them home after. The trolley will be driven by the City of Peterborough's own transit drivers from Amalgamated Transit Union Local 1320.
According to local historian Elwood Jones, real trolleys used to run in downtown Peterborough between 1904 and 1928, with a much earlier version in the 1890s.
"Peterborough Musicfest is excited to announce our new partnership with DBIA!" says Tracey Randall, General Manager of Peterborough Musicfest. "Thank you for providing free shuttle service to our visitors and fans who will be shopping and eating out downtown every Wednesday and Saturday all summer long. We appreciate connecting our community together with live music at the park and a unique experience to get you there."
All stops will occur on the right side of George Street. Trolley pickups will begin at Confederation Square (across from City Hall) and continue at the intersections with Brock, Hunter, Simcoe, Charlotte and King from 6 to 10 p.m.. The trolley will finish at Del Crary Park where it will swing around and loop back to City Hall.
The trolley is accessible and can hold 30 people seated and 15 standing.
The DBIA notes the trolley is not intended as a substitute for Peterborough Transit, and expects the demand for this free trolley will exceed its capacity, especially when the concerts end. Priority will be given to those with mobility issues, seniors, and expectant mothers or parents with young children.
The trolley service is being sponsored by the DBIA, Aon Inc., Cogeco Your TV, James "Mighty" Fallen, Ontario Carpet Supermart, and Gerti's.