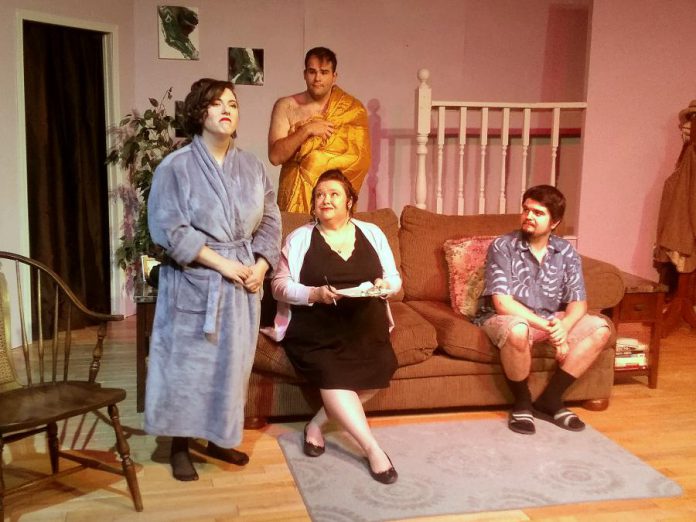 February gets hot and steamy at Lindsay Little Theatre when they present Norm Foster's offbeat comedy Skin Flick, running from February 8th to 16th in Lindsay. Directed by Kathryn Wooldridge-Condon, Skin Flick may seem a daring choice for the small theatre company but, despite the potentially raunchy subject matter, the show will prove to be popular with audiences that dare to take a chance on it.
Just knowing that this play is written by Norm Foster should calm initial fears by anyone who thinks this play might not be for them. Honestly, if you love Norm Foster, you're going to enjoy Skin Flick just as much as any of his popular comedies.
Written in 2009, Skin Flick is one of Norm Foster's most unusual plays. Not only does it tackle the subject of the pornography industry in a comical way, but it also has an unusual narrative style, as well as stronger language and innuendo than other shows by the popular Canadian playwright.
Skin Flick has everything that audiences know and love about a Foster play: ordinary characters in strange situations, endearing moments of truth, and tons of heart. However, it takes a little bit longer than usual for the heart of the show to come out, so audiences might need a little more convincing to wait for it.
Skin Flick is presented by the story's narrator Rollie Waters (Andre Canivet), who finds himself unemployed when his job at a costume shop gets phased out due to the operation moving to another city. Coincidently, Rollie's best friend and news cameraman Alex (Collin Dusome) also finds himself out of work after a sexual misconduct incident in the workplace that he claims was accidental.
When Rollie accidentally rents a pornographic video for his wife Daphne (Colette Marshall Schroter) to "review" for an upcoming job interview she has, Alex explains to the couple just how much money a good porn video can generate despite being cheap to make.
Alex manages to convince the straight-laced middle-aged couple, with no money coming into their home and few prospects on the horizon, to go into the pornography business. Enlisting the "talents" of kooky failed actress Jill (Sophie Kourtsidis) and mild-mannered bookie Byron (Dylan Robichaud), the unlikely cast of characters go through with their unlikely plan. But just as one would expect from any Foster play, deep lessons and a little love are found along the path of creating the perfect porno film.
I admit I had my reservations about Skin Flick when first hearing about the premise, as well as when looking at some of the promotional material put out by Lindsay Little Theatre. It's not that I'm prudish by any means, but I went into the show with some huge misconceptions of what I was about to see. Those misconceptions continued when the show started and, to be honest, probably stayed with me well into intermission.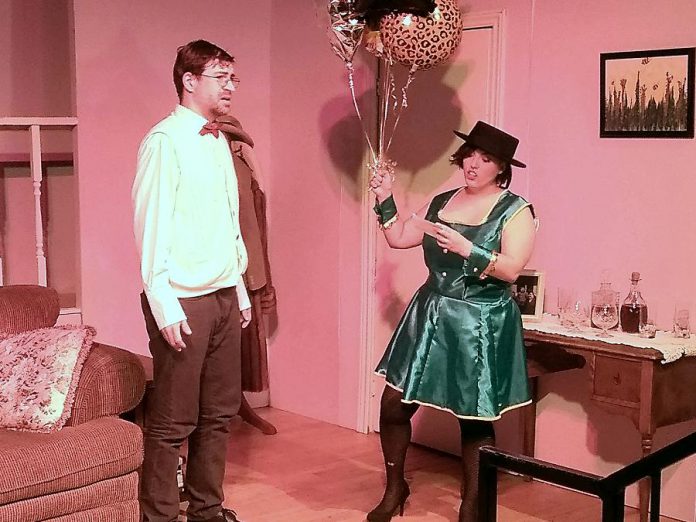 But Skin Flick is pure Norm Foster and, once the show gets into its second act, the play's dramatic moments and true charm begin to reveal themselves, and the playwright starts to unveil a third dimension to his characters that wins the audience over.
Of course Skin Flick is filled with sexual humour, but overall the humour is very sanitized. It might be a bit more risqué than some shows, but the humour never gets dirty as much as naughty. It's more Benny Hill than Russ Meyer, and even then Benny Hill probably gets more graphic than Skin Flick ever does.
In fact, most of the real humour in the show comes from just how ridiculous the entire thing is, and any on-stage physical moments between Dylan and Sophie are so awkward that you are laughing more than being titillated. Audience members who have concerns about any sort of sexual acts on the stage can be reassured.
Where Foster does falter in Skin Flick is that he takes too long to reveal the emotional crux of the show, in which its strength and charm lies. It's not until the second act that you realize the story is not about three people making a porn film — which the first act would have you believe — but about the relationship between Jill and Byron, two strangers who have been thrust together into a situation where they need to be physically intimate.
These two mismatched characters create a charming bond, and their dialogue is very human and endearing. It isn't until the drama turns to these two characters that the show realizes its potential to win over a sensible and mature audience — which the Lindsay Little Theatre company does easily.
It's the special chemistry between Dylan Robichaud and Sophie Kourtsidis that creates the magical moments of Skin Flick. Separately, the two performers give outstanding comical performances: Sophie is expressive and quick with the funny throw-away lines, and Dylan is hilariously awkward as a nervous man who wanted to be a doctor instead of a bookie let alone a porn star.
But together the pair shines, whether during ridiculous sexual direction or their heart-to-heart conversations, putting a new spin on the character of the porn actor.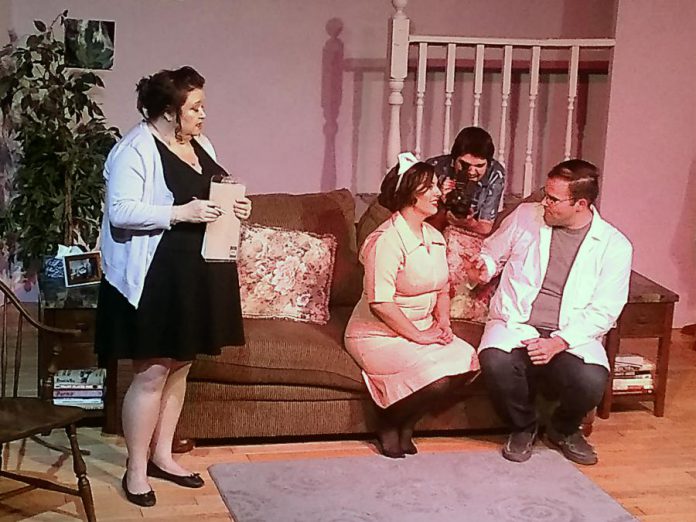 Skin Flick reminds us that behind every character in a sex video there is a real person with a real story and real emotions that get lost in the sexual gratuity. In Skin Flick, the true emotions and the people behind the video become the focus of the story, giving the show the heart it needs.
The other charming and unique element of Skin Flick is the unusual narrative style that Foster wrote for his main character Rollie Waters. Rollie breaks the fourth wall throughout much of the show, addressing the audience directly.
There are little moments of this throughout the narration that are unique and very funny. When Rollie addresses the audience, the other characters can hear what he's doing but don't realize there's an audience. Rollie also affects what the other characters can and can't do, especially in regards to colourful dialogue.
Andre Canivet plays Rollie with a straightedgeness and Mr. Rogers quality that provide a cute juxtaposition to the show's subject matter. Andre takes a lot on his shoulders in creating this key character, but he does with modesty and charm, which goes a long way during the seedier moments of the play.
High praise also goes to Marshall Schroter and Collin Dusome in the supporting roles of Daphne and Alex. Relative newcomers to the stage (both had previously appeared in small roles in Lindsay Little Theatre's production of Goodnight Desdemona last fall), both have been inspiredly cast in Skin Flick.
Marshall makes Daphne a woman who values substance and intelligence, which makes her the completely wrong person to be writing and directing a porno film, creating a lot of comedy. Meanwhile, Collin's Alex is the classic "obnoxious buddy next door' character who sits somewhere between the lovability of Ed Norton but with the obnoxiousness of Larry Dallas. You kind of love him, but you're not sure why.
Skin Flick provides an unlikely plot for an unlikely production for Lindsay Little Theatre. But the true charm of the show does eventually reveal itself, and the material is gallantly delivered with a sense of fun and charm by Katheryn and her company.
I wasn't sure what I'd think of Skin Flick when I first arrived for the show, but by the end it had won me over. Good performances, fun characters, and a story with the Norm Foster brand of heart is just what an audience needs to heat up a cold February night.
Skin Flick will be performed at Lindsay Little Theatre (55 George St., Lindsay) at 8 p.m. on Friday, February 8th and Saturday, February 9th and again on Friday, February 15th and Satuday, February 16th, with an additional matinee performance at 2 p.m. on Sunday, February 10th.
Tickets are available in person or by phone at the Academy Theatre box office (2 Lindsay St. S., Lindsay, 705-324-911), online at ticketmaster.ca, or at the door the night of each performance.