For the final performance event of Public Energy's 25th anniversary season and coinciding with International Women's Day, Jaberi Dance Theatre is presenting the world premiere of No Woman's Land on Saturday, March 9th and on Sunday, March 10th at the Market Hall Performing Arts Centre in downtown Peterborough.
This intricate and multi-disciplinary dance performance explores the real stories of women in refugee camps.
Iranian-Canadian choreographer Roshanak Jaberi spent three years conducting extensive research and interviews to prepare this important new Canadian work.
"As someone who has lived experience both as a refugee and a survivor of war, I felt an urgency to use my platform to speak about this issue," says Jaberi, who is the artistic director of Toronto-based company Jaberi Dance Theatre.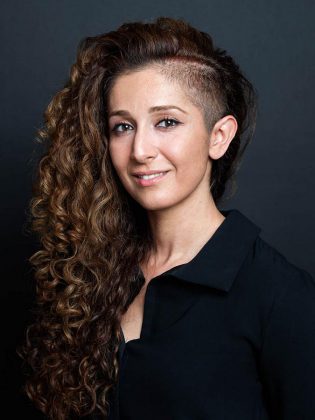 "I decided to focus on the experiences of racialized refugee women in particular because they face the highest level of violence and discrimination, especially during pre-migration."
Jaberi developed No Woman's Land in collaboration with Doris Rajan at the Institute for Research and Development on Inclusion and Society (IRIS) and University of Toronto professor Dr. Shahrzad Mojab, whose participation was critical to telling a story that explores the realities and plight of refugee women.
"I always collaborate with experts who can guide my process, ensuring that the stories are captured ethically and authentically before I attempt to interpret them artistically," Jaberi says. "We are currently experiencing the highest levels of displacement on record, with over 68.5 million people around the world having been forced from their home."
For No Woman's Land, Jaberi also collaborated with choreographic mentor and artistic advisor Karen Kaeja and dramaturge Soheil Parsa, as well as an ensemble of six dancers and collaborators on visuals, sound, costumes, aerial silks and vocals.
Montreal artist Jérôme Delapierre has created an interactive visual design using body mapping and intricate sensors to re-envision the space, taking the audience on a visceral journey through migration.
Other collaborators whose work serves to heighten the experience include the original sound design and composition of Thomas Ryder Payne and costumes by veteran designer Cheryl Lalonde.
Prior to the premiere performances of No Woman's Land at the Market Hall, Jaberi is also artist-in-residence with Public Energy this week. During the residency week, her dance company will take part in a number of outreach activities in the community:
an open rehearsal from 2 to 2:45 p.m. on Tuesday, March 5th at Nozhem First Peoples' Performance Space at Trent University's Gzowski College
an artist talk with Roshanak Jaberi from 7 to 8 p.m. on Wednesday, March 6th at Bagnani Hall at Trent University's Traill College
a panel discussion for International Women's Day with Roshanak Jaberi, Alexandra Arraiz Matute, and Stacy Love-Joliceur from 6:30 to 8:30 p.m. on Thursday, March 8th at Seeds of Change at Emmanuel United Church. This event is hosted and organized by a number of local organizations including Kawartha World Issues Centre (KWIC) and the Kawartha Sexual Assault Centre (KSAC).
Jaberi Dance Theatre has also led a creative workshop for the New Canadians Centre of Peterborough, which has purchased bulk tickets for their clients to attend the Market Hall performances.
After the world premiere at the Market Hall in Peterborough, No Woman's Land will premiere in Toronto at Danceworks from March 14th to 16th.