On Saturday, July 6th, The 24 Hour Project returns to the Gordon Best Theatre in downtown Peterborough after a two-year absence.
A popular theatrical event, The 24 Hour Project brings together a melting pot of writers, directors, and performers to create five original plays in a single day.
Fast, furious and wildly entertaining, this normally annual event returns for the first time since 2017, under the direction of Arbor Theatre's new creative director Em Glasspool (also artistic director of Mysterious Entity Theatre).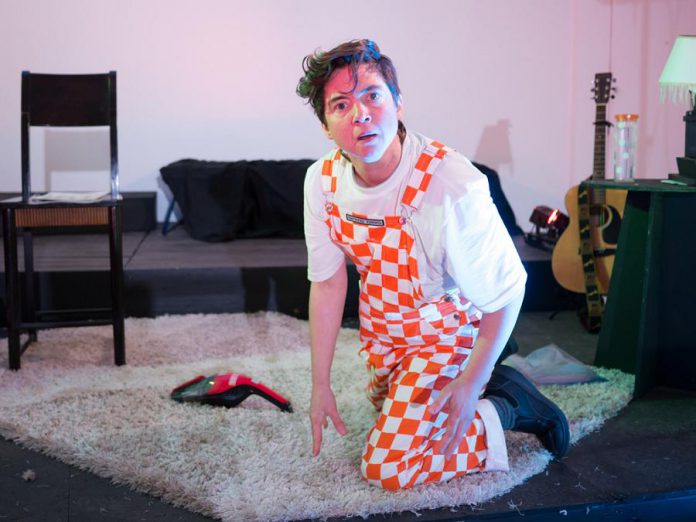 "The 24 Hour Project is a thing that has happened all over the world," Em says. "I remember doing the very first one in Peterborough about twenty years ago. Personally, I have taken part as an actor, as a writer, and as a director — and they all have their own terrifying but rewarding aspects."
"As a performer, there is this terrifying feeling of 'Oh my god, I'm in front of people and I have lines I don't remember because I got them only a few hours ago.' The writers try to put together something in a very short amount of time. I think the most successful pieces are ones that do have some sort of structure with the traditional aspects of a play. Directors need to have a vision quickly and give their performers confidence very strongly in a very short period of time."
The 24 Hour Project has a very structured timeline, beginning with the five writers meeting with Em at The Gordon Best Theatere at 7:30 p.m. on Friday, July 5th. Scheduled to write what will be the five original shows for the following evening are Linda Kash, David Bateman, Christopher Wilton, Nicky Gibeault, and K Thomas Craig.
Advertisement - story continues below
"Normally the writers write whatever they're going to write, but this year I'm giving them a little bit of direction," Em explains. "The writers are going to meet at 7:30 p.m. at The Gordon Best and we are going to play a little game that gives them one little word or sentence or theme that they have to incorporate into their writing. Then they will go home and at the stroke of 8 p.m. they start writing scripts."
"They have to send them to me by 5 a.m. on Saturday morning so I have them in hand by 6 a.m., when all the directors meet at the Gordon Best. The directors read all the scripts and choose a show to produce between them."
Directing the shows this year will be local favourites Kait Dueck, Lisa Dixon, Wyatt Lamoureux, Dane Shumak, and Connor Clarkin.
"Then, at 7:30 a.m. the actors show up and are very quickly auditioned in a group audition," Em continues. "The actors get cast and by 9 a.m. five different plays are being rehearsed all over Peterborough. They start tech runs, and dress runs, and whatever they need to do all day. At 7:30 p.m. the doors of the Gordon best open and at 8 p.m., 24 hours later, the show begins."
As of this writing, the group of actors slated to appear in Saturday night's shows include Randy Read, Charlie Earle, Meg O'Sullivan, Lindsay Barr, Johnathan Sharp, Benjamin van Veen, Tom Keat, Aedan Shaughnessy, Sarah-Jayne Riley, Hilary Wear, Anwen O'Driscoll, Star Slade, Tyrnan O'Driscoll, Ilan O'Driscoll, Mary Alice Osborn, and Vasco Silva.
However, since the auditions haven't even happened yet, there is still time to sign up. If you are interested in participating in the event, you can email Em at emglasspool@gmail.com.
Advertisement - story continues below
"We can always use more performers, and I can increase the number of characters in the script," Em says. "The participants cross a lot of different theatre groups and styles. There are no restrictions — anybody and everybody should come to perform. It's completely open to people of all ages and styles. It's community building and crosses the lines of who (normally) works with who. I think that is important."
Not only is it a challenge for the participants, but The 24 Hour Project has taken new meaning in our current political climate where the arts are being threatened by budget cuts.
"Because of all the things that we are going through today — with all the cuts to art councils — timing and process are precious resources that we always have," Em says. "So as a performer or a director or a writer, it is so incredibly valuable to have an event like this. You get to hone your skills or practice your chops or just have an opportunity to perform. A production is a huge undertaking that takes months of your life and thousands of dollars, so this is a valuable exercise."
"But there is also a value for the audience to see what it's like to have it all come together. You're seeing something very raw. You're seeing a panic on the faces of the participants. The writer started writing the night before and now the play is on stage."
Advertisement - story continues below
"I think the audience really has this compassion for the actors on stage because they want them to succeed. It's not the kind of show where you go in as a critic saying 'This better be good.' It's more supportive and it's also fun to watch."
Never having attended before, I am excited to be a part of my first 24 Hour Project this year. It's a great opportunity to see some of the Kawarthas' favourite writers, directors, and performers diving into drama and making something new and exciting happen in a very short period of time. This year's 24 Hour Project is also being used as a fundraiser for Em's Mysterious Entity Theatre, and is being sponsored by Black Honey and Steam Whistle Brewing.
Doors open for The 24 Hour Project at 7:30 p.m. on Saturday, July 6th at the Gordon Best Theatre (above The Only at 216 Hunter Street West in downtown Peterborough). Tickets are $10, but line up early because the show is always a sellout.