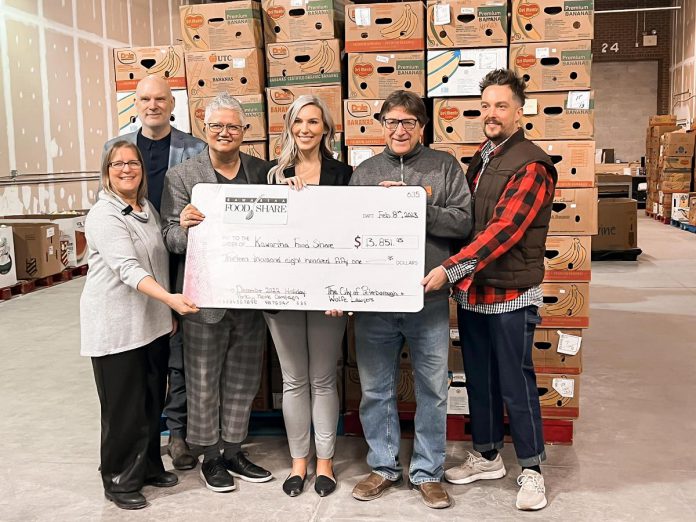 Representatives from the City of Peterborough and Wolfe Personal Injury Lawyers presented Kawartha Food Share with a cheque for $13,851.95 on Wednesday (February 8).
The funds came from the city's two-hour free holiday parking promotion that ran from November 25 to December 31 at all downtown municipal parking spaces, including on-street parking, municipal parking lots, the King Street Parking Garage, and the Simcoe Street Parking Garage.
Parking fees that were voluntarily paid at pay-and-display machines, parking meters or via the HotSpot App during the free two-hour period were donated to Kawartha Food Share. The promotion was sponsored by Wolfe Personal Injury Lawyers.
Advertisement - story continues below
Town Ward councillors Joy Lachica and Alex Bierk participated in the cheque presentation, noting that more local families and individuals are struggling with food security because of rising inflation.
"We are so thankful for the continued support of the City of Peterborough and the local shoppers for donating to Kawartha Food Share each and every December," said Ashlee Aitken, general manager of Kawartha Food Share. "This year, more than ever before, we needed this donation to help us restock our shelves."
Kawartha Food Share currently assists more than 9,000 people every month through its 36 member agencies. It supports four meal programs, seven city food banks, six housing projects, seven county food banks, and over 20 food cupboards across the city and county of Peterborough.