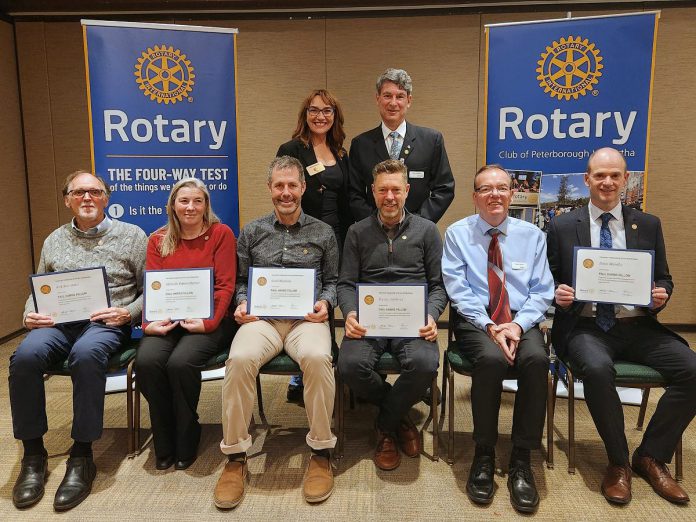 A week after the Peterborough Rotary Club announced its 2023 Paul Harris Fellows, the Rotary Club of Peterborough Kawartha has announced the seven people this year who have received the club's highest recognition.
Peterborough grocer and community leader Dave Morello, international volunteer Chloë Black, entrepreneurs Scott Murison and Kieran Andrews, youth leader Michelle Patton Horner, environmentalist Rob Steinman, and founding Rotarian Robert Smith were all recognized as Paul Harris Fellows on Thursday evening (November 16).
Named for Rotary International founder Paul Percy Harris, the recognition is given to both Rotarians and non-Rotarians who exemplify Rotary's motto of "Service above Self" in the categories of community, international, vocational, youth, environment, and club. Each recipient receives a Paul Harris Fellow certificate and a Paul Harris pin.
Advertisement - content continues below
Franchise owner and operator of Morello's Your Independent Grocer in Peterborough, Dave Morello (community service) was recognized for his community leadership including as chair of the YMCA Strong Kids Campaign for over nine years and his involvement with the Peterborough Humane Society, Ted on the Roof for the United Way, the Leukemia and Lymphoma Society, the Festival of Trees, and more.
Former professional road and track cyclist and coach Chloë Black (international service) was recognized for her volunteer work in Ukraine. Shortly after Russia's invasion of Ukraine, Black travelled to Romania to help rescue and house animals from war-ravaged Ukraine and later travelled to Ukraine where, as a volunteer with Ukrainian Patriot, she helped deliver humanitarian aid packages to frontline soldiers and civilians living with the constant threat of shelling. Currently in Ukraine, Black has spent a total of 31 weeks over four different tours in the country helping both animals and people who've been most affected by the war.
Founders of Wild Rock Outfitters in downtown Peterborough, Scott Murison and Kieran Andrews (vocational services) were recognized both for their business and their support of the community. Longtime advocates for physical activity in the outdoors, particularly cycling, hiking, running, cross-country skiing, and snowshoeing who have operated a successful business since 1992, Murison and Andrews have also supported the local community both financially and through volunteer efforts including involvement with numerous organizations and, most recently, a new initiative called The Wild Rock ComPassion Project that educates people about community agencies and volunteer opportunities and raises funds for community agencies.
Advertisement - content continues below
Michelle Patton Horner (youth service) was recognized for her involvement as a youth leader with the Millbrook Girl Guides for 15 years and as a volunteer with the Army Cadets for eight years. She has also been secretary of the student council in Millbrook for the past 14 years.
Friends of Jackson Park founder Rob Steinman (environmental service) was recognized for his environmental advocacy work through the local action group, with the explicit mandate of preventing the new previously proposed Parkway extension that included the construction of a road and bridge through the core of Jackson Park. Steinman successfully rallied the community to help preserve Jackson Park so that future generations of families and individuals could continue to enjoy the greenspace.
One of the founding members of the Rotary Club of Peterborough Kawartha, Robert Smith (club service) was recognized for his ongoing contributions as a member since 1989. He has spent many years as the club's treasurer and has supported all of the club's fundraising initiatives, including the annual auction, Musicfest, Ribfest, and more. Smith has always been available, willing, and able to handle a multitude of tasks placed before him and has committed hundreds of hours of volunteer work each year in support of the club.