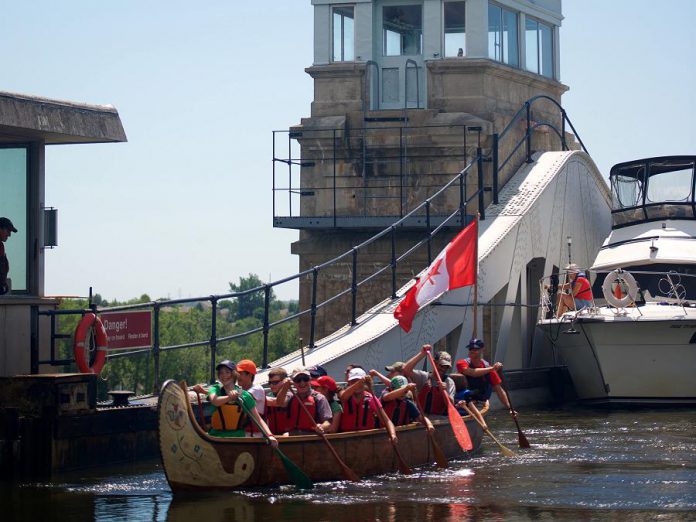 Four organizations in the Kawarthas have won awards for their winning entries to the Trail Towns Workshop 2017 Community Incentive Award from the Kawarthas Northumberland tourism organization.
The Canadian Canoe Museum in Peterborough, Impact 32 in Bobcaygeon, Friends of Lock 34 in Fenelon Falls, and Incredible Edibles Festival in Campbellford have each won a monetory award.
Kawarthas Northumberland invited not-for-profit organizations to submit projects following an interactive workshop, held last November, that showcased the benefits of strengthening the linkages of the Trent-Severn Waterway communities to one another. The projects were to enhance tourism experiences for trails and towns along the Trent-Severn Waterway.
According to Kawarthas Northumberland, "the winning entries demonstrate a high level of community-driven initiatives which demonstrate support and participation from local community leadership, trail development organizations, Parks Canada, and economic/tourism organizations and municipalities."
Here are the winning projects:
First Place ($5,000 award): The Canadian Canoe Museum for its Peterborough Canoe Heritage and Tradition Experience
The Canadian Canoe Museum's project includes three interactive and engaging components to inform and celebrate the canoe building history and tradition in Peterborough and the surrounding area.
The project includes exhibits at the Museum, a walking tour of historic canoe-manufacturing locations in downtown Peterborough and East City (with interpretive panels with QR codes), and a 90-minute Voyageur Canoe tour over the Peterborough Lift Lock.
Second Place ($2,500 award): Impact 32 in Bobcaygeon for their Bike Share Station
Impact 32's project is for the implementation of a Bike Share Station at Lock 32 in Bobcaygeon, for use during the tourist season.
A bike sharing station is a service where bicycles are made available for shared use to individuals on a very short term basis. This project will allow boaters and guests visiting Bobcaygeon to explore and visit all areas of the town.
Third Place – tie ($1,250 award): Friends of Lock 34 in Fenelon Falls for their Stone Waterfall & Sculpture Garden
The Friends of Lock 34 project involves the redevelopment of the Lock Station property known as the "Island", specifically for the installation of a stone waterfall and installation of a sculpture on one of the concrete piers located in the canal.
The group plans to add a new sculpture each year, on each of the nine piers, with an annual unveiling ceremony.
Third Place – tie ($1,250 award): Incredible Edibles Festival in Campbellford for their Farm Life Tour Experience
Incredible Edibles Festival tied for the third place award with their project, intended to augment the Farm Life Tour Experience.
Visitors will tour up to four farms for hands-on demonstrations of how farms are run, to understand what they produce, and to ask questions directly to the farmers. Visitors will also enjoy a locally sourced lunch prepared by a guest chef on the banks of the Trent River.
Administered through Regional Tourism Organization 8, Kawarthas Northumberland supports a competitive and sustainable tourism industry, attracts visitors, generates economic activity, and creates jobs within the region that encompasses City of Kawartha Lakes, City and County of Peterborough, and County of Northumberland.
Visit kawarthasnorthumberland.ca for more information.