---
Thanks to all who attended the Chamber's Annual General Meeting on February 15th. Here's a recap:
Recognizing Carla Hunt
After 35 years, Carla Hunt worked her last day at ServiceOntario on February 10th.
Carla's friendly smile and wealth of knowledge are known by many in this community. Since 1982, she has been conducting driver and vehicle transactions and more recently Health Card transactions and Organ Donor registrations. Carla acted as the Assistant Supervisor in the office from 2004 until 2011 when she decided to reduce her hours of work.
In recognition of this exemplary service, Carla has chosen a gift certificate for Shoreline Furniture Co.
Thank you Carla for your dedicated service and best of luck on your future endeavours!
---
2017-18 Board of Directors
Introducing the Kawartha Chamber's 2017-18 Board of Directors. Look for full introductions in the April/May Newsletter.
Brian Harrington, Clearview Cottage Resort
Bryan Kingdon, ISL Insurance
Chris Wilson, Let's Get Digital
Cindy Windover, Windover Plumbing
Garry Douglas, North Kawartha Design and Kawartha Lakes Construction
John Penny, JC Penny Accounting & Tax Services
Kevan Herod, Herod Financial Services
Mike Walker, Agilec
Scott Matheson, CIBC
Sheri Hockaday, Salon Sorella & Day Spa
Tom LaBranche, Village Pet Food & Supply
Tonya Kraan, STREXER
Tracy Logan, Logan Tree Experts
---
Thank you Kris Keller!
Kris Keller is retiring from the Board of Directors after seven years. Kris has had a hand at some point in almost every committee: Membership & Programs, Marketing, Gala, Golf Tournament, Public Policy and Human Resources. She served as President in 2015-16 and 2016-17.
The Board of Directors will greatly miss Kris's knowledge, dedication and efficiency in running a meeting, and extend their heartfelt thanks.
The Board of Directors will elect its new Executive at the March Board Meeting. Cindy Windover has been named as Interim President until that time.
---
Professional Development Sponsor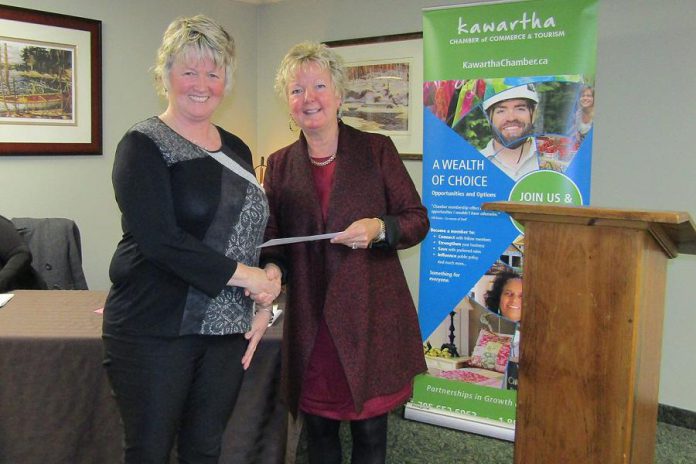 The Chamber is proud to announce Lynn Woodcroft, Sales Representative, Royal LePage Frank Real Estate as its Professional Development Sponsor for 2017-18. This generous sponsorship will support seminars as well as training that will be shared digitally.
Lynn has been part of this community since 1998. She is a graduate from Trent University with her B.Sc. in Biology with strengths in aquatic ecology.
She has been boating the Trent Severn Waterway for 30 years and knows these lakes inside out. Her focus is on cottage country and Peterborough County.
Lynn has been a Top Performer, achieving the director's platinum award two consecutive years. This represents the top five percent in the marketplace based on closed and collected sales. Give her a call she will work hard for you.
---
Networking Sponsor Renewed
Blue Diamond Window Cleaning has renewed its Networking Event Sponsorship for 2017-18.
This generous sponsorship will assist with the Chamber's various networking events such as Business After Hours, the AGM, as well as title sponsorship of the Chanber's upcoming Volunteer Appreciation Breakfast.
The Chamber expresses its sincere thanks to Gerry Herron and Blue Diamond Window Cleaning for the dedicated support.
---
Money raised for Warsaw Habitat Build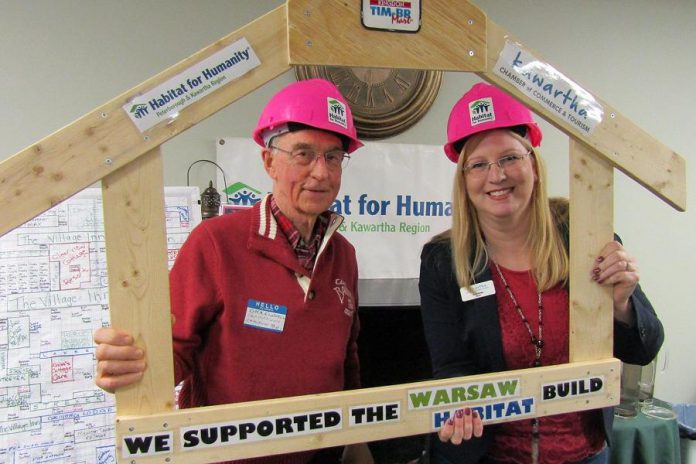 Cindy Windover challenged AGM attendees to support the Habitat for Humanity Build in Warsaw by "buying 20 square feet for 20 dollars".
Thanks to all who supported this great cause!
There are a few square feet left to buy on the Warsaw Build Blue Print. If you would like to support this cause, please contact the Chamber office at 705-652-6963.
Square feet are $1 each and can be purchased in any increment. Purchase at least 10 square feet and receive a coupon for a free pizza — while quantities last.
---
Thank you to businesses involved in the AGM
Thank you to the following businesses who helped make the Chamber AGM a success!
Food Donations
Lakefield Foodland
Jack's Family Restaurant
M&M Food Market
Pizza Villa
The Nutty Bean Cafe
Meeting Room & Beverages
---
Save the date: upcoming Chamber events
Thursday, March 30th: B.O.S.S. Business Owners Sharing Solutions, 7:30 AM, Lakefield Legion
Wednesday, April 19th: Volunteer Appreciation Breakfast, 7:30 AM, Beachwood Resort
More details to come!
---
Canadian Chamber of Commerce 5 Minutes for Business: How to Persuade on Trade
In this edition of 5 Minutes for Business, Hendrik Brakel, Canadian Chamber of Commerce Senior Director, Economic, Financial and Tax Policy, reflects on the Canada-U.S. trade partnership and how the uncertainty of the U.S.'s position on NAFTA could substantially impact employees, businesses, and economies around the world.
In an effort to advocate for NAFTA and a strong trading relationship between Canada and the U.S., the CCC reached out to allies in the U.S. business community, including U.S. Chamber of Commerce President and CEO, Tom J. Donohue, who was in Ottawa on February 6th.
Read 5 Minutes for Business to learn how Mr. Donohue feels about NAFTA and what's at stake for Canadian businesses.
The Canadian Chamber of Commerce provides 5 Minutes for Business, a publication written by Hendrik Brakel, the Senior Director of Enconomic, Financial and Tax Policy. In these publication, Hendrik briefly describes current issues that affect the Canadian economy and provides insight on what it will mean for Canadians today and in the future.
---
Hot deal on tax return preparation
JC Penny Accounting & Tax Services is offering preparation of a basic tax return for $55 before March 31st, prepared and e-filed by John C. Penny, Certified Bookkeeper. Learn more.
---
Glow in the Dark Mini Funspiel at Lakefield Curling Club
Get your glow on at the Lakefield Curling Club for the Glow in the Dark Mini Funspiel on Saturday, February 25th.
Sign up as a team of four or as an individual. Cost is $20 per person for two to four end games. Draws at 6 p.m. and 7 p.m. Wear your brightest neon or white colours and other glow accessories. There is a prize for best "glowing" team.
For more information, contact Lisa Donaldson at 705-875-0003 or email lakefieldglow@gmail.com.
---
Career Fair & Community Information on March 1st
The annual Career Fair & Community Information session is coming up on Wednesday, March 1st at the Lakefield Legion. Drop in between 12:30 and 4:30 p.m. — admission is free!
For more information, call 705-740-2577 ext. 5212 or email dayotte@agilec.ca.
---
First EV Charging Station in Lakefield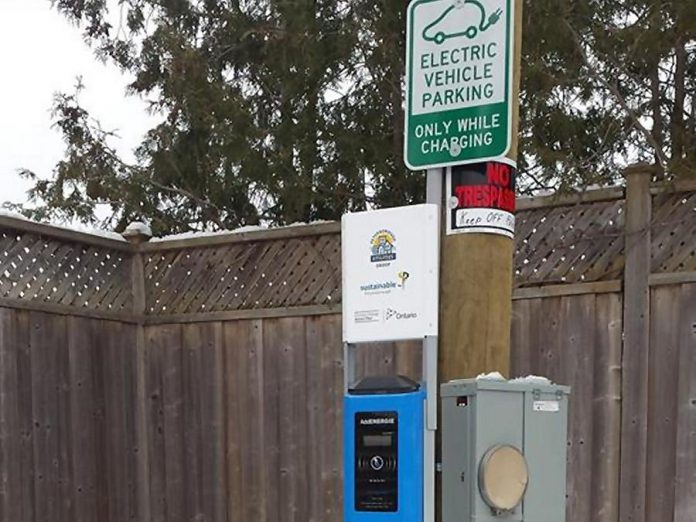 The Township of Selwyn has its first EV Charging Station in Lakefield, located in the municipal parking lot adjacent to The Village Inn.
Charging is free for 2017!
This charging station was installed in partnership with Peterborough Distribution Inc.
The charging station is a Level II charger that provides users with a 30A charge rate that can take a typical EV or PHEV from empty to full in 4-10 hours (depending on the vehicle's battery size.)
---
Food & Agriculture Video Series Receives Provincial Recognition
Peterborough Economic Development received a provincial marketing award in the advertising category for last year's Food & Agriculture Video series. The award was presented at the Economic Developers Council of Ontario President's Dinner earlier this month.
This series showcased the opportunities and experiences available to business, residents and visitors in the food and agriculture sector in Peterborough & the Kawarthas. Read more.
VIDEO: Agriculture in Peterborough

---
Canada Day in Lakefield – Sponsorship & Vendor Opportunities!
Celebrations for Canada 150 are taking place in Lakefield on Saturday, July 1st in Isabel Morris Park featuring Artisans in the Park, music and food, family games, and fireworks!
Various sponsorship levels are available to fit any budget. Learn more.
For more information on sponsorship, being a vendor, or volunteering, email lakefieldcelebrates@gmail.com.
---
Rehabilitation of Rotary Trail Bridge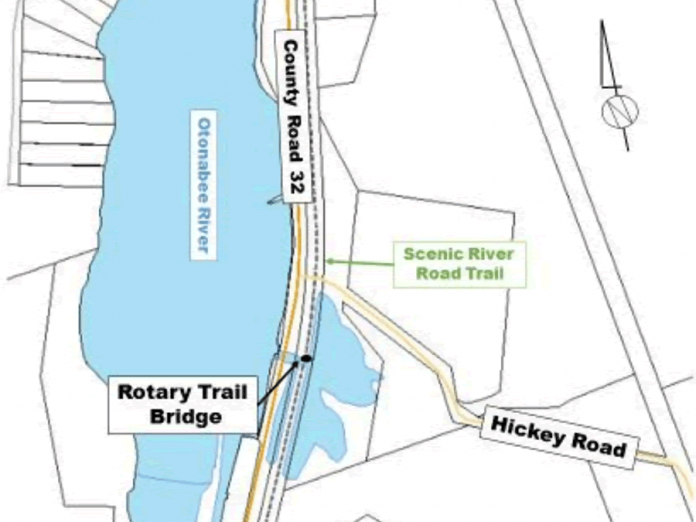 Rehabilitation of the Rotary Trail Bridge (Township of Douro-Dummer) located on the Scenic River Road Trail at County Road 32 (locally known as River Road) and Hickey Road will begin on Monday, February 27th. The anticipated completion date is Friday, March 10th, 2017.
Work will require a full closure of the Scenic River Road Trail at the bridge. Work to the bridge includes repair of crib abutments, wing-walls, and railing.
Please note that timelines are approximate and weather dependent. Work on weekends may take place to accommodate completion of the project within the established construction schedule. Read more.
---
KPR Wall of Honour
In celebration of its 20th year as a school district, the Kawartha Pine Ridge District School Board is seeking nominations to be considered for a newly established Wall of Honour.
This dedicated area within the Board's Education Centre will serve to acknowledge those individuals who have made significant contributions to the Board and its students.
Do you know a worthy past or present student, staff, member of the public, or trustee? Nominations can be submitted online, from now until March 27, 2017. Learn more.
---
Upcoming events
Kawartha & Haliburton Trapper's Carnival, North Kawartha Community Centre – March 4th
Buckhorn Maplefest, Mclean Berry Farm – March 11th & 12th, 18th & 19th, 25th & 26th
---
For more information about the businesses and events listed above, please visit the Kawartha Chamber of Commerce & Tourism website at kawarthachamber.ca.
All photos supplied by Kawartha Chamber of Commerce except where noted.