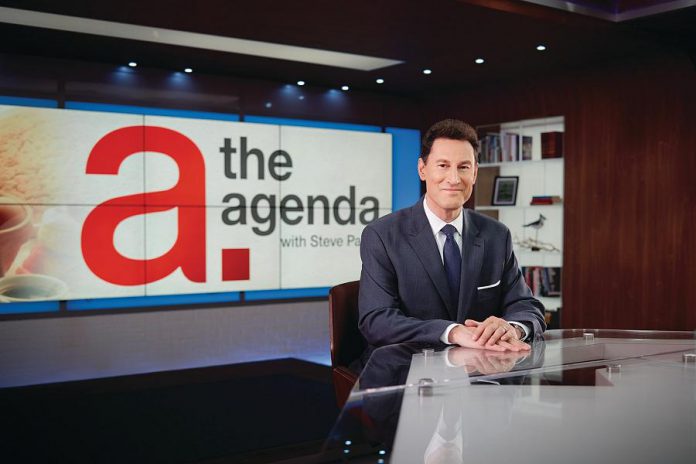 One of the oldest business networking groups in the Kawarthas is bringing acclaimed journalist and author Steve Paikin to the Market Hall Performing Arts Centre on Thursday, March 23rd at 7 p.m. for a keynote presentation.
The Peterborough Sales and Ad Club is presenting "An Evening with Steve Paikin", an hour-long event in which Paikin will speak about the current state of politics in Ontario, Canada, and the United States, and what the future may hold. He'll also be talking about information and news sources in today's era of social media and "fake news".
The 56-year-old Hamilton native began his journalism career in the late 1970s while studying at the University of Toronto. After graduating in 1981, he went on to obtain his master's degree in broadcast journalism from Boston University.
While at the University of Toronto, he was sports editor for the university's independent weekly newspaper as well as play-by-play announcer for the Varsity Blues hockey and football teams on the university's radio station.
Paikin continued his journalism career in the early 1980s as the Toronto City Hall reporter for Toronto radio station CHFI, and also worked with CBC's Toronto television station CBLT-TV as well as CBC Newsworld. In 1992, he began working at TVOntario (TVO), Ontario's publicly funded educational television station. In 1993, Paikin also directed a TVO-produced documentary, Return to The Warsaw Ghetto, which won the "Silver Screen Award" at the U.S. International Film and Video Festival
VIDEO: The Future of News in Canada – The Agenda with Steve Paikin

At TVO, Paikin hosted the political series Between the Lines until 1994, when he began co-hosting the daily current affairs new program Studio 2. Paikin also hosted TVO's weekly foreign affairs commentary series Diplomatic Immunity, which debuted in 1998 and ran until 2006. In 2006, TVO replaced Studio 2 with The Agenda with Steve Paikin, its flagship daily current affairs program which Paikin has anchored for the past 11 years.
His trademark thoughtful style and his ability to tackle complex issues has given Paiken a reputation as one of Canada's most respected journalists, leading to his selection as moderator of six federal and Ontario election debates. He has also authored seven non-fiction books, including Paikin and the Premiers: Personal Reflections on a Half Century of Ontario Leaders and his latest book, an authorized biography of former Ontario premier Bill Davis entitled Bill Davis: Nation Builder, And Not So Bland After All.
Given the current political climate, don't miss this rare opportunity to hear insights and advice from a seasoned political journalist. General admission tickets for Paikin's presentation are only $25 plus fees, available in advance at the Market Hall box office (140 Charlotte St., Peterborough), by phone at 705-749-1146, or online at markethall.org.
The event is sponsored by LLF Lawyers, Ward McFarland LLP, McColl Turner Chartered Accountants, and The Protectors Group, with media sponsorship by kawarthaNOW, Country 105, and Energy 99.7.