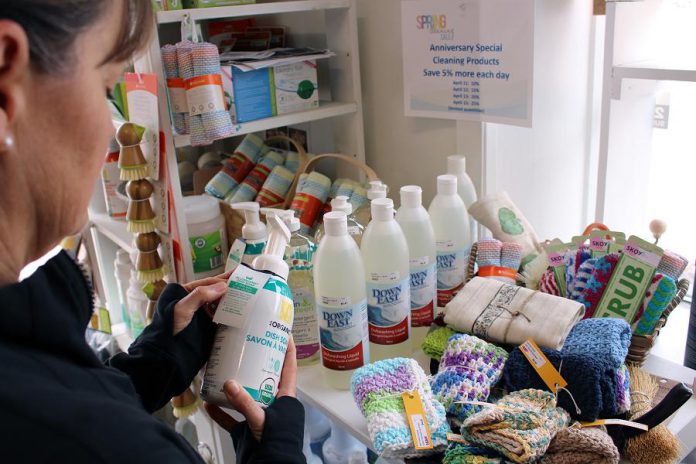 Spring is here and along with the warm sunshine comes the seasonal ritual of spring cleaning. It's time to wash up your summer clothes, to haul the area rugs outside for a seasonal airing, and to get the fridge cleaned out and ready for an influx of fresh veggies and fruits.
Cleaning our homes is meant to make them healthier and more enjoyable and there isn't a better time to have a fresh start than in Spring; unfortunately, many household cleaners are chock-full of toxic chemicals that can have negative impacts on human health and can contribute to indoor air pollution in homes.
Studies by Environmental Defence have shown that levels of volatile organic compounds (VOCs) become elevated in homes during and after cleaning. VOCs are chemicals found in many household cleaners that are also linked to serious health issues.
This year, while you are making plans to fight germs, scrub stains, and abolish nasty odours, be sure to start with the fine print on your cleaning products. Products to avoid include anything anti-bacterial or flammable and products that contain bleach and ammonia, which are toxic and can irritate eyes, lungs, nose, and throat.
Many household cleaners are also harmful to the environment. Residues and suds that are washed down the drain can end up in our waterways and impact wildlife.
Surfactants are chemicals that are mostly petroleum-based or synthetic and are toxic to fish and aquatic life. Don't be fooled by the "need" for soapsuds; surfactants are often added to detergents to make them soapy, but suds do not impact the effectiveness of the product.
Phosphates also have a negative effect on waterways. They can cause an overload of nutrients in the environment resulting in harmful overgrowth of algae that depletes water of oxygen, which can be lethal for fish.
Once you've separated out the chemical cleaners, they can go in the pile to drop off at the Household Hazardous Waste Depot. You can't get rid of them in the trash or blue bin due to their toxic ingredients.
Canadians spend more than $275 million on household cleaning products each year. This includes a laundry list of products manufactured and marketed to do very specific jobs. But there is no need to have a unique product to clean toilets, sinks, fridges, floors, and tiles. Minimizing the number of cleaners necessary to clean your house is one of the benefits of natural cleaning and it can help you save money, too.
Starting up a new inventory of safe and healthy cleaning products is easier and cheaper than you may think. Try using only a few necessary cleaning products instead of many types developed for one specific use. All-purpose cleaners are available and can be used on counters, walls, floors, tiles, and woodwork. General bathroom cleaners work on toilets, tubs, sinks, and tiles.
Making your own cleaning products is also a safe option and you only need a few ingredients. A general cleaner can be made with baking soda, vinegar, and lemon juice, which are all grime- and odour-fighting powerhouses available at any grocery store. Add some essential oils to create a custom scent.
Washing soda and pure liquid soap can extend your range of DIY cleaning products, and then you won't need much more than some steel wool to get started. Try a Google search for natural homemade cleaners, which will bring up many recipes that you can try your hand at.
Ultimately, you will want to use products that are phosphate-free, non-toxic, and water or vegetable based. When searching for alternatives, look for a product with an ingredients list that is easy to understand; avoid chemical names that may be difficult to decipher or translate.
Go one step further and look for packaging that can be re-filled, is made of recycled content, or is biodegradable and look for a pump spray rather than an aerosol can.
The GreenUP Store carries a variety of all-purpose, bathroom, laundry, and dish cleaning options that you can trust to be safe for your family and the environment. We carry re-fillable, septic safe, and locally made options.
Kick-start your move from toxic to eco-friendly cleaning alternatives at the GreenUP Store from April 12th to 15th, when you will save 15 to 25 percent off all cleaning products — just in time for a long weekend of cleaning and a great way to save money, the environment, and your health.
To celebrate our 25th year, you will also earn loyalty points while shopping at the GreenUP Store. Each time you spend a minimum of $25, you will receive a loyalty point. Collect four points and you will receive 25 percent off your next purchase.
For more information about green cleaning products, contact our GreenUP Store Coordinator Ausma Clappison at 705-745-3238 ext. 222 or ausma.clappison@greenup.on.ca.