To better understand Johnny Bower's enduring willingness to accommodate the needs of others, we take you back to the mid 1940s and his first season of professional hockey with the Cleveland Barons.
Born John Kiszkan, he changed his surname to Bower. Why? To make it easier for sports writers to spell his name. And spell his name they certainly did, many times over, as Bower backstopped the Toronto Maple Leafs to four Stanley Cup championships in the 1960s before retiring from the game in March 1970.
Now, at age 92, living in Mississauga with Nancy, his wife of close to 70 years, Bower is decades removed from recklessly throwing his body in front of pucks. But in terms of giving of himself, both to adoring hockey fans and charitable causes, well, Bower is still going post-to-post.
Susan Dunkley can certainly speak to the latter. As Manager of Development and Outreach for the Peterborough Humane Society, she is busy organizing and promoting Shelter Shots, a 2018 calendar that will feature a number of past and current National Hockey League players who have rescues as pets.
In the mix is Bower, who Dunkley first called on (she worked with him a few years back in connection with Faceoff Against Dementia at the Memorial Centre). On Monday (April 10), with photographer Peter Nguyen and his rescue dog Jasper in tow, Dunkley and her husband Darryl visited Bower at his home for the first calendar photo shoot session.
"Johnny is always honoured and humbled to be asked," says Dunkley. "He's seriously the sweetest man on the planet.
"I think that's why he's 92. He's so spry. He walks four or five kilometres every day. He does his exercises. I think the reason he has stayed so young is he continues to do stuff."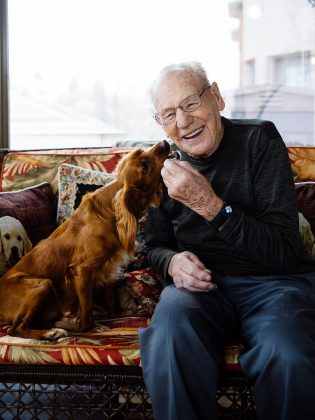 Jasper — who Dunkley describes as "a dog in a difficult situation" — was adopted by Nguyen a few months ago, adding Bower's face "lit up" when he came face to face with the Cocker Spaniel.
Subsequent photos of players with their rescues will be shot leading up to the planned availability of the calendar in August 2017, with Dunkley noting other players confirmed to date include Anaheim Ducks forward and Peterborough native Corey Perry, San Jose Sharks defenceman Brent Burns, New York Islanders forward Cal Clutterbuck, and retired NHLer Kurtis Foster.
Photographers will work with each player in their respective locations.
"I hope to have everybody in place and photographed by the end of May," says Dunkley, noting Jessica Melnik of Impact Communications is creative consultant for the project. All the photographers involved, she adds, are donating their time and talent.
When available, the calendars will sell for $20 each, the proceeds of which will offset Humane Society costs for animal surgeries. Last year alone, that bill totaled more than $70,000.
The calendar idea, says Dunkley, resulted from her "good fortune of being married to a man who used to work for the NHL as a scout. Darryl was drafted but blew his knee. He still has a lot of contacts in the NHL. I said 'How can we take advantage of this connection you have?'"
Dunkley adds similar calendar projects have been undertaken by the Washington Capitals and the Pittsburgh Penguins for shelters in their respective cities.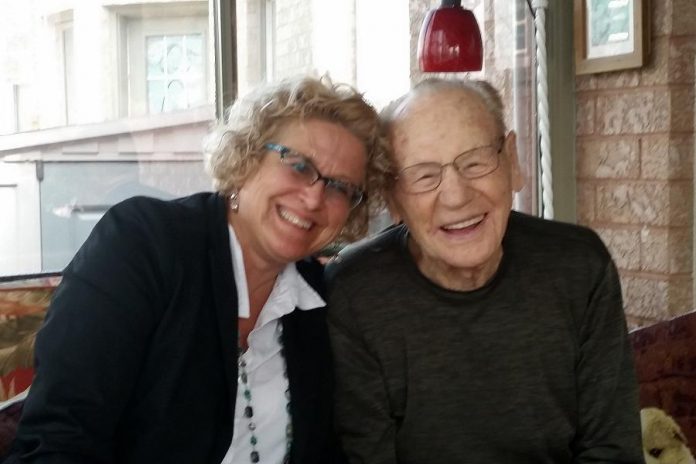 For Bower, hamming it up with Jasper for Nguyen's lens wasn't a huge leap.
"I had a dog called Big John; he was a beagle, a small one, and he was around 18 (years old) when he passed away," he recounts, noting his home is a regular stop for a number of neighbourhood dogs.
"It's nice to have them. There's one that really does a lot of barking at me. Oh my gosh, she won't stop … she just barks and barks and barks. When she's finished her cookie, she wants another one, so I ask her to sit down. So she sits, her paws up and everything else for me. Now I've go to get another cookie for her. They're pretty sharp."
Bower shares that sharpness with his canine friends, crediting his "wonderful wife" Nancy with keeping him "under control." He says the plan is to stay alive as long as he can to continue to enjoy watching his grandchildren and great-grandchildren grow and flourish.
Elected to the Hockey Hall of Fame in 1976, Bower is arguably the most beloved former Maple Leaf; a reminder that the hockey club that hasn't won a Stanley Cup in 50 years wasn't always that bad. But more than that, admirers like Dunkley see a kind man who, since anyone can remember, has gone out of his way to sign an autograph, offer a few encouraging words, and generally has made it his mission to put a smile on people's faces.
"I could never give as much as Johnny," Dunkley says. "He's just such a beautiful spirit.
"We have to be more kind to one another. There's a lot of hatred in the world. Things like this — asking people to help and people immediately saying yes — counters that. I love how much all of these people love animals and see the importance of animals in their personal lives as well as in other people's lives."
Meanwhile, Jasper's new friend can't escape his hockey legend, which is fine by him. The most recent accolade to come his way, in January of this year, was his being named to the list of the 100 Greatest NHL Players in the league's 100-year history.
"What a great feeling that was," Bower says. "It was like winning the Stanley Cup.
"I just can't believe that I was even for voted for. I thought there should have been a lot of other guys before me, but I'm keeping that one. They'll have a hard time taking it away."
Bower still follows the Maple Leafs closely, attending games at the Air Canada Centre where his image on the scoreboard screen inevitably brings forth a huge cheer. Rumour has it that in his fridge resides a bottle of champagne, waiting to be opened upon the Maple Leafs' next Stanley Cup title. Now, with the current edition of the club embarking on a long-awaited playoff run, Bower is encouraged by what he sees.
"I give a lot of credit to these kids. They're in the playoffs, so things are looking bright. Maybe they need a couple of defencemen but I'm not coaching anymore."
Asked if it's true that he offered to serve as the Leafs' back-up goaltender, Bower laughs.
"I gave them my phone number but they haven't called me back."
For more information on the Peterborough Humane Society services and updates on the Shelter Shots calendar fundraiser as it progresses, visit www.peterboroughhumanesociety.ca.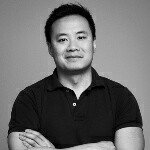 About the photographer: Peter Nguyen is an editorial fashion and commercial photographer originally hailing from Peterborough and now residing in Toronto. He works with many Canadian fashion designers and clothing retailers and has been featured in publications across the country. Visit his website at www.pnimaging.com and follow him on Instagram @pnimaging.