According to Neil Lorenzen, owner of the popular Muddy's Pit BBQ in Keene, their customers come by bike, they come by boat, they come by car — and now they come by helicopter.
When he got a call from the Search and Rescue Team out of Canadian Forces Base Trenton today (April 13) to make a lunch reservation, he had to make another call first. That other call went to his neighbours, The Glens at Glen Isle Farms next door.
"I asked if they could land a helicopter in their field," Neil tells kawarthaNOW. "They said 'Sure!'"
Six members of the Search and Rescue Team arrived by helicopter for lunch, taking a break from their regular routine that often places them in the area or nearby.
Neil captured the chopper's arrival and landing in the field next door and posted it on Facebook, to the delight of Muddy's fans.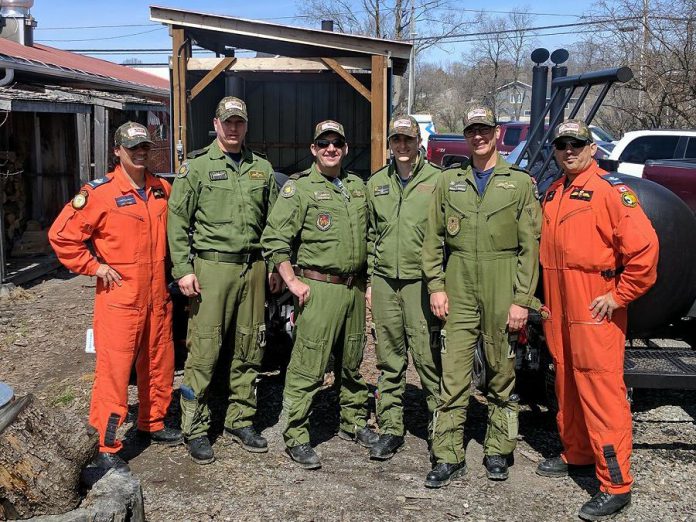 According to Neil, the team had "Carnivore Samplers, baked beans, and they all had lemonade."
They also generously hosted tours with some kindergarten students from North Shore Public School in Keene.
"We just saw the helicopter land from our classroom window and did an impromptu field trip to see it," says Sera Clark, Early Child Educator in the kindergarten program. "Everyone was great about it, from Neil to The Glens and the helicopter pilot and mechanic. The mechanic came out and showed us the helicopter!"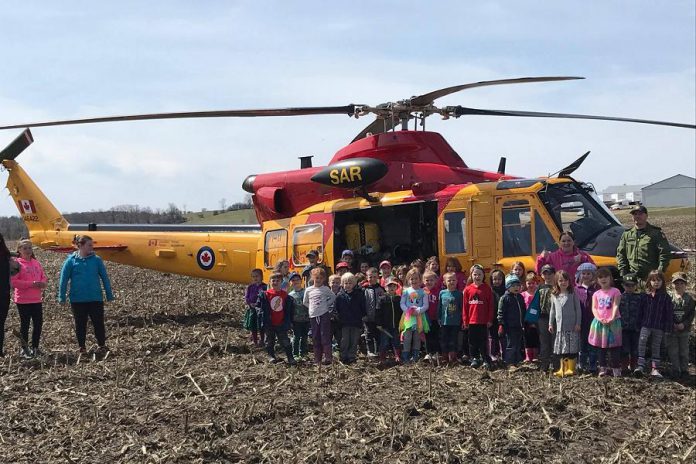 Other local residents were also delighted by the unexpected arrival of the helicopter. Photographer Beca Lloyd's son Bryson had a chance to tour the helicopter. According to Beca on her Facebook page, one of the crew even gave Bryson a patch from his uniform.
Muddy's Pit BBQ opened for the season earlier this month. They barbeque all their meat on custom outdoor smokers using only log hardwood. For more information, visit them on Facebook.