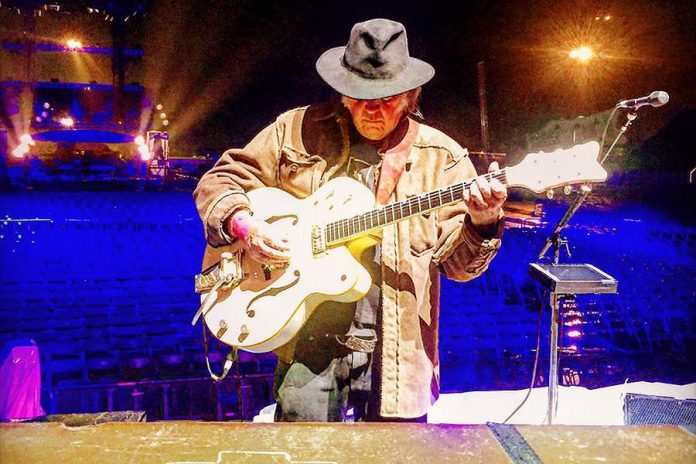 Keep your eyes open: iconic musician Neil Young was spotted walking around downtown Peterborough on Friday, September 22nd.
While several people have said they saw him, we don't have any pictures (yet) to prove it. Presumably, most people were too surprised to take a photo.
One is Evangeline Gentle, who says she didn't realize she was sharing the patio with him at The Only Cafe.
"I was too engulfed in a book to realize I was sharing a patio with Neil Young," she writes on Facebook. "He was at The Only for lunch and when he left the bartender was like 'you missed Neil Young'."
Apparently he also got a latte at Black Honey and then strolled down Hunter Street.
"My friend and her husband saw him," writes Rhonda Caley Lustic on Facebook. "They were on a patio having lunch and he was walking by."
"My friend saw him and Darryl Hannah at Joanne's Place," Dana Smith-Hetherton adds.
VIDEO: Neil Young in Omemee (posted on September 23, 2017)
I'm Canadian by the way, and I love the USA… – the Visitor 🇨🇦 pic.twitter.com/LemTEfKcic

— Neil Young (@Neilyoung) September 23, 2017
It makes sense Young, who lives in northern California, was in the area. After all, he spent his childhood years in nearby Omemee and has visited the town (where his father Scott Young lived until he passed away) several times (including last week as the video he posted on Facebook and Twitter shows).
He has also shown up unexpectedly in Peterborough before, most famously in 1998 when he bought a vintage 1959 Martin acoustic guitar from the since-closed Ed's Music on Park Street in Peterborough.
Young was probably in the area in advance of his induction into the Canadian Songwriters Hall of Fame — along with Bruce Cockburn (who is performing a sold-out concert at Showplace in Peterborough on Monday, September 25th), Beau Dommage, and Stéphane Venne — at Massey Hall in Toronto, which took place on Saturday, September 23rd. Earlier this month, Young released Hitchhiker, a studio LP recorded on August 11, 1976 featuring 10 songs that Young recorded accompanied by acoustic guitar or piano.