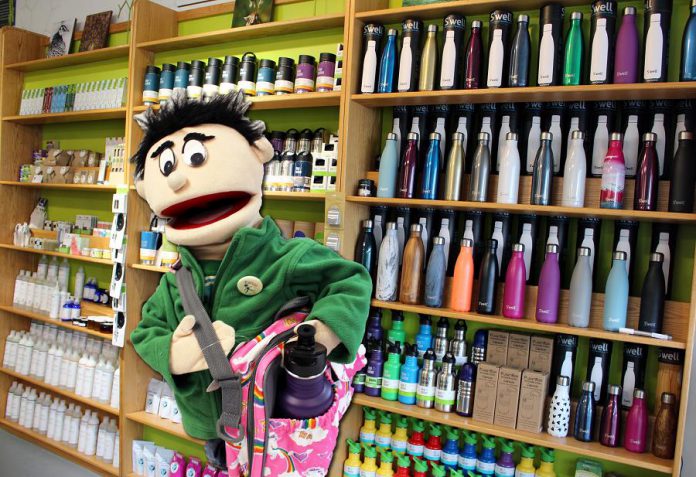 For many people in Canada, recycling has become second nature. However, the waste sector is still responsible for six per cent of greenhouse emissions in Ontario, and the provincial government aims to reduce diversion rates by 30 per cent before 2020, through its Strategy for a Waste Free Ontario.
GreenUP is here to help you get started and there is no better time than during Waste Reduction Week from October 16 to 22 — a celebration of our power to reduce waste. This is a great opportunity to take a look at our habits and how we can change them for the better.
But first, how well do you know your blue bin?
Let's dispel some blue bin sorting myths by investigating some common misconceptions about what is, and is not, recyclable:
---
Can I recycle Styrofoam?
Styrofoam can be recycled in the City of Peterborough, but with some restrictions.
Large packaging Styrofoam is recyclable but it cannot be picked up curbside. After purchasing a new TV or computer, you can take the pieces of packing Styrofoam to the Peterborough Materials Recycling Facility at 390 Pido Road. This does not include packing peanuts, which are not recyclable.
Restrictions also extend to Styrofoam egg cartons, cups, and take out containers, which are NOT recyclable. As consumers, we must consider which restaurants to frequent, and keep in mind that use of this material is oftentimes used for our takeout containers. Styrofoam has convenient properties as a great insulator, with an impermeable surface, and is inexpensive.
Unfortunately, without being able to recycle foam, the coffee cup that we spend 15 minutes with in the morning becomes the next item sitting in landfill, and with Styrofoam, that means for about 500 years!
You can reduce Styrofoam waste by using reusable containers when dining out, and by lugging a mug instead of purchasing a throw-a-way cup.
Editor's note: If you're confused by the fact you can take large pieces of packing Styrofoam to the Peterborough Materials Recycling Facility, you're not alone. The City of Peterborough had originally decided to no longer accept any Styrofoam for recycling at the facility as of January 1, 2016. As noted above, that decision has been reversed for large pieces of packing Styrofoam only.
Can I recycle a paper coffee cup?
You can … but not the plastic lid.
Those early morning Tim Hortons coffee runs come with a hefty environmental price tag. Although the cup is recyclable in Peterborough, the lid is not. Tim Hortons serves 2 billion coffees a year. Those lids accumulate as a tremendous amount of waste.
A suggestion is to reduce the need for coffee cup production by bringing your own reusable coffee cup when you need to caffeinate. It will save you money, and the environment.
Can I recycle aluminum foil?
Yes, you can. Clean aluminum foil can be recycled, but be sure to remove any food residues.
Pop cans and tin cans (think tomato paste) can also be recycled, but clothes hangers cannot. You can take un-repairable metal items to a scrap metal facility.
While on the topic of foil, chip bags cannot be recycled. They are made from a variety of materials that are not easy to break down at a recycling facility, so they must be disposed of in the garbage.
Can I recycle glass?
Glass bottles and jars are recyclable, although you must remember to recycle the package and not the product.
Rinse your containers if they have traces of food left inside. Jars with leftover sauce stuck to the inside must be tossed out. Rinsing before recycling will ensure that glass jars will be recycled once they arrive the recycling facility.
Broken picture frames and windows cannot be recycled at curbside. They must go in the garbage.
Editor's note: Safely place broken glass or sharp objects in a cardboard box, tape it securely and label this "Sharp Object". This can be placed beside your regular garbage.
Can I recycle my straw?
No, straws cannot be recycled. Many plastics such as straws, cheese string wrappers, and plastic food wrap are not recyclable.
These "soft" plastics are a conglomerate of plastic materials that are impossible to breakdown. You can avoid these types of plastics by using reusable, stainless steel straws or beeswax wrap.
There are many environmentally friendly alternatives to the plastic items we have become reliant on; many are available at the GreenUP Store.
If you are unsure about how to dispose of an item, visit the City of Peterborough's What Goes Where? page. You can type in any item and the site will tell you how to recycle or dispose of it.
GreenUP invites you to take the Waste Reduction Week Challenge from October 16th to 21st at the GreenUP Store. Visit us for daily tips and promos for products that relate to Canada's daily waste reduction themes. Also, bring the kids and take a selfie with our very own Recycle Ranger, Eric. Win prizes, like a PlanetBox lunch system, reusable water bottles, and books.
For more information, contact Danica Jarvis at danica.jarvis@greenup.on.ca, stop in at the GreenUP Store (378 Aylmer Street North in downtown Peterborough), or give us a call at 705-745-3238.