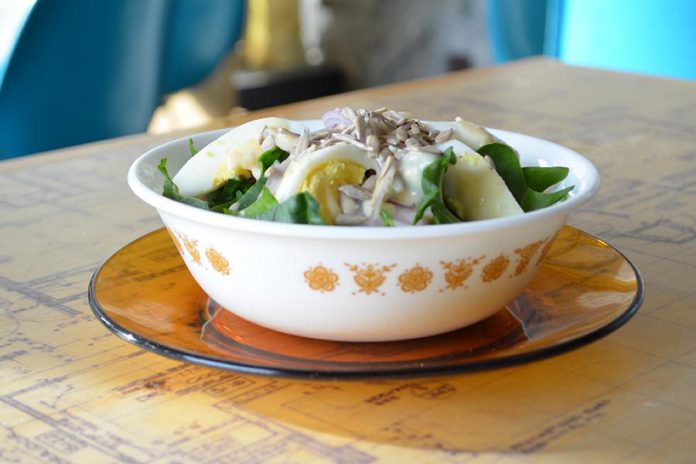 This month, Eva Fisher celebrates 15 years with the Seasoned Spoon, explores a community cookbook project that you can be a part of, finds a local lunch delivered to your door in Campbellford, and catches up with a new group of women exploring the craft beer scene in Peterborough.
---
The Seasoned Spoon celebrates 15 years of feasts, food workshops, and so many bowls of soup
The Seasoned Spoon (1600 West Bank Drive Champlain College, Trent University, Peterborough, 705-748-1011 ext 6086) celebrated its 15th anniversary this March.
I spoke with The Seasoned Spoon's Education and Outreach coordinator Caitlin Bragg about the Spoon's evolution, from a group of committed volunteers serving soup every other week to a dynamic cooperative café and not-for-profit community organization — providing hundreds of people with access to affordable local foods and opportunities to learn about growing, cooking, preserving and advocating for sustainable, just. and inclusive food.
Before it had its current name, The Seasoned Spoon was a humble, politically motivated soup stand run by OPIRG Peterborough's Food Issues Group (FIG).
"The FIG started serving local, organic soup by donation in 2002 as a challenge the food service monopoly that Aramark had at Trent University at the time," Caitlin says.
"The idea was to offer staff and students more diverse choices, as well as food for thought about prevailing institutional food policies."
The stand became a popular place to get a delicious and healthy meal on campus. It was clear that this project had potential to change Trent University's culinary landscape permanently.
"As the initiative grew, the project eventually elected a board of directors to better represent them and the seeds of Spoon cooperative were planted. With their new business model, the now named Seasoned Spoon Café began working towards a more permanent place."
That place came with a new location at Champlain College, opened 15 years ago in February 2003, but the Seasoned Spoon still had room for growth, including, quite literally, room for growth through their partnership with the Trent Vegetable Gardens in 2006.
They completed a root cellar in 2012, allowing them to serve their own vegetables year round. In 2016 they officially joined Trent's residential meal plan. The Spoon currently has 22 staff members, with 17 staff, dozens of volunteers each semester, and over 500 cooperative members. The soup stand has become an institution.
In addition to healthy and delicious meals, The Seasoned Spoon now offers weekly workshops including Canning 101, Cheese Making, Apple Cider, sauerkraut and fermentation, bagel making, vegetarian cooking 101 and honey harvesting.
They also offer community meals twice a semester, where the community is invited to enjoy a feast featuring campus grown foods. These are offered on a by-donation basis, and often feature a guest speaker, film screening, or workshop.
To learn more about the Seasoned Spoon, visit them online at www.seasonedspoon.ca. They are open on Monday and Friday from 8 a.m. to 3:30 p.m., and from Tuesday to Thursday from 8 a.m. to 6 p.m., while classes are in session.
Nourish cookbook creates community in the kitchen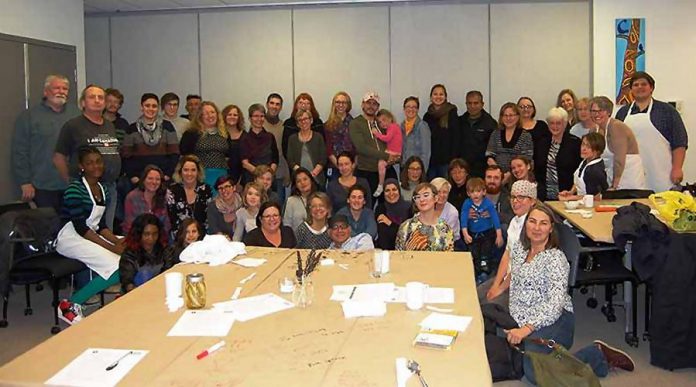 Almost everyone has that recipe: one they have enjoyed with family and friends, one linked to a special memory, one that always brings people together. Nourish is collecting those recipes together in a new project, a cookbook entitled The Belonging Cookbook.
Nourish Project seeks to create belonging through food. They work predominately with people living on low incomes to build community locally. They take a respectful and forward-thinking approach to food programming.
Community Development Coordinator Joëlle Favreau explains:
"We work predominantly with people living on low incomes and we know that they are very skilled at maximizing their budget in the kitchen. What we hear, however, is that often they are missing real connections with others. The UK has just created a Ministry of Loneliness. I would have called it the Ministry of Belonging, but that's beside the fact. Collectively, it is estimated that we have never been as lonely as we are now.
"Through our work, we are trying to grow connections and build community. Dietitians point out that when we eat with others, regardless of what we eat, we eat better."
The aim of the cookbook is to get people thinking about how food builds connection in their own lives.
"We thought that recipes would be the entry point and the stories would help us all think more deeply about belonging, when we feel we belong most, where, why, and hopefully we can learn from those stories how to better grow belonging in our close circles and in our communities."
The cookbook furthers Nourish's aim to bring people of all backgrounds together through food.
"This past year, thanks to support from the Ontario Trillium Foundation, we were able been able to host workshops, dinners, and harvest trips seeking to bring people together who may not, otherwise, easily connect with one another, the cookbook is an extension of this project."
To express interest in submitting a recipe, email info@nourishproject.ca. You will be contacted by a volunteer who can take your recipe over the phone. You can find out more at nourishproject.ca.
Benji's Buns serves soup and sandwiches to your door with a focus on local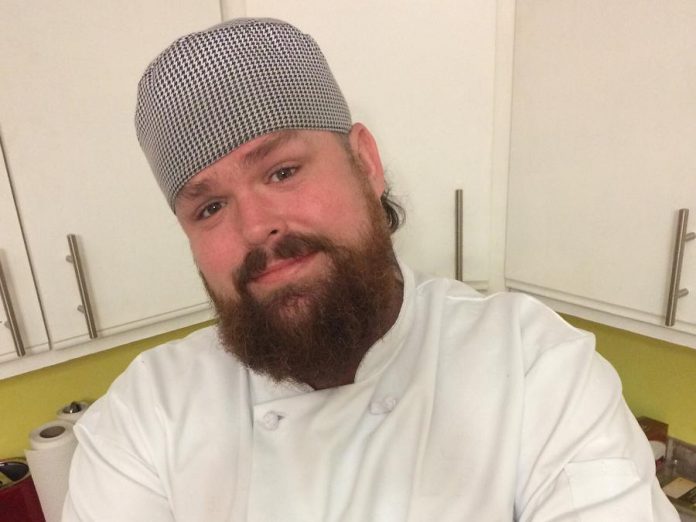 What do Dooher's Bakery, Empire Cheese, Churchkey Brewery, Brown's Farms, and Russett Farms all have in common? They're great places to get delicious food, all local to the Campbellford area, and as of this past January they've all come together in one bun.
Lunch takeout Benji's Buns (26 Bridge St West, Campbellford, 705-768-4567) opened on January 22nd, 2018. Owner Ben Lehman keeps the menu simple: soups and sandwiches for a daytime crowd, but with a honed focus on independent and local producers.
Take their beef brisket sandwich. Beef from Russett farms is simmered overnight in a reduction of Churchkey's Holy Smoke with barbecue sauce and onions. The beef is topped with red cabbage coleslaw, grainy dijon mustard, horseradish and a vinegar dressing on a Dooher's Bakery Poppyseed Egg Bun.
Have it with Churchkey's Garlic Cheddar Ale soup, or French Onion soup with Empire Cheddar. The menu is a constant rotation of soups and sandwiches inspired by local producers.
To Ben, supporting local producers just makes sense.
"I believe it's the right thing to do: buying local, supporting local. In return, they support me. Using local, you get better quality and you build a better relationship with the community."
Food from Benji's Buns is available from their downtown pickup window or can be delivered to your home or office within Campbellford.
Watch out Peterborough, the Electric City Brigade of Beer Betches is in town!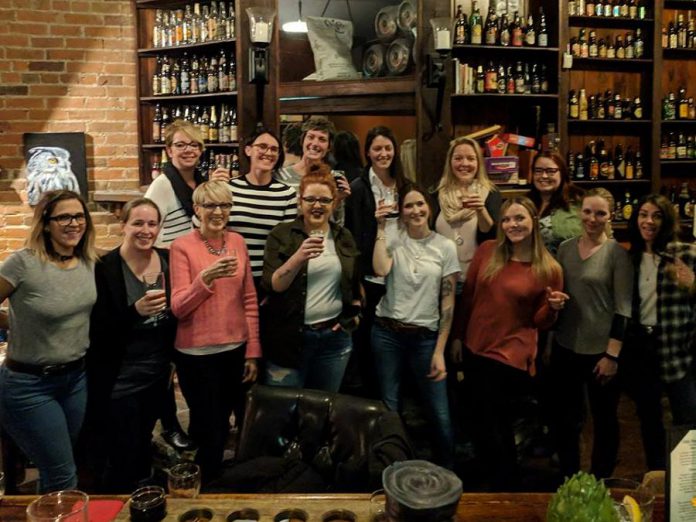 Are you a woman who loves beer? If the answer is yes, you've just qualified to join the Electric City Brigade of Beer Betches, a new of women that meets monthly to drink and learn about beer.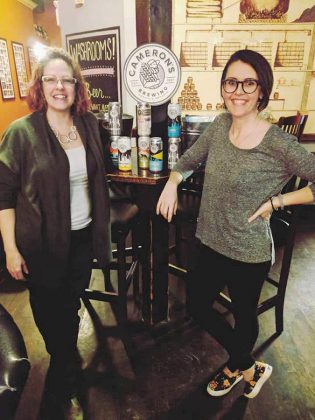 Sara George started the group this January after taking part in a monthly women's beer drinking group out of Toronto years ago.
"We were in the middle of a brewery, and everyone was having a great time and drinking different beers. There was merchandise and really great food and my first thought was 'Why doesn't this exist in Peterborough? This needs to happen in Peterborough.'"
Five years later in 2017, Sara began her current position of Assistant Brewer at the Olde Stone Brewing Company (380 George St N, Peterborough, 705-745-0495) and it suddenly clicked. Sara credits Olde Stone owner Travis Smith with encouraging the idea and offering the brewery as the official headquarters of the group.
Once the group is more established, Sara will consider taking the Betches to other Peterborough breweries.
"I would love to be able to see partnerships happen. I would love to reach out and work with others in the community. We live in a really great area for craft beer."
To join the Beer Betches, follow them on Facebook. They meet up on the last Monday of every month at 7 p.m.