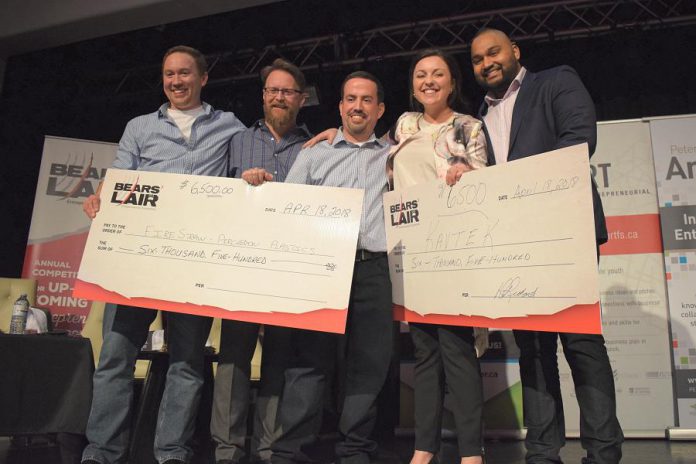 Two local businesses, Kavtek and Percheron Plastic Inc., took home the grand prize at the final pitch event of the annual Bears' Lair Entrepreneurial Competition, held last night (April 18) at The Venue in downtown Peterborough.
The two businesses will receive $6,500 cash and in-kind prizes, including public relations, accounting and consulting services, a promo video, and more — all donated by the 2018 Bears' Lair sponsors — which amount to a value of $35,000.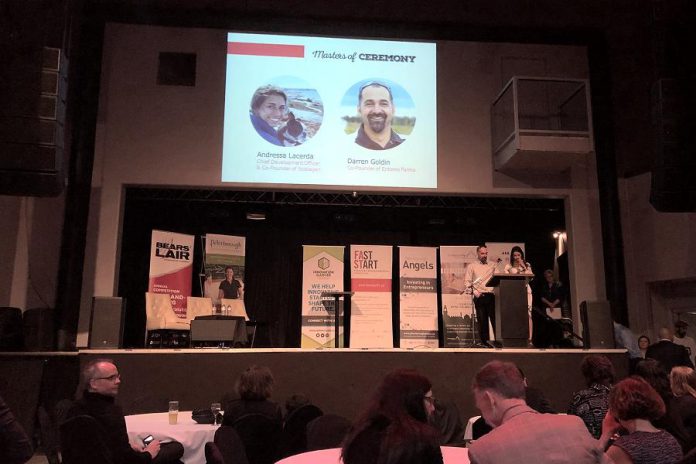 Kavtek, a digital startup that creates virtual and augmented reality platforms for realtors and tech companies, won in the innovation category.
"This has been an inspiring experience and we felt supported with a lot of enthusiasm from our community and from the Bears' Lair team," says Kavtek co-founders Alexandra Campbell and Sanu Somaweera.
"Moving forward, we are excited to expand our platform nationwide and put Peterborough on the map for augmented reality technology."
Percheron Plastic Inc., a plastic tank and material handling manufacturer that develops FireStraw fire starters made 100 percent from natural straw and a little wax, won in the goods and services category.
"The process leading up to tonight's finale has been a great experience for our company and the team," says Percheron Plastic Inc. co-founder Matt Tanguay.
"It really helped us focus on our business and on our pitch. Going forward, it is going to be a great boost for FireStraw and, really, all of our products."
Kavtek and Percheron Plastic Inc. were competing against four other finalists for the $35,000 grand prize: ViSmart, Transit On, Full Tilt Cycle, and Indigo Green.
VIDEO: Meet the 2018 Bears' Lair Finalists
At last night's final pitch event, each of the six finalists delivered five-minute pitches to a live audience and a panel of three judges (Rhonda Barnet, Chief Operating Officer of Steelworks Design; Geordie Konrad, Cofounder of Konrad Group; and Nicole Verkindt, Founder & CEO of OMX), followed by a question-and-answer session with the judges.
While Kavtek and Percheron Plastic Inc. were selected the grand prize winners, the other four finalists each received $1,000. In addition, FastStart awarded $200 to ViSmart to recognize an entrepreneur under the age of 30, and the Women's Business Network of Peterborough awarded a free 2018/19 membership to Kavetek co-founder Alexandra Campbell.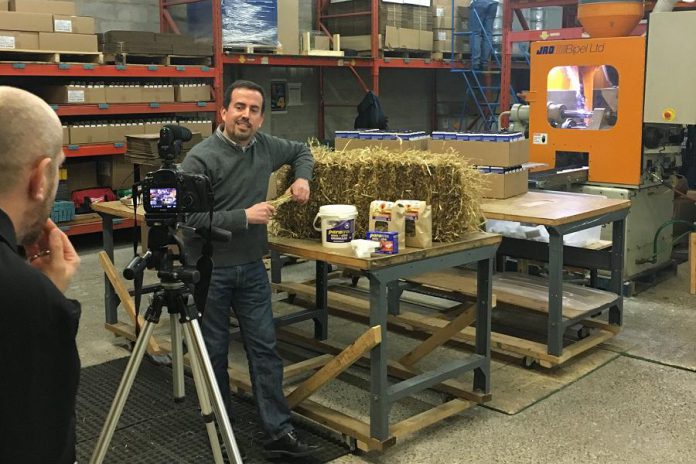 Diane Richard, chair of the Bears' Lair competition, says that the value of the competition for entrepreneurs — originally launched in 2010 — increases every year.
"This year, we did have a jump on the prizes, where each winner got $6,500 cash," Richard says.
"The line up of entrepreneurs did an incredible job with their business plans, displays and pitches, and I'm happy to see the top finalists take home those extra winnings. We applaud everyone who participated in this year's competition and we encourage all those with an entrepreneurial spirit to continue to develop and grow their businesses and connect with the business support community in Peterborough and the Kawarthas."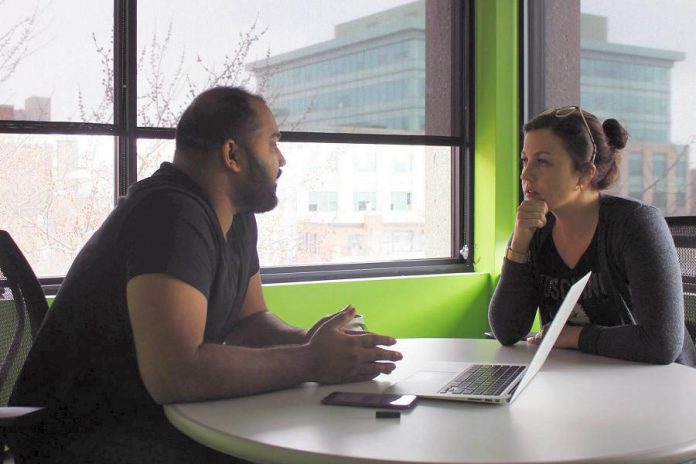 Sponsors of the 2018 competition are Community Futures Peterborough, Peterborough & the Kawarthas Economic Development, Innovation Cluster, Peterborough Angels, Mega Experience, kawarthaNOW, Workforce Development Board , WeDesign, PartTime CFO Services, Fox Lawyers, Greater Peterborough Chamber of Commerce, Savino Human Resources Partners, Diatom Professional Consulting, Sofie Andreou and Associates, Cody & James Chartered Professional Accountants, Women's Business Network of Peterborough, The Venue, and Ashburnham Realty.