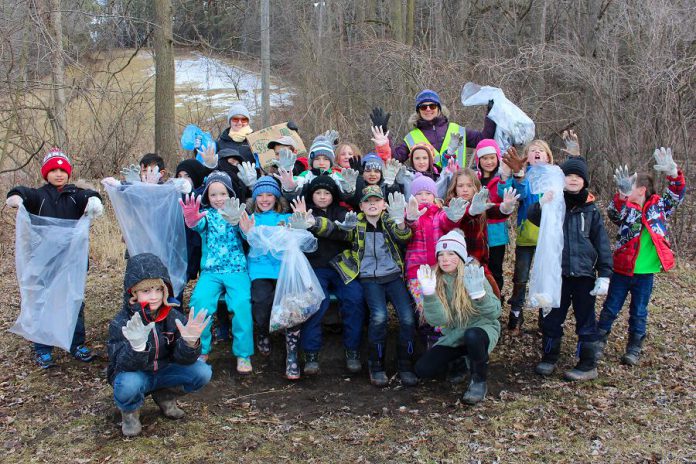 As we approach Earth Day, on April 22, 2018, consider attending one of the many annual litter clean-up events in the City of Peterborough. This is a great way to help and protect our natural environment.
"Kudos to all of the community groups who organize clean ups every year," says City of Peterborough Parks and Forestry Supervisor Phil Jacobs.
"Groups organize events at Jackson Park, Crawford Trail, Beavermead Park, Rogers Cove, Millennium Park, the trail behind Lansdowne Place, and the Rotary Club organizes a citywide clean up."
If you are interested in organizing a clean up of your own, Jacobs says "City of Peterborough Public Works can provide you with latex gloves, clear bags for recycling, and garbage bags."
The City is also willing to pick up the waste that groups have cleaned up, including garbage, recyclables, and large items such as tires or furniture.
Recently, GreenUP got things started early for Earth Day, while partnering with 100 staff members and students from King George Public School to clean up the northwest side of Armour Hill and Rube Brady Park in East City, Peterborough.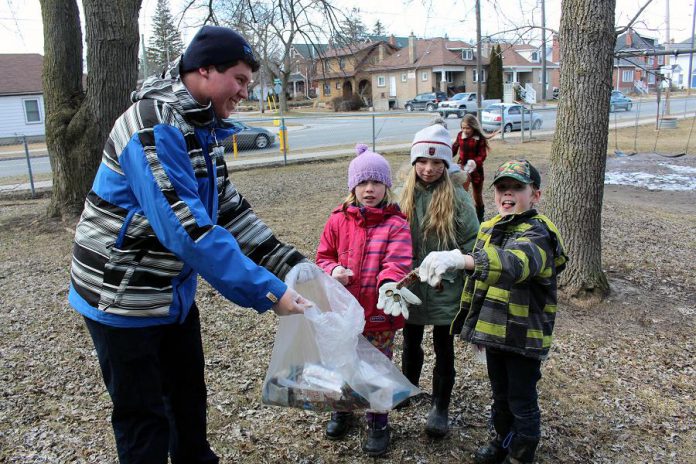 This clean up was organized based on feedback from the adjacent Curtis Creek neighbourhood that is participating in GreenUP's Sustainable Urban Neighbourhoods (SUN) program. SUN is also working in the Kawartha Heights neighbourhood to work with residents to improve the environmental and social environments of both neighbourhoods.
Many of the students who participated in the recent clean up on April 5th live nearby and walk through the trails at Armour Hill to get to school, so the clean up directly benefits them as well as the wildlife living in and around Armour Hill.
Grade 3/4 teacher Nicola Jennings explains the motivation behind the clean up.
"The kids care about the woods and they get upset when they see all the litter. When we go for walks on the trails and in the park, we bring bags to pick up the garbage."
These students have a keen understanding about litter and its harmful effects on the environment and on wildlife.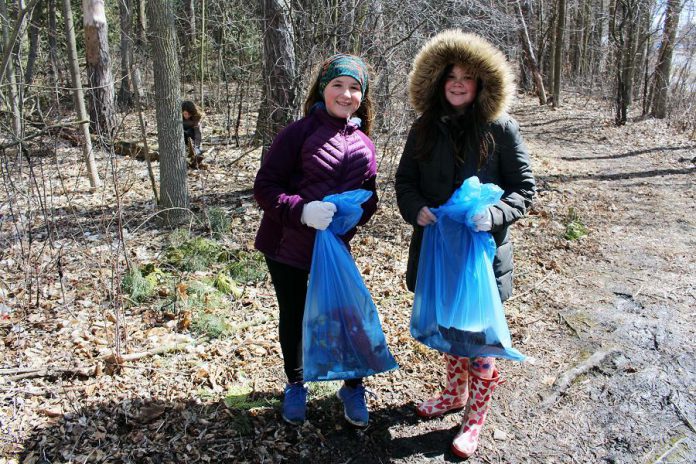 "I think it's important to know that litter can choke, hurt, and poison animals," says Mikayla, a Grade 5 student at King George Public School. "Everything we put out [into the environment] affects their life and habitat."
According to the Global Earth Day Network, the worldwide focus for this year's Earth Day is End Plastic Pollution. Plastics are prevalent in many of the materials we use on a daily basis, including in food packaging and candy wrappers, and in many single-use products such as grocery bags, plastic water bottles, and even cigarettes.
It is important to note that very little of the plastic we discard is recovered through recycling programs and it actually ends up in landfills instead. It is estimated that one-third of all plastic ends up in soils or freshwater, which eventually cycles to the oceans.
New research suggests that common plastics such as water bottles and take-away containers never fully degrade. Instead they become smaller over time, eventually becoming microplastics. Microplastics are tiny pieces of plastic that are less than 5 millimeters long, or about the size of a sesame seed.
In the environment, microplastics can look like food to animals, which can fill their bellies without providing any nutrition. Additionally, microplastics affect soil conditions. For example, when earthworms consume microplastics, their burrowing behaviour is inhibited, which results in degraded soils and reduced plant health. Ending plastic pollution is no small feat, but it would have considerable benefits for our water, soil, and air, and all the animals that share the planet with us.
Short of banning plastics, however, the second best approach is to ensure that we dispose of our waste properly, rather than littering.
André, a Grade 4 student at King George PS, offers some advice for people who litter around Armour Hill.
"I don't like what you're doing. I want the animals to be safe. Nature should be beautiful, not gross! And I want the people that are doing this to stop and be better people."
While noticing the signage in the park, André added, "People aren't obeying the signs. They say Smoke Free Park and Stoop and Scoop but we have cleaned up a lot of cigarettes and poop bags today."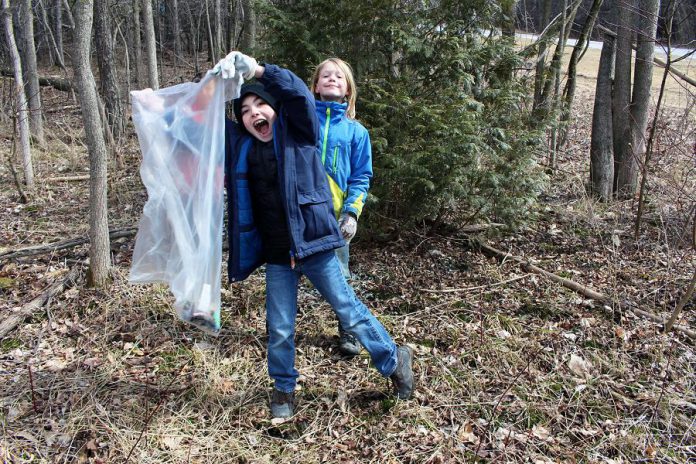 Students who participated in the April 5th clean up are hoping to be an example to other users of Armour Hill to dispose of litter properly and respect the local environment.
If you would like to get involved with an organized Earth Day event this year, join GreenUP's Recycle Rangers at the 11th annual Super Spring Cleanup hosted by the Rotary Club of Peterborough on Saturday, April 21st. The cleanup starts at Confederation Park, across from City Hall, at 10 am.
For more information on how to reduce your own waste in the community, visit recyclerangers.ca or email danica.jarvis@greenup.on.ca. If you would like to engage with the SUN program, visit our website at greenup.on.ca/sun, or contact Jenn at jenn.mccallum@greenup.on.ca.