Whenever I'm invited to visit St. James Players for a sneak peek of their yearly musical, I know I can expect to see something special. But when entering the downstairs auditorium of the old church on a Sunday night, I didn't quite expect the spectacle I arrived to see. I thought I was coming to a preview of Shrek: The Musical, and instead it looked like a scene out of Ray Harryhausen's Jason and the Argonauts.
A horde of performers in skeleton costumes were amassed together in a bizarre dance battle sequence. Was this some Halloween production I hadn't heard about? But before I could check my emails for location changes, I saw a familiar face in the midst of the skeleton battle. Actor Rowan Lamoureux came bursting through the sea of skeletons with a laugh, flipping and swinging them aside. Yes. I arrived in the right place. I don't remember skeletons in the Shrek movie, but I can get behind this.
Continuing its tradition of producing quality theatre for the entire family, St. James Players presents Shrek: The Musical from November 9th to 17th at Showplace Performance Centre in downtown Peterborough. Presented by the directing team of Nate Axcell and Drew Mills, Shrek features Rowan Lamoureaux as Shrek, Lindsay Barr as Donkey, Elizabeth Moody as Princess Fiona, and Taylor Beatty as Lord Farquaad.
Filled with all the familiar characters from the popular Shrek films, Shrek: The Musical is an ambitious theatrical spectacle filled with big laughs and even bigger performances.
Based on the 2001 Academy Award winning animated film (which itself was based on the 1990 picture book by American cartoonist William Steig), Shrek: The Musical tells of the unlikely friendship between a misunderstood ogre and a zany donkey, and their journey to 'save' a princess. One of the most successful animated film series of modern times, the characters from Shrek are familiar and beloved characters to a generation of fans.
"I was a little old for the movie when it came out, but it didn't stop me from watching it a lot," says director Nate Axcell. "I was always very fond of the movie, and I liked the jokes in it. I think it's an appropriate show for St. James to put on. It's family friendly, but still has a little adult humor where kids don't understand it but adults can laugh.
"There is also an initiative to get some newer shows. The old shows are great, but there is also a demographic that would very much enjoy theatre, but doesn't know it yet. We're hoping that we can attract new people who know the movie, and then come out to see Shrek; The Musical."
"You see Mary Poppins and you see Wizard of Oz, and you know what those shows are," adds co-director Drew Mills. "But Shrek is something different. It's also a huge technical marvel and there is so much that goes into it."
"Getting all the little details and getting all the tiny little jokes in there is extra important in this, because you want to keep people entertained every time," Nate says. "If someone were to come and see the show twice, they would see something new that they hadn't seen the last time. So we want to make sure those type of details are put into it as much as possible."
With over one hundred people attending the auditions for Shrek back in the spring, Nate and Drew had to whittle down their options to a cast of 30 performers. Nate and Drew selected Rowan Lameroux and Lindsay Barr as the show's heroes, Shrek and Donkey. Although both performers are very familiar to local audiences, they are also as unique as the parts that they play, and are not the usual suspects when it comes to being leads in musical productions.
Long before I even visited the set, I had already heard of the infectious and high-energy chemistry between stars Rowan and Lindsay. Perfectly playing off of one another both on and off stage, the pair are an incredible force together.
"We just connected on the audition day," Rowan says of his partnership with Lindsay. "We both walked in and we auditioned at the same time and Lindsay informed me that we were friends. We didn't talk about it. We just sat down and she told me we were friends now."
"He had no choice," Lindsay adds. "Rowan has a lot more theatre experience than I do, and he's a great leader in that way and in showing me how to try to do things differently. That really helps me. But we have a natural jovial nature with each other."
"As productivity goes, we are a bad influence on each other," Rowan notes. "We're making jokes while other people are taking directions, and are running around backstage stealing pizza that isn't ours. But it translates to a lot of fun. This is the most fun I've had in a theatre experience in a long time, and I think that's what this is. It's really fun every single time."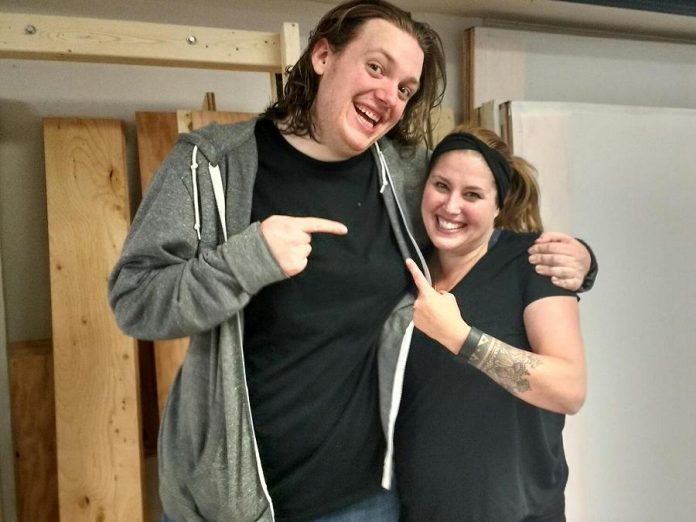 With Shrek being one of the iconic animated creations of the current century, audiences know what to expect when coming into the show. That creates a challenge for an actor to put his own stamp on a character that's already so familiar to the public, but Rowan explains that there are more elements to Shrek in the play than there are to the character in the movie.
"I was just a little baby when Shrek came out in theatres," Rowan explains. "I remember a lot of the jokes, but I try to take this from the script first, and try to find out who Shrek is from reading it as much as possible, and trying to avoid the cast recording, to bring my own voice to it.
"Shrek, in the movie, is very curmudgeonly and angry. But in the musical they've added a layer of abandonment and that he's angry at people because he doesn't expect them to like him. It's a reverse to Donkey who believes everybody should like him immediately. Shrek assumes that since people won't like him, that he shouldn't talk to them, so that he doesn't start to like someone and then they hurt him. He's shy because he's been hurt so many times."
Meanwhile, Lindsay Barr embraces the zany persona of Donkey. Voiced in the film by comedian Eddie Murphy, Lindsay harnesses that loud and comedic performance and creates a voice for Donkey that is all her own and hilarious to listen to.
"Donkey, to me, is just an absolute over-the-top ridiculous character who doesn't believe that anybody couldn't like him," Lindsay says. "That doesn't exist to him. I think my character is over the top, loud, kind of annoying but loveable.
"I was listening to the cast recording and found myself naturally copying it, and I was constantly over the top. But Rowan graciously told me 'You don't have to be over the top all the time. You've got to have somewhere to go. If you're up here all the time, you're hitting the roof. So give yourself some room, and then you can hit the roof when it's appropriate.'
"That resonated with me. I also had to develop this voice, where I am a man and most likely from the Bronx. I was emulating Eddie Murphy at first, but I was able to pull it back and eventually put my own spin on it."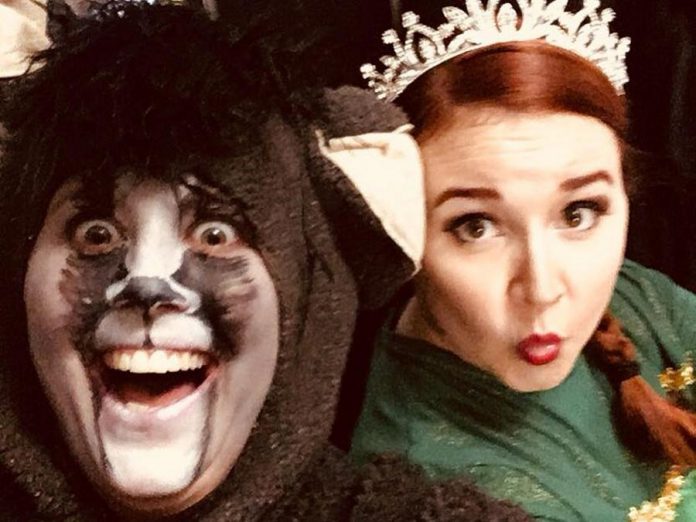 Although she is one of my favourite people in the Peterborough theatre community, I was surprised to find out this is the first time that Elizabeth Moody, who takes the role of Princess Fiona, has had a lead in a musical. But as it was explained to me, due to her 20-plus years of dance, she has always played character roles or been in the chorus.
"I never thought I'd get Fiona because there was some steep competition for the role," Liz tells me. "But I thought it would be a fun role. She's such a vibrant princess of the Disney/Pixar world. To me that's a much more appealing princess. I owe it to Nate and Drew for taking a risk on someone who hasn't been a leading lady.
"Fiona has a mind of her own. She's not the typical princess because life isn't handed to her. I feel like other Disney princesses have help. They have magic and fairies and mice and talking tea pots and little cups. They have guidance and Fiona doesn't. She means business. She wants things done her way and wants them done now, and she's not afraid to say it.
"Other princesses follow the breadcrumb trail to find out where they are supposed to go, but Fiona is tough. She's resilient. She's lived alone in a tower for twenty years and she's had enough."
To recreate the bold but memorable look of the animated film, great attention has gone to the costuming by Rebecca Smith and make-up design created under the supervision of Christie Read. With a few make-up tests leaking online, some of the most ambitious make-up creations I've ever seen are being created for Shrek.
"The make-up and costumes have to relate to what people come to expect from Shrek," says Drew. "Half the people will say 'I saw Shrek once ten years ago,' but then you have the people who say 'I love Shrek' and the make-up has to look perfect so those people can look at the performers and go 'Yes, that's Shrek.'"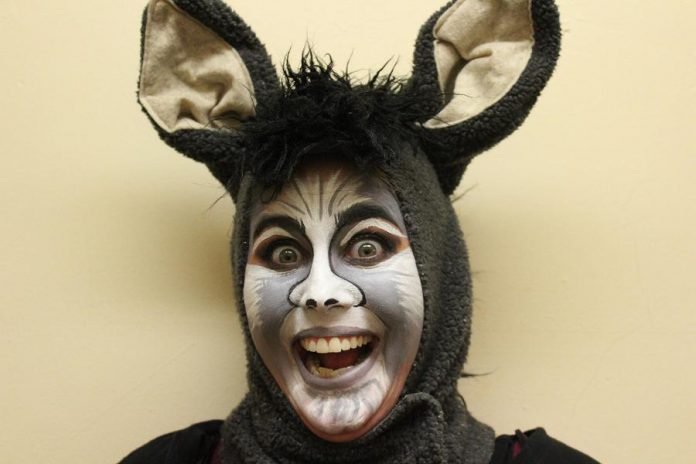 An ambitious show with some very big personalities, there are many things that make me excited for the St. James Players production of Shrek: The Musical.
The first is to watch some actors I have come to love over the years take centere stage. The entire principal cast of Shrek are seasoned performers, but have always taken character roles. This is a show where the character roles become the leads, which will make for a very different theatrical experience.
Another is the fact that, while some audience members might be familiar with Shrek as a franchise, it's one that I just don't know as well. I'm looking forward to seeing something completely new on the Showplace stage and entering an unfamiliar world featuring familiar characters.
"It's a really funny show," Rowan says. "If you remember the movie being funny, this show is funnier."
"I think people should come see the show not for only the absolute hilarity of it, but because it is actually a complex show," Lindsay adds. "There are a lot of characters and costume changes. If you love the theatre, this is one that you're going to come to see because you are going to leave uplifted and light-hearted."
Shrek: The Musical opens on November 9th and runs until November 17th at the Showplace Performance Centere ((290 George St. N., Peterborough). Tickets are $29 ($26 for students or seniors and $23 for children under 13) and available in person at the Showplace Box Office, by phone at 705-742-7469, or online at www.showplace.org.