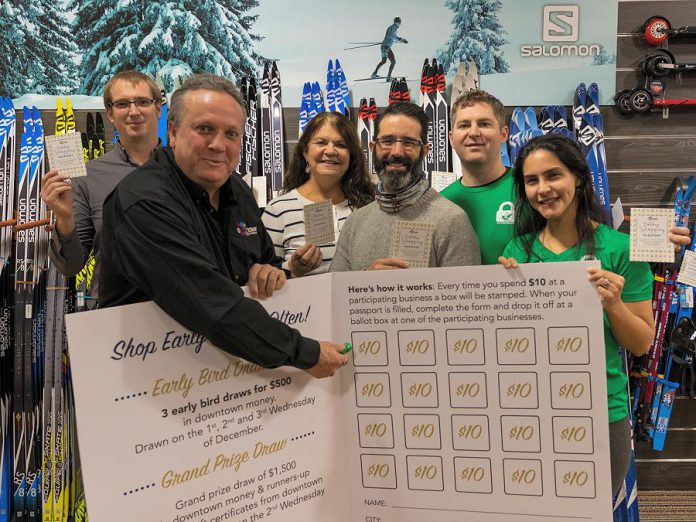 Earlier today (November 12) at Wild Rock Outfitters in downtown Peterborough, the Peterborough Downtown Business Improvement Area (DBIA) launched its bigger and better Holiday Shopping Passport program.
The program rewards people for supporting local businesses by shopping, dining, and more in downtown Peterborough. More than 140 businesses and organizations are participating this year — including, for the first time, Showplace Performance Centre and the Market Hall.
Every time you spend $10 at a participating business or organization, a box on your passport will be stamped. When your passport is filled (20 stamps or $200 worth in spending), you complete the form and drop it off at a ballot box at one of the participating locations.
Each completed passport is a ballot for a draw to win "downtown money" (gift certificates that can be redeemed at participating businesses and organizations). Three early bird prizes of $500 in downtown money will be drawn on the first three Wednesdays of December (5, 12, and 19) with a grand prize of $1,500 in downtown money to be drawn on Wednesday, January 9th.
VIDEO: 2018 Downtown Peterborough Holiday Shopping Passport Program
For the first time, this year you can have your passport stamped when you purchase tickets at the box offices of Market Hall Performing Arts Centre (140 Charlotte St., Peterborough) and Showplace Performance Centre (290 George St N, Peterborough).
Another new participant this year is Lift Lock Escape (351A George St. N., Peterborough). The entertainment business, which opened this past August, features an escape room, virtual reality gaming, and a board game cafe all in one location.
See a list of all 144 Holiday Passport locations below.
Also new this year is a complimentary stamp at the Peterborough Public Library (345 Aylmer St. N., Peterborough). Sign out a book during passport season and receive a free stamp for using library services.
Once again in 2018, you can get a complimentary stamp (limit one per person) when you drop by the Peterborough & the Kawarthas Tourism office (270 George St. N., Peterborough).
The Holiday Shopping Passport program, which Peterborough DBIA has been running annually for several years, has proven to be popular with shoppers and a boon for downtown businesses. When the program first launched, shoppers stamped $500,000 worth of passports. Last year, the amount grew to $1.9 million.
"It's easy to understand why people love the Holiday Shopping Passports," DBIA executive director Terry Guiel says. "Spend your money locally in downtown Peterborough for a chance to win more money to spend at your favourite shops and restaurants. This program just keeps getting bigger and better."
You can also use the Holiday Shopping Passport on Black Friday (November 23), when more than 100 participating downtown Peterborough businesses are hosting some of their biggest sales of the year. And, beginning on Black Friday and until the end of December, you can park for free for two hours courtesy of the City of Peterborough Parking Division.
For more information, visit downtownptbo.ca.
Holiday Passport Locations
24 Seven Family Gym
Absolute Hair
Amuse Coffee Co.
Antoinette Bridal
Argania Natural Health Clinic
Arken Beauty Supply
B!KE
BioPed Footcare
Black Honey Bakery
Black Honey Dessert and Coffeehouse
Bluestreak Records
Boardwalk Board Game Lounge
Boater's World
Brant Basics
Brick House Craft Burger Grill
Buck or Two Plus!
Burgundy's Hair Salon
By The Bridge
Caffeina Espresso Bar
Cahill's Outerwear
Carlson Wagonlit Stewart Travel
Charlotte Jewellers
Charlotte Paint & Wallpaper
Charlotte Street Comics and Collectibles
Charlotte's Web
Chumleighs
Cork and Bean
Cottage Toys
Curry Mantra
Curry Village
Cute as a Button
Dodrio
Dreams of Beans
Dueling Grounds
Earth Food Store
Elderberry Clinic
Electric City Bread Company
Euphoria Wellness Spa
Faces by 2
First Stop Swap Shop
Flavour
Fontaine's Source for Sports
Frame It For U
Fresh Dreams
Fresh Urban Plate
Freshii
Full Tilt Cycle
Future Phone & Tech
Gentry Apparel
Greater Peterborough Chamber of Commerce
Green Street
GreenUp Store
Grey Guardian
Hello Baby!
Hi Ho Silver
Hobies Sports Ltd.
Hunter Street Books
Iceman Video Games
Insight Optical
Island Cream Caribbean Cuisine
Jack's Hot Spot
John Roberts Clothiers
Just Like New
K & C Costumes
Kettle Drums
Kingan Home Hardware
Knock on Wood
La Hacienda
La Mesita
Larry Electric & Motor Service
Laurie Jones & Co Hair Designers
Lift Lock Escape
LiLi's Convenience
Marie Cluthé Antiques and Collectibles
Market Hall
Mercado La Hacienda
Meta 4
Mike's Tattoo
Minh's Chinese Grocery
Miranda Studios
Mr. Sub on George Street
My Left Breast
My Own Clouds
Naked Chocolate
Needles in the Hay
Needleworks
Next Level Mobile
Nielsen's Watches and Jewellery
No Comply
O'Haira Hair Studio
Pammett's Flowers
Pappas Billiards
Pensieri Shoes
Peterborough & the Kawarthas Tourism
Peterborough Inn & Suites
Peterborough Photo Service
Peterborough Public Library
Peterborough Travel
Pettigrew Spa & Salon
Pipe Dreamz
Pita Pit on George St.
Providence
Rare Grill House
ReBoot
Red Stone Nail Salon
Renew MediSpa
Ritual Apothecary
Runner's Life
S.O.S.
Sam's Place
Sandy's Cigar & Variety
Showplace Performance Centre
Silk Roots
Simply Delicious
Sugar Me Right
SUP
T-Elle Boutique
The Art School of Peterborough
The Avant-Garden Shop
The Cell Shop
The Cheese Shop
The Edison
The Hock Shop
The Only Cafe
The Pasta Shop
The Patch
The Publican House Brewery
The Publican House Restaurant and Taphouse
The Running Room
The Toy Shop
Things from Mom's Basement
Tiny Greens
Tonic Hair Salon
Tribal Voices
Turnbull Café
Under One Sun
Villa Auto Wash
Village of Thai
Watson & Lou
Whistle Stop Café
Wild Rock Outfitters
Yo Yo's Yogurt Café
You're Welcome
Zap Records