General Motors has confirmed it will be closing its assembly plant in Oshawa, sending ripples through surrounding communities like Peterborough.
"Not every auto worker that's in the plant lives in Oshawa," said outgoing Oshawa mayor John Henry in an interview Sunday evening (November 25) with the Globe and Mail. "It will affect a lot of communities, Port Hope, Cobourg, Peterborough, Lindsay, City of Kawartha Lakes and then all of Durham region."
GM's Oshawa plant employs just over 2,600 people, including 2,522 unionized workers. Many of those workers commute from communities outside of Oshawa.
The U.S. auto giant confirmed on Monday (November 26) it is closing five facilities in North America, eliminating 15 per cent of its salaried staff, to focus on the production of electric and autonomous (self-driving) vehicles. Assembly plants in Oshawa, Detroit, and Warren (Ohio) will be "unallocated" in 2019, according to the announcement, along with propulsion plants in White March, Maryland and Warren, Michigan. Two unnamed plants outside North America are also affected, as well as an assembly plant in South Korea whose closure was previously announced. Read the complete announcement.
Workers at the Oshawa plant walked off the job on Monday morning in protest of the announcement.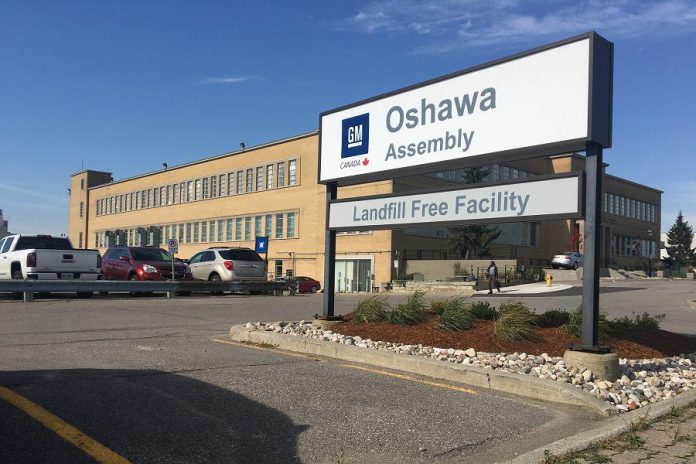 Unifor, the union representing the auto workers, is scheduled to hold a discussion with GM on Monday afternoon.
"Unifor does not accept the closure of the plant as a foregone conclusion," says Unifor president Jerry Dias. "Oshawa has been in this situation before with no product on the horizon and we were able to successfully make the case for continued operations. We will vigorously fight again to maintain these good-paying auto jobs."
The GM plant in Oshawa assembles the Chevrolet Impala, Buick Regal, Cadillac XTS, and Chevrolet Equinox, and completes final assembly work on Chevrolet Silverado and GMC Sierra trucks.
Oshawa is also GM's Canadian headquarters and where one of its two Canadian Technical Centres is located. The Oshawa centre focuses on chassis and body sub-systems, alternate fuels, specialty vehicles, cold weather development, and complex project delivery.
The announcement of the closure comes after GM recently completed a $500 million transformation of the assembly line at the Oshawa plant, making it the only one in North America capable of building both cars and trucks.
Ontario premier Doug Ford issued a statement on Monday regarding General Motors' decision to close the Oshawa plant:
"Today is a difficult day for the workers at the General Motors Oshawa Assembly Plant," Ford says. "It is a difficult day for the thousands of workers at hundreds of Ontario auto part suppliers that depend on the GM Oshawa Assembly Plant for much of their business, as well as for workers and small business owners throughout Oshawa and the wider Durham region."
Ford says the Ontario government is "exploring measures to help impacted workers, businesses and communities cope with the aftermath of this decision."
This includes authorizing Employment Ontario to deploy its Rapid Re-Employment and Training Services program to provide workers with targeted local training and job services. Ford will also bea sking the federal government to immediately extend Employment Insurance (EI) eligibility to ensure impacted workers in the auto sector can fully access EI benefits.
Production first began at the Oshawa plant in 1953 and, by the the 1980s, the plant employed around 23,000 people.
In addition to the 2,600 people currently directly employed by the Oshawa plant, thousands of other people employed by businesses in the auto parts sector would also be negatively affected by the closure, as well as businesses that supply products and services to the workers who will be losing their jobs.
This story will be updated as more information becomes available.