One of the best ways to encourage people to shop local is to make it more convenient for them, and that's why the Peterborough Business Downtown Improvement Area (DBIA) has launched "Open Late 'Til Eight".
The new initiative sees participating businesses in downtown Peterborough staying open until 8 p.m. every Thursday and Friday evening this summer — with the added incentive of free downtown parking after 6 p.m.
DBIA executive director Terry Guiel announced the new initiative on Tuesday (June 4) in the popular Hunter Street West cafe district in downtown Peterborough.
"These are the sweet shopping hours, after work when people need the convenience," Guiel says. "We know from statistics that younger people want to shop after work, and then enjoy dinner and the entertainment that we have to offer."
A total of 27 retail stores are participating in "Open Late 'Til Eight", which runs from Thursday, June 13th until Friday, August 30th. They include everything from men's and women's wear, jewellery, music, games, toys, sports, adult novelties, and more.
"Our restaurants are hopping at 8 p.m. and downtown comes alive," Guiel explains. "Having the convenient shopping hours just makes sense — it segues into people staying downtown."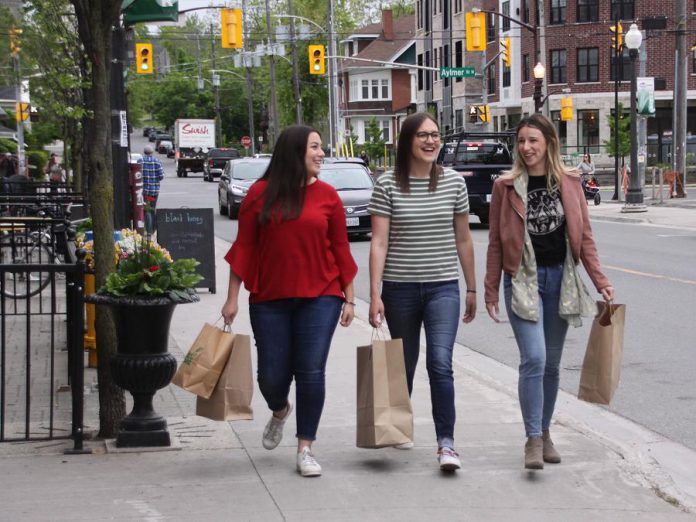 Guiel says research shows more than 70 per cent of downtown shoppers want the convenience of later hours.
"It's a great idea," agrees passerby Jay Adam, executive director of the ReFrame Film Festival. As a shopper, he says the later shopping hours would be more convenient for him.
"Open Late 'Til Eight" is a coordinated effort with the goal of increasing access to shopping in downtown Peterborough.
"The later shopping hours are very important," Guiel says. "We need to collectively meet the desires of shoppers."
To help promote the later shopping hours, participating shops will have an "Open Late 'Til Eight" sticker in their windows.
"We know it's important to be open when our customers are wanting to shop," says Holly Butler, manager at Iceman Video Games, one of the participating stores. "Staying open late keeps people shopping local."
Parking being free after 6 p.m. on Thursdays and Fridays will also encourage shoppers to spend more time downtown this summer.
"As Canadians, we need to take advantage of the warm, daylight hours when we get them," says artist Christy Haldane, who works at META4 Gallery, which is also participating in the initiative.
Here's the complete list of downtown Peterborough stores participating in "Open Late 'Til Eight" (we've also included a location map below, with addresses, telephone numbers, and links for more information about each store):
Bluestreak Records
Charlotte's Web
Cottage Toys
Dodrio
Flavour
Grey Guardian Games
Hi Ho Silver
Iceman Games
John Roberts Clothiers
K & C Costumes
Lift Lock Escape
META4 Gallery
Minh's Chinese Grocery
Next Level Mobile
Pipe Dreamz
Providence
Ritual Apothecary
Runner's Life
Running Room
SOS – Save Our Soles
The Peace Pipe
The Toy Shop
Tiny Green
Tribal Voices
Under One Sun
You're Welcome
Zap Records
Location map of participating stores