This month, food writer Eva Fisher tastes burger perfection at Peterburgers, slices the haggis at Hutchison House Museum's Hogmanay, takes farm-to-table cuisine on the road with Kitchen Farmacy, and finds Christmas cookie paradise at Baked4U.
Advertisement - story continues below
Peterburgers strive for burger perfection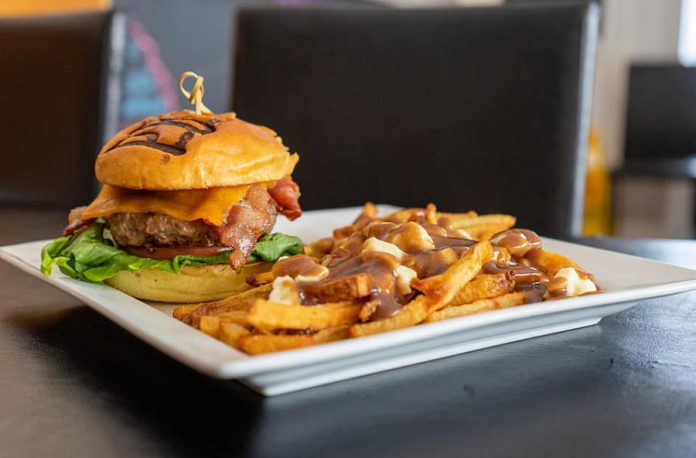 There's certainly something to be said for doing one thing really, really well. That's the concept behind Peterburgers (25 George St. N., Peterborough, 705-743-2022), a new burger restaurant owned by husband-and-wife team Nicole Comber and Roy Asselsetine.
Nicole has worked in the food and beverage industry since the age of 15, and Roy has trained under chefs at Trent University and Fleming College. When Nicole posed the idea of starting a restaurant together, Roy suggested they focus on Nicole's homemade burgers.
From there they approached Jus-Jellin, a local company that makes beer jellies out of Publican House beer, about using the jelly in Peterburger's signature burger recipe. The concept was born, but development had only just begun.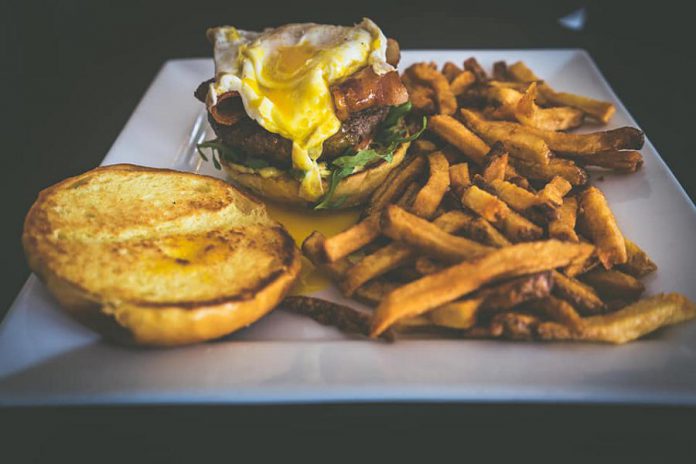 Serious about making a perfect burger, Nicole spent two months further honing her recipe.
"We wanted to make sure that we perfected one thing so we could keep consistency with it," she explains. "It's not going to budge. We're not going to change the cheese to processed cheese, we're not going to make the patties smaller. We're going to perfect these burgers and that's going to be it — always."
So what makes the perfect burger? Nicole has put a lot of thought into this.
"The quality of meat, the flavour. Our burgers aren't greasy — they're juicy, and there's a big difference."
"It's also the way you build a burger. We've got our lettuce and tomato that actually goes underneath the patty and there's a reason for that. It's all about the way you bite into a burger and how the different flavours actually reach your palate, your taste buds. And it really does make a difference."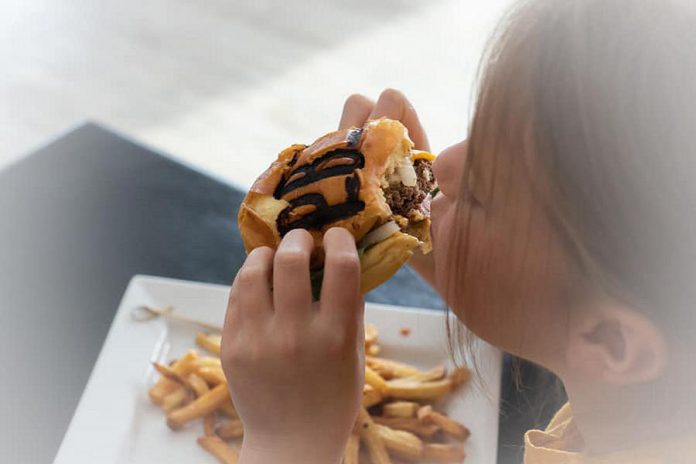 The two best-selling menu items so far have been the PTBO Strong and the Lock 20. One dollar from every PTBO Strong burger sale goes to the PTBO Strong foundation, a local not-for-profit that raises funds and awareness for treatment around opioid addictions.
The PTBO Strong burger is a beef burger with homemade cheddar sauce, a slice of real cheddar cheese, sauteed portobello mushrooms, and a six-ounce beef patty. The Lock 20 is the biggest burger on the menu: two beef patties, lettuce, tomato, grilled onion, two slices of bacon, two pieces of cheese, and Nicole's homemade aioli sauce.
Vegetarian, gluten free, and keto burger options are are available. For more information, visit peterburgers.ca.
Advertisement - story continues below
Great chieftain o' the puddin-race! Celebrate Hogmanay and Haggis at Hutchison House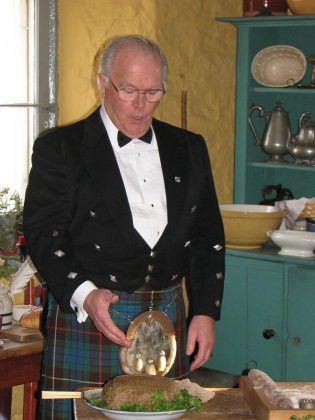 Hutchison House Museum (270 Brock St, Peterborough, 705-743-9710) is hosting a Hogmanay celebration from 1 to 3 p.m. on January 1st. Hogmanay is a traditional Scottish celebration of the New Year established in the 16th century.
The festivities are led by the first-footer.
"The first footer is the first person in your door after midnight," curator Gale Fewings explains. "That person brings luck to your house. The first footer brings with him (first footers are traditionally male) a tray of goods to bring good fortune to the household: something to start the fire, scotch to keep the spirits up, salt, 'because in every life there has to be some tears', and bread because it's the 'staff of life'."
Next there will be a rousing rendition of 'Burns' Address to a Haggis', performed in a traditional Scottish brogue, a performance that involves slicing into the haggis, supplied for the occasion by Franz's Butcher Shop.
Haggis is just one of the traditional Scottish offerings available at Hutchison House's Hogmanay celebration. The Hutchison House staff are also serving cheeses, shortbreads, oatcakes and Scotch Black Bun — a rich mixture of currants, raisins, peel, spices and whisky, baked in a fine pastry dough.
They will prepare Scotch eggs from scratch, hard boiling the eggs, rolling them in flour, packing them with sausage seasoned with mace, pepper and sage, rolling them in breadcrumbs, and deep frying them.
They will also make potted salmon (red salmon pounded down with spices and preserved with a layer of butter) and slooty dumpling, also known as duff, a boiled pudding made with fruit, sugar, and flour.
Admission to Hogmanay costs $10 for adults, $5 for children, and $20 for a family of two adults and two children. It is a drop-in event, and visitors can stop in throughout the afternoon.
For more information, call the museum at 705-743-9710.
Advertisement - story continues below
Kitchen Farmacy's newly expanding catering operation brings the farm to a table near you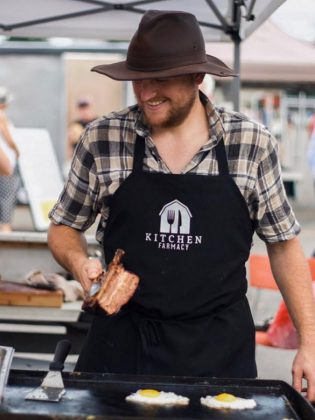 Chef Josh Keepfer, owner of Kitchen Farmacy, has worked all over the world, but his passion is for all things local.
Kitchen Farmacy is a catering service that creates gourmet farm-to-table street food for local farmers' markets. They are set to expand their catering operations with a new facility on Young's Point Road opening this spring.
The new facility will allow Josh, who currently rents kitchen facilities for his business, to keep up with demand for his catering services and offer a wider variety.
At the new facility, there will also be space to meet with clients to plan menus.
Josh also plans to plant vegetables on the property to supply the business.
Josh is no stranger to farm-to-table cuisine. He has worked in kitchens in Italy, the U.K., the U.S., and Canada. This included a farm in the U.K. which supplied its own restaurant and a restaurant in B.C. where they grew vegetables in the mountains under a snowdome.
He also worked in South Carolina preparing traditional southern barbecue. This remains some of his favourite cuisine to prepare.
"My favourite, homey dishes, the things I love to do — I love to work on a wood oven, I love to smoke meat, which goes into my gourmet street food."
One meal that exemplifies Josh's approach to food is his porchetta, a perfect hybrid between fine dining and street food.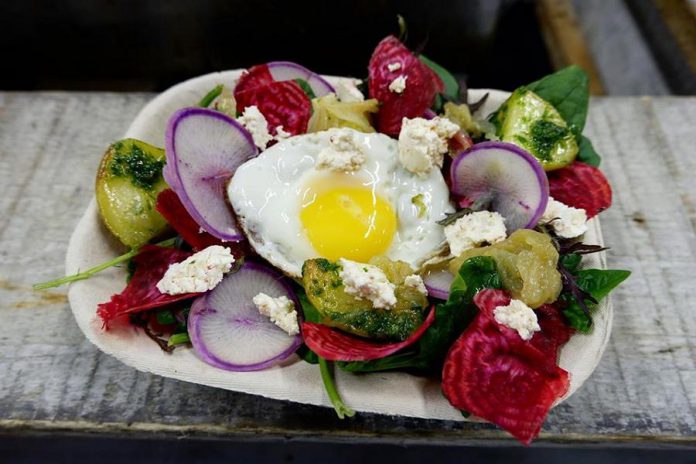 "We do a beautiful porchetta, which is the belly and the loin, rolled," Josh explains.
"We put it in the wood oven, but we stuff it with some lovely fresh herbs. We do a sweet white wine from Kawartha Country Wines that we put in with the herb mix and it gets rolled up. We put it in the high heat and the skin just crisps up beautifully, and you've got the juicy belly and the loin."
A full catering menu is available at www.kitchenfarmacy.ca.
Advertisement - story continues below
Have a sweet holiday with Baked4U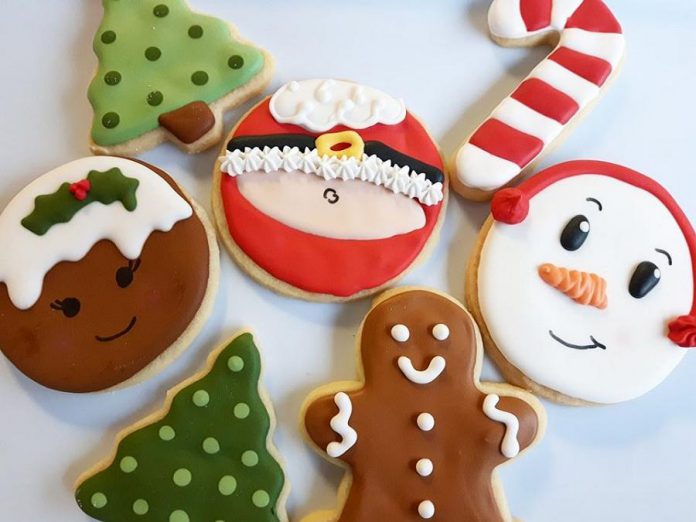 Are you craving holiday cookies, but not craving the time in the kitchen that it takes to make them? Shannon Healey, co-owner of Baked4U (#9A 1837 Lansdowne St. W., Peterborough, 705-874-1695), has you covered.
Baked4U offers home-style baking with a focus on sweets, including a wide variety of Christmas cookies.
Shortbread fans in particular will want to plan a stop. Baked4U currently has five types of shortbread: plain bars, plain shortbread rounds, toffee shortbread, earl grey, and candy cane. When developing her shortbread recipes, Shannon's U.K. background came in handy, particularly for her shortbread bars.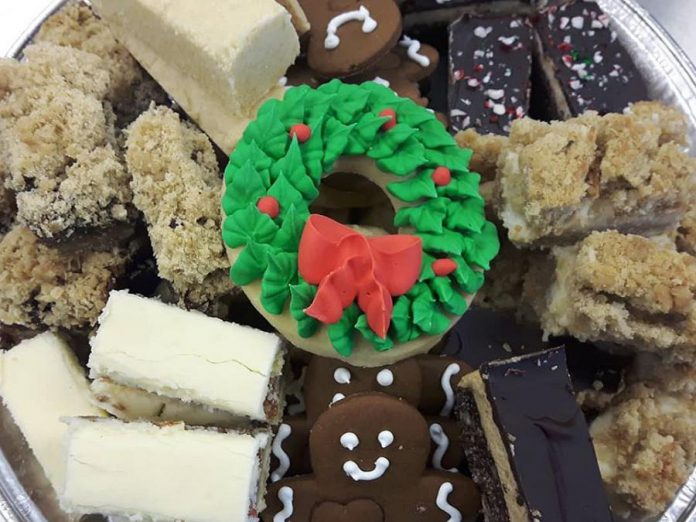 "I have five or six shortbread recipes that I already had at home, but then I called up some relatives from Scotland and said 'I'm starting a bakery and I want the most authentic, the best Scottish shortbread recipe that you have.' And that's where I got that recipe."
In addition to shortbreads, Baked4U offers traditional favourites like icebox cookies, gingerbread men, and empire biscuits — which Shannon notes are her absolute favourite Christmas cookie. You will also find a variety of decorated sugar cookies, perfect to add panache to a holiday cookie platter.
One creation that Shannon is particularly proud of are her love bites. She developed the recipe, changing it 10 times before she found the perfect combination. She adapted the recipe again for the holidays. It's a heart-shaped dark chocolate sandwich cookie with vanilla buttercream and crushed candy cane inside, and a chocolate drizzle and crushed candy cane on top.
While it's important that a Christmas cookie be decorative and colourful, Shannon says that the most important element of any cookie is its flavour.
"With every cookie I make I go for maximum flavour," she says. "I totally revamped all of the spices in my original gingerbread recipe because it wasn't spicy enough for me. It has to have maximum flavour. If it's shortbread, it should be buttery and if it's gingerbread, it should be spicy."
While Baked4U is open on Christmas Eve from 10 a.m. to 3 p.m., Shannon reminds customers to order their Christmas goodies ahead of time to avoid disappointment. For more information, visit www.baked4u.ca.