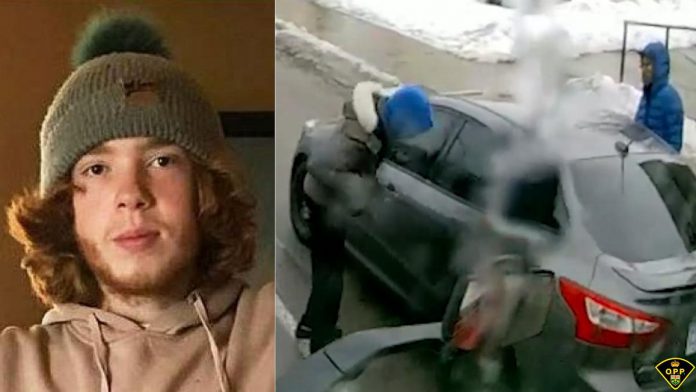 Police investigating the unsolved murder of 18-year-old Alex Tobin in Omemee in the City of Kawartha Lakes have released new details about the crime and video footage of suspects.
The Ontario Provincial Police held a virtual media conference on Thursday (April 14) where they provided previously unreleased details of the murder, along with video and photos of two suspects fleeing the apartment building at the time of the murder as well as three suspects at a Scarborough park believed to be discarding evidence connected to the murder.
On February 18, 2020 at around 1:07 p.m., Tobin was shot in his girlfriend's apartment at 36 King Street East in Omemee, a small apartment building located across from Omemee Foodland, and later died in hospital.
Advertisement - story continues below
Tweet this quote
Detective Inspector Chris Josiah, major case manager with the OPP Criminal investigation Branch, said police have since recovered the firearm, during an unrelated investigation, they believe was used to kill Tobin.
"We are looking for the public's help to identify the person who shot Alex," Josiah said. "It was known that Alex was involved in the illegal sale of marijuana."
"Through the investigation, my team and I have learned that, following Alex's shooting, two suspects were captured on video leaving the building and fleeing the area. We believe that the suspects were from the Greater Toronto Area and attended Alex's residence to purchase marijuana."
VIDEO: Suspects in February 18, 2020 murder of Alex Tobin

The two suspects then left the area in a motor vehicle on Highway 7.
The first suspect is described as a black male with braided hair and of average height. He was wearing a blue, hooded sweatshirt, a 'Moose Knuckle' winter coat, and black Nike-brand 'Air Force One' running shoes.
The second suspect is described as a black male, who was wearing a blue hooded winter jacket. He wore prescription eyeglasses with uniquely shaped frames.
Advertisement - story continues below
In a March 3, 2020 video released by police, three suspects in a black Audi sedan are seen arriving at Murison Park in Scarborough. Two of the suspects get out of the car and walk into the park while carrying a blue winter jacket and a garbage bag, where they are believed to have discarded evidence connected to Tobin's murder.
Police are seeking the public's help to identify the owner of the black Audi sedan and the two suspects in the video. They have released photos of the three suspects obtained during the investigation.
A $50,000 reward continues to be offered for anyone with information leading to the arrest and conviction of the person or persons responsible for Tobin's murder.

The OPP is urging anyone who may have information that would assist with the homicide investigation to call the OPP's dedicated tip line at 1-844-677-5020.
Those who wish to remain anonymous can call Crime Stoppers at 1-800-222-8477 (TIPS) or submit tips online at ontariocrimestoppers.ca/submit-a-tip/submit-a-tip.