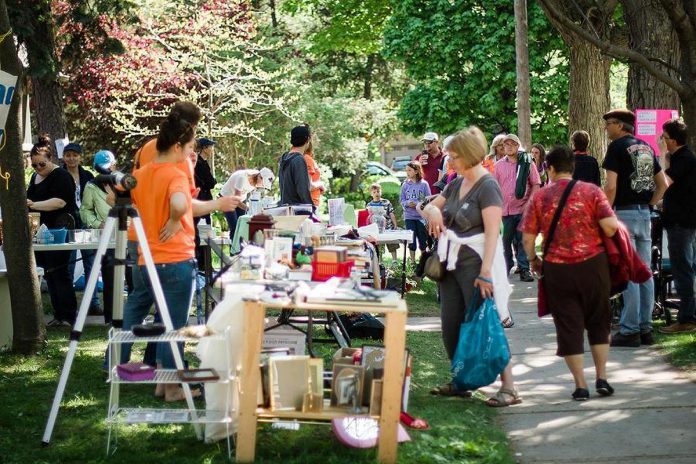 After a two-year absence due to the pandemic, Peterborough's biggest and most popular garage sale is set to return on Saturday, May 28th.
The Great Gilmour Street Garage Sale sees residents of the entire length of Gilmour Street — from Park Street to Monaghan Road — participating in the sale, often with additional sellers west of Monaghan and some on Homewood Avenue and Burrows Street.
While there's been no official announcement, a couple of residents have told kawarthaNOW the event is going ahead this year.
Advertisement - story continues below
First held in 1990, the sale takes place on the morning of the Saturday following the Victoria Day weekend beginning at 9 a.m. (although some people have been known to show up early) and runs until 1 p.m.
While the weather for the sale has traditionally been excellent, there's always a chance it will be rained out. The rain date is Sunday, May 29th from 9 a.m. to 1 p.m.
The types of items you can find are what you would expect an any garage or yard sale: furniture, clothing, books, CDs, sporting equipment, paintings, bikes, appliances, electronics, baked goods, and more. But because so many residents participate in the sale, there's a huge selection and the opportunity to find unusual, unique, or even rare items.
Advertisement - story continues below
Prior to the pandemic, thousands of people came out every year to the Great Gilmour Street Garage Sale to find both regular and unique items at bargain prices, or to support the many non-profit organizations that also set up shop during the sale to raise funds.
In the past, organizations involved in the sale have included the Peterborough Symphony Orchestra, The Parkinson Society, the Multiple Sclerosis Society, Taoist Tai Chi Society, and many more.
There's no website or consolidated listing of all the sellers and charities who are participating in the Great Gilmour Street Garage Sale. While there is a Facebook group and a Facebook page, neither have been updated recently.
kawarthaNOW will update this story when more details become available.