The Peterborough Area Roller Derby (PARD) league is returning to the track this June for the first time since the pandemic began.
On Saturday, June 18th at the Douro Community Arena (2893 Highway 28, Douro-Dummer), the league will be hosting "Post Pandemic PARDy: Down with the Sickness", their first match since their win against Durham Region Roller Derby's DRRD'y Farmers in March 2020.
Doors will open at 3:30 p.m. for a low-contact bout against Ottawa Roller Derby at 4 p.m., followed by an open full-contact scrimmage at 6:30 p.m. Tickets for the family-friendly event are $10 (free for kids under 12) and are available at the door (cash only) or in advance from a skater.
Advertisement - content continues below
According to a media release, PARD members have been training hard over the past year, integrating new skaters into the league, and looking forward to their 2022 season.
This season's PARD membership includes Nancy Drew Blood (#19), Saul Good (#27), Sneaky D (#17), Snarl Marx (#1965), Car On Fyre (#413), Ramona the Pestilence (#104), Bamzoni (#7805), Sassitude (#3.14), Hurl Interrupted (#18), Kay, Bye (#705), Tiny Maehem (#1718), Dee-Molisher (#2304), Hatin' McWrath (#20), Dicinta Grater (#811), Ricky Reckless (#86), Molly Spartan (#9), Seana the Dead (#613), Them Fatale (#1929), Break'er Thigh (#506), Shots O'Plenty (#52), and Steph Davey, along with coaches Sarie Not Sorry (#607), Stevie Stitches (#11), and Pip (#1701), and head referee Killer Whale Tank.
PARD is an incorporated not-for-profit, co-ed, skater-run league based in Peterborough, playing full-contact flat track roller derby. They are always looking for "fresh meat" (new skaters) and skating referees, with opportunities for both men and women.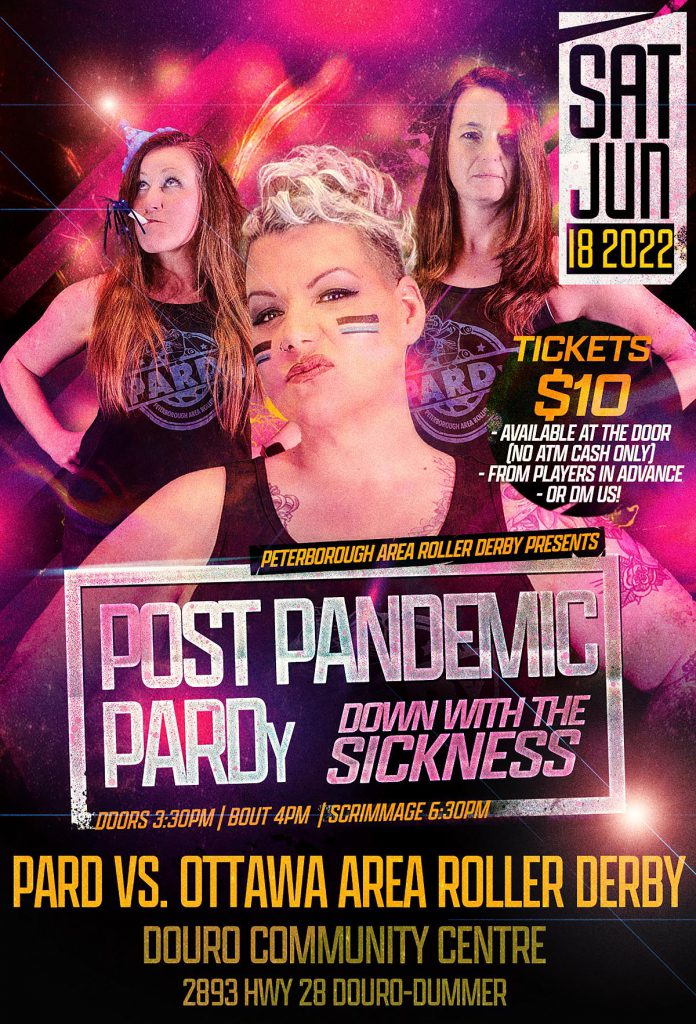 The next learn to skate and Derby 101 courses will be is scheduled later in the year, and will cater to both beginner skaters and those who already have strong quad-roller skating skills.
Those interested in participating in the June 18th open scrimmage, sponsoring an event, volunteering, or becoming a member or a non-skating official can visit the PARD website at www.pard-rollerderby.com or the league's Facebook page.