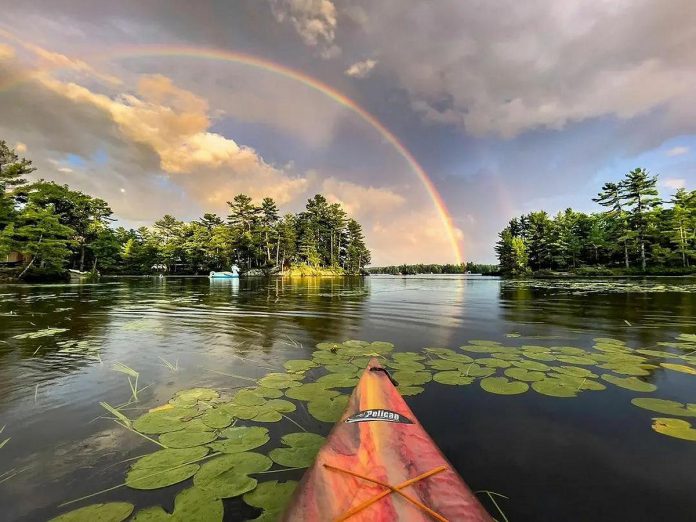 If one were to make a bucket list for August in the Kawarthas, it might look something like our top photos for August.
A kayak on a beautiful lake apres-rainfall, with a double rainbow (and a unicorn). A loon with wings spread wide, shaking off water droplets. A beautiful tall fountain captured in a summer sunset on a lake in a lovely small city. A field of sunflowers, all looking at you. A pristine waterway undisturbed and filled with lily pads. A blue heron, watching you, up close. Classic red chairs on a cottage country dock, waiting for the bride on her wedding day. And an early sunrise on a very still lake with a great name — Lovesick.
I'm sure there are many more things on any Kawarthas bucket list, but we think this one is a good one and pretty close to perfect. I hope you enjoy this month's top photos. Can you spot the unicorn?
Do you want to get on our top photographers list? All you need is an Insta account and to tag us using our hashtag #kawarthanow when posting your photo.
We share photos from across our readership area, which is the five-county area surrounding Peterborough which includes Peterborough, Northumberland, City of Kawartha Lakes, Haliburton, and Hastings (we sneak in the occasional Algonquin Park picture as well, particularly if it's by a Kawarthas photographer).
To see our daily shares of photos, follow us on Instagram @kawarthanow and check out our feed's highlight reels for recaps of every month in 2022.
Advertisement - content continues below
#1. Rainbow over Kasshabog Lake by Mike Quigg @_evidence_
Posted August 30, 2022
#2. Loon with loonlet on Gold Lake by Cindy Bartoli @cbart03
Posted August 12, 2022
Advertisement - content continues below
#3. Monarch butterfly at Anna's Perennials in Kawartha Lakes by Kathryn Frank @_katy.did.it_
Posted August 14, 2022
#4. Sunset over the Little Lake fountain in Peterborough by Brian Parypa @@bparypa73
Posted August 18, 2022
Advertisement - content continues below
Posted August 9, 2022
Posted August 26, 2022
Advertisement - content continues below
#7. Great blue heron on Chemong Lake by Erin Shannon @kawartha_girl
Posted August 29, 2022
#8. Wedding day on Stony Lake by Ward Strickland @ward.strickland
Posted August 27, 2022
#9. Sunrise on Lovesick Lake by Memtyme @memtyme
Posted August 20, 2022