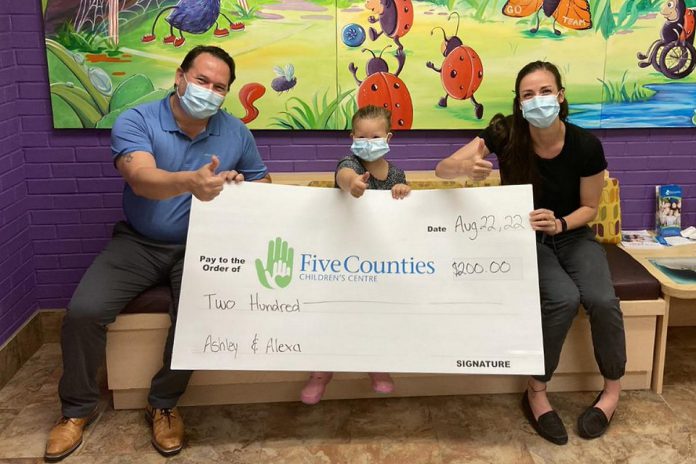 There are times in this job at Five Counties Children's Centre when you need to pick your jaw off the ground.
One moment was in late August when one of our young clients, Alexa, and her mom Ashley dropped off a $200 donation towards our Building Abilities For Life campaign. These funds go to support speech and language services that benefit hundreds of children like Alexa, and a fundraising initiative for which her family has already generously spoken about and supported.
Another, more recent jaw-dropper came when our Building Abilities For Life campaign topped $277,000. This surpasses the quarter-million-dollar goal and was assisted by a $53,000 donation from the Port Hope & District Health Care Foundation.
Advertisement - story continues below
These funds will provide speech and language treatment for approximately 980 children across our region. Although this puts a slight dent in our waiting list for this service, the reality is that the need for speech-language and communication therapies continues to grow every year.
It's a constant challenge to deliver timely, evidence-based care and supports for local families with children and youth who have physical, developmental, and communication needs. But it's something Five Counties strives for every day, as we work with families to enhance the independence of our clients and enrich their quality of life, all while respecting the uniqueness of every individual.
Five Counties staff members are up to the task. As a recently retired employee put it, while she has seen many changes over the years at Five Counties, "one thing that has remained the same is the commitment and expertise everyone has for our clients and families every day."
VIDEO: Building Abilities for Life – Alexa's Story

The passion and professionalism of Five Counties staff is evident, and reflects back in the smiles and laughter of the children and families we serve and support.
Our commitment to care will not change, even as we move forward with exciting new initiatives. In the coming months, we will be unveiling more details about the new SmartStart Hub service coming to Five Counties.
The SmartStart Hub will provide a clear point of entry to child development services for parents and caregivers who have concerns about their child development. This will also include a new component for personalized care plus options for our families.
Advertisement - story continues below
A new strategic plan is also in the works at Five Counties Children's Centre.
It will speak to our goals, strengths, and priorities for the next few years, as we lead, educate, engage, nurture, and deliver services that matter for our kids, families, and communities. Look for more details very soon!
It is a privilege to be part of the Five Counties family, but it's also time to rest my jaw. More jaw-dropping moments await!