In 2022, the Government of Canada proposed new electric vehicle (EV) targets for auto manufacturers and importers. Aligned with global trends, these regulations recommend that by 2026, 20 per cent of new vehicles manufactured and shipped in Canada must be zero emissions.
Plans like these aim to accelerate the market and are a proposition of the federal government to increase access to EVs.
Like the general consumer, business owners are becoming increasingly aware of the benefits of electric vehicles. EVs have low maintenance and operating costs, protect owners against volatile fuel prices, and have high resale value. Plus, they do not emit greenhouse gases.
Advertisement - content continues below
Tweet this quote
Jennifer Heagle, co-owner of Red Apron restaurant and food delivery service based in Ottawa, spoke recently at "Demystifying Electric Vehicles: How to Accelerate EV Adoption at Your Business", a webinar offered by Green Economy Peterborough, a GreenUP program that guides business participants to become more efficient, resilient, and sustainable.
Founded in 2006, Red Apron makes 150 meal delivery stops per day to locations in Ottawa. In 2018, Heagle took a chance and switched from hiring contracted drivers in conventional vehicles to using company-owned electric vehicles. With an initial investment in two EVs, Red Apron now owns five.
"From our perspective, as a business, it was a very, very good decision," Heagle said. "It's a decision that we will only go forward on."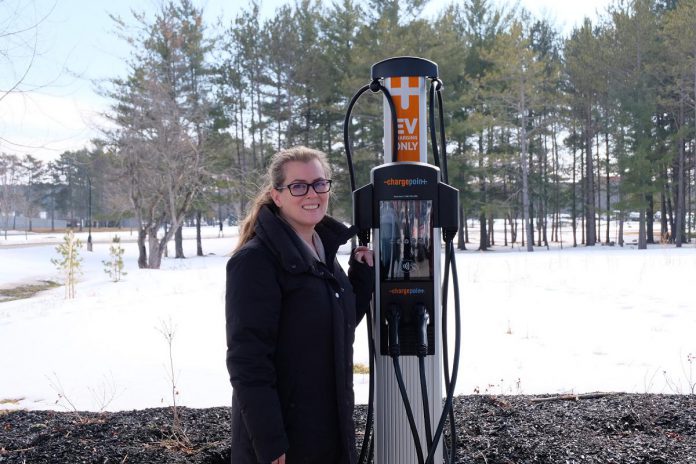 According to Heagle, electric vehicles are perfect for city use and cost little to operate. Once daily deliveries are complete, she explained, they plug in their EVs and they are ready to roll the next day.
Shelley Strain, sustainability coordinator with Trent University, also spoke at the Green Economy Peterborough webinar and shared practical advice on how to install a charging station.
"The number one take-home I can give an organization on EV charger installation is that there are companies ready, as a turnkey solution, to set this up," Strain told the audience. "They will come to you, tell you what you need, and take care of everything. You don't need to be an expert to do this."
Advertisement - content continues below
Strain explained that, before installing a charging station, business owners must understand how they will use it. Will it be for customers, staff, or fleet use? Where will it be located? What level charger is needed? These are the questions that need to be asked, she said, adding that installing is the easy part.
There are three EV charging options. A Level 1 charge is the slowest and is obtained by plugging into a regular outdoor wall outlet using the cable provided with the vehicle. Sometimes called a "trickle charge", this is the most common method of charging.
Level 2 and 3 chargers are found at charging stations in our communities and along our highways. A Level 2 charger is faster than a Level 1, but still requires four to 10 hours to "fill the tank". They are a great option for businesses with heavier vehicle usage and are relatively affordable to set up.
Level 3 chargers charge quickly and are found near busy throughways. Charging at one of these stations can take 10 to 45 minutes depending on your needs and the distance to your destination. For most businesses, these costly-to-install, high-speed chargers are unnecessary.
At the Green Economy Peterborough webinar, City of Peterborough climate change specialist James Byrne explained the municipality collects local vehicle emissions data to help set their climate change goals. In 2020, he said, Peterborough produced 75,000 tons of vehicle-generated CO2 per year.
To help meet the local greenhouse gas emissions reduction goal of 45 per cent by 2030, several city-sponsored public charging stations have been installed with funding assistance from Natural Resources Canada.
Advertisement - content continues below
Tweet this quote
In a recent visit to one of the new stations, Peterborough city councillor Joy Lachica said "Where we can transition to EV, we should, across all sectors. We need to consider how we can do things in the most climate-friendly way we can."
City-owned chargers are located at Del Crary Park, the Peterborough Memorial Centre, the Simcoe Street Parking Garage, and the King Street Parking Garage. Other local charging stations can be found at Riverview Park & Zoo, Lansdowne Place Mall, Tim Horton's, and some car dealerships.
You can find more EV charging stations using Google or EV-support apps, like the FLO mobile app.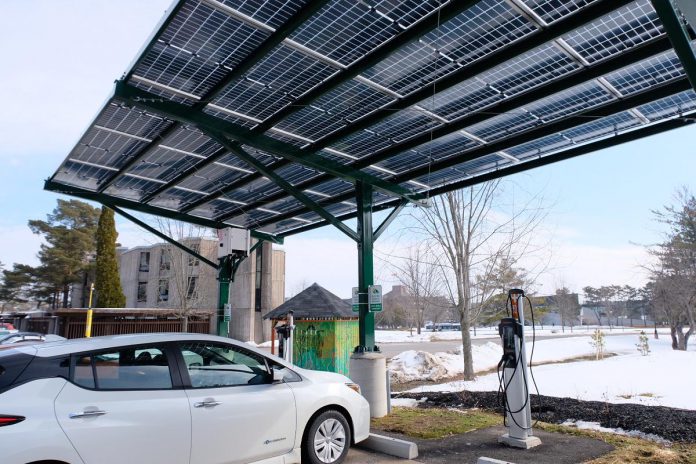 Though electric vehicles are inexpensive to run and maintain, there is an upfront cost. Interested businesses should look for financial incentives such as those provided by Canada's Bill C-30 which states that businesses can write off 100 per cent of an EV purchase. There are also EV charger incentives currently available to businesses through Green Economy Canada.
The "Demystifying Electric Vehicles: How to Accelerate EV Adoption at Your Business" webinar was part of an ongoing educational event series hosted by Green Economy Peterborough to support the local transition to a green economy.
Green Economy Peterborough is now recruiting business members to join their program to reduce greenhouse gas emissions. To learn more, visit greeneconomypeterborough.ca.