With over 4,000 visitors attending the two-day Monster Madness Tour at Kawartha Downs earlier in June, kicking off a summer season that will feature more events at the venue than ever before, Kawartha Downs is inviting local businesses of all sizes to explore sponsorship and experiential vendor opportunities.
Located at 1382 County Road 28 in Fraserville, Kawartha Downs celebrated 50 years of harness racing just last year, but the venue offers a lot more. With an all-new 400-foot pull track, slot machines, grandstand dining room, and a country bar (coming soon), Kawartha Downs is an entertainment destination fit for anyone looking to spend their summer weekends immersed in live music, festivals, family fun, and thrilling shows.
Next up on the calendar is the Kawartha SmackDown Demolition Derby on June 17. Kawartha Downs and Impact Motorsport are bringing a packed afternoon of figure 8 racing, stock trucks, windshield compacts, and full-size two-man v8. The derby includes live music, pit parties to meet the drivers, and power wheel competitions for kids.
VIDEO: Kawartha Downs Events (video by Unmanned AV)

Tweet this quote
"Kawartha Downs has been the home to harness racing for over 50 years now, and last year we really kicked things off by adding more motorized events and concerts," says general manager Daniel D'Ercole. "This year, we're happy to step it up even more."
Also coming up is the two-day outdoor Kawartha Country Music Festival on July 1 and 2, where fireworks will light up the sky while headliners Dean Brody and co-headliners the James Barker Band and The Reklaws take centre stage. The festival also features Bailieboro native Jade Eagleson, who just won the Fans' Choice award at the Country Music Association of Ontario Awards on June 4. Sacha will be opening the festival, along with a surprise guest opener.
Later in July, the venue will be hosting a classic car show and a truck and tractor show, before the Kawartha County Fair takes over the grounds on the August long weekend.
Tweet this quote
Kawartha Downs is currently offering sponsorship and experiential vendor opportunities for regional businesses who want to market to the large crowds attending events at the venue. This includes all types of large and small businesses, providing anything from clothing brands to food and beverage to outdoor adventure rentals.
"It's a great opportunity for local businesses to get their brand out and to get out their messaging," says D'Ercole. "There's quite a range of people and consumer demographic they can tap into. It's a very tight-knit community so local brands can really benefit."
Multiple levels of packages are available for businesses ranging from a $2,500 to $10,000 sponsorship. The gold package offers the most amount of visibility at each of the six events, with company logos printed on all promotional materials (including banners, posters, and social media) and official merchandise, an official partnership title as a presenting sponsor, event tickets for sponsor staff, friends, and family, a 10-by-10-foot product display booth, and three 2-by-20-foot banners on the event grounds.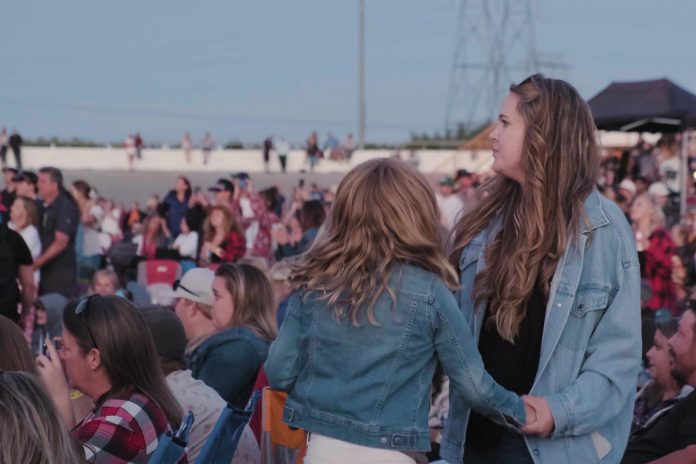 Tweet this quote
There is also opportunity to set up in the vendor village, so businesses can personally connect with consumers and sell their products and merchandise directly at the events. D'Ercole highlights the wide demographic of attendees at the events, with an estimated 59 per cent aged between 26 and 54.
"It's a mutually beneficial partnership too," D'Ercole adds. "We're always looking to add experiences to our events, and to make them as accessible as possible for spectators. It adds a nice value if they can connect with the people of the community."
D'Ercole says Kawartha Downs is flexible in creating a partnership plan that meets a business's marketing objectives.
"We can work with brands and businesses to whatever constraints they need, providing them with as much value as possible."
Tweet this quote
Holiday Inn Peterborough-Waterfront's partnership with Kawartha Downs demonstrates the mutual benefits of a sponsorship not only for Kawartha Downs and the Holiday Inn, but also for visitors and the local economy. During the weekend of the Kawartha Country Music Festival, concert-goers can receive 15 per cent off their stay at the hotel, while two scheduled buses will shuttle concert-goers back and forth from the hotel to the grounds.
"Holiday Inn is a long-standing member of the Peterborough community," says D'Ercole. "We want to make sure that our concert-goers that are coming both days have somewhere close to us to stay so that they're able to really enjoy and get the most out of their experience. We're really excited about this partnership."
Kawartha Downs is currently undergoing a revitalization project that will expand the grounds to include more programming, a large-scale concert facility, and a commercial hub, as well as bring housing and residential units. D'Ercole says this revitalization will allow the venue to develop even more relationships within the community.
VIDEO: Kawartha Country Music Festival (video by Unmanned AV)

Tweet this quote
As for now, Kawartha Downs is eager to head into a summer featuring the most events they've ever offered in a season.
"We're really excited about the summer," says D'Ercole. "We've got great events, great vendors, and great sponsors, and we hope to be able to work with even more. These events are about having the community come together and providing more chances for residents and businesses to really enjoy being in a community like Peterborough."
For more information about Kawartha Downs, including a full list of events, visit www.kawarthadowns.com. To inquire about sponsorship opportunities, email Daniel D'Ercole at daniel@kawarthadowns.com.

This branded editorial was created in partnership with Kawartha Downs. If your organization or business is interested in a branded editorial, contact us.