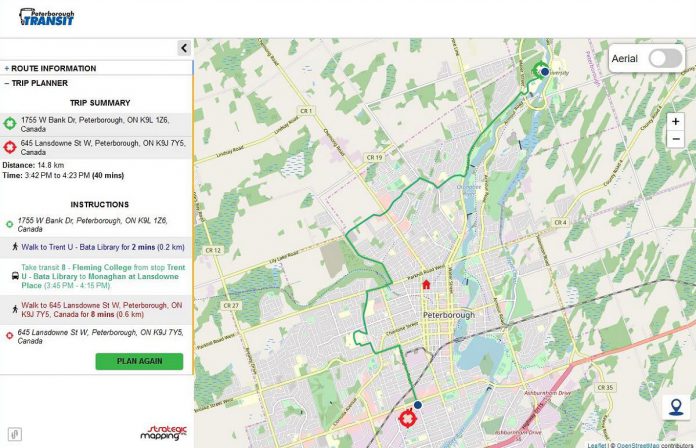 Peterborough Transit has launched a new online tool that allows riders to track the location of buses and plan their trips in real-time.
Developed by Strategic Mapping Inc., the mobile-friendly tool at pt.mytransitride.com provides real-time bus locations and the direction they are travelling in, predicted arrival and departure times, as well as service changes for all fixed route transit operations.
Using the online tool, users can search by address, transit stop, or route, and they can select and favourite a specific route.
Advertisement - content continues below
Tweet this quote
A trip planner feature also allows users to identify a departure and arrival location (including by clicking on the map) and date and time for when a bus is departing or arriving. The tool will generate instructions on how to get to the nearest transit stop and which route or routes to take.
"This is a key advancement to transit service in Peterborough," says city councillor Keith Riel, chair of council's transportation portfolio, in a media release. "Knowing where your bus is before you leave home is a game changer for transit customers. The trip planner will allow customers to ride with confidence, providing reliable, step-by step navigation from one destination to another, anywhere within the route system in real-time, or for planning trips in advance."
Although the online tool is now operational, work on further refinements is ongoing. Transit customers who don't have access to the internet can call 705-745-0525 to find out the real-time location of their bus.