The Peterborough Folk Festival (PFF) turns 23 this year and the future has never been brighter, nor has the present!

Stretching from Friday to Sunday on the last weekend in August (24th to 26th) and traversing three main event sites, PFF has more to offer than I can fit here.
In order to make the most of the experience, here are seven things to know about this amazing weekend of music, art and more, that happens right here in Peterborough.
1. Check out Whitehorse and Jos. Fortin at the Market Hall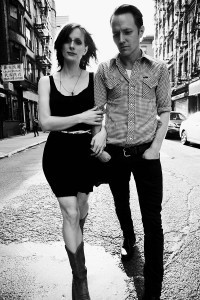 Open the PFF festivities on Friday night (Aug. 24th) with acclaimed duo Whitehorse, made up of life and musical partners Melissa McClelland and Luke Doucet. I saw these two in the winter and their rootsy/rock sound expanded far beyond my expectations. Opening will be Folk Festival 2012 Emerging Artist Jos. Fortin.
Doors open at 8pm and the show is $20 in advance, $25 at the door.
2. Make the most of the Festival Day: It's FREE to attend!
Get to Nicholls Oval and Rotary Park as close to 11am as possible on Festival Day Saturday (Aug. 25th) so you can familiarize yourself with the schedule of performers and where they are playing, as well as look into the other activities happening all day. You can always take a break and return later, but knowing where to go and when is half the battle.
3. Music and beer in the Pavilion
Consider that the Publican Pavilion is licensed and will be serving delicious Publican Brewery beer from 11am to 10pm. The Pavilion is an excellent place for some music and refreshment. Hint: A certain level of moderation in the Pavilion will assist you in sticking to your best laid plans.
4. It takes a Village…
Visit the Food and Artisan Villages on Saturday to ensure the best possible Folk Festival. A wide-variety of cuisine ensures delicious and fresh food for everyone's taste, while art vendors offer handmade works that will awe and inspire.
Enjoy these creations as music drifts in the air, all surrounded by an excellent and welcoming community atmosphere. Both areas are open from 11am to 7pm. There will be a collection of important and educational community groups in the Village as well!
Also! The Children's Village is a must visit for all the kids out there. Many great activities are happening there all day!
5. Nighttime magic at the Main Stage hosted by Sheesham and Lotus and Son
Bring a blanket and your dancing feet (shoes are not 100% necessary) for the Main Stage because you will want both throughout Saturday.
The hill is a perfect spot to listen to music and take in the performances unfold in front of you as the day and evening wears on.
After many years of attending the festival I have found myself dancing up a storm as the festival wraps up, with the stars overhead it makes for a beautiful night.
By the time headliner Donné Roberts goes on around 10pm you will want to move and groove. Check out this performance by him and his band and you will see what I mean.
6. Boogie on Down to the Saturday After Party at the Montreal House
The Montreal House will be hosting the PFF After-Party this year and The Resolutionaries Marimba Band will keep people grooving well into the night. The show is $5 to get in, free for PFF Volunteers and will begin at 11pm!
7. Workshop Day at the Millennium Park
The Festival's Workshop Day has a new location, and what better spot is there than at Millennium Park! On Sunday from 12 – 5pm there will be musical, body, mind, and even knitting workshops.
So much to see, hear, and do at the 23rd Peterborough Folk Festival.