Some people I know have had the opportunity to see different parts of the world that I'll likely never venture to. My travel experience is admittedly small, but I've come to realize a remarkable characteristic about our little community that many of the cities I've visited lacked: we have an amazing amount of green space laced throughout this city. No matter where you go in Peterborough, you're a short stone's throw away from mature trees and grassy knolls. It's clearly one of the things that makes Peterborough the gem that it is. However, green space seems to be on the cutting block in our area, with more and more trees coming down every week.

Two summers ago, the City of Peterborough rolled into my family's west end neighborhood, chainsaws in hand, and cleared the wooded area behind the old Peterborough Saturn dealership on Clonsilla Ave. The area was thick, lush, green and was a haven for small animals that enjoyed the protection the area gave. It created such an oasis that the family who lived in the neighboring home held a wedding in their yard just a few years before. The lot was decimated to mud and weeds with no warning to nearby residents or explanation. The summer came and went and nothing happened with the lot. You couldn't help but wince when driving by, not knowing why so many many trees had been knocked down. Last summer, the lot became overgrown with weeds and — combined with the dilapidated wooden fence falling down behind the old dealership — it made for an absolute eye sore. Then this summer came and residents of our neighborhood received a notice in our mailboxes of a city planning meeting being held, as Parkview Homes wanted to build an apartment building on the lot. Well, those meetings have come and gone, the apartment building will be built — and the tree cutting hasn't slowed.
Just a few weeks ago, a stretch of trees and brush were cleared from the side of the new Medical Drive behind St. Peter's Secondary School. No reason was given and I still don't think people know why. The sidewalk wasn't being impeded on and there wasn't any danger to the public, but the area was cleared none the less. A few days later, I saw an old tree on the corner of Charlotte St. and Boswell Ave. being removed. Those familiar with the area know that some of the city's largest and most beautiful trees are located in and around those neighborhoods, largely because they're among the oldest in Peterborough. Not to be outdone, a number of trees along Goodfellow Rd. by St. Alphonsus School were cut down and removed, leaving a field of stumps for the upcoming school year. This reminded me of the grade school I went to in Norwood a long, long time ago that did a lot of this type of clearing over the years. The green, tree-filled school yard that I remember from my childhood is now a grey mix of concrete, asphalt and gravel. Otonabee Drive … Wolsley St. in the north end … examples every day keep rolling in of city trees being brought down.
Now, there are a lot of reasons to bring down trees. Age, disease, infestation and expansion can all contribute to the removal of trees. But the problem here is that, other than the clearing of an area for Parkview Homes, no one seems to know why so many trees are being dropped. Even that Parkview situation has me puzzled. With all the places in Peterborough where you could allow development of an apartment building, you choose a long established wooded area in a quiet subdivision. Why? Well, our neighborhood happens to enjoy some of the highest property taxes in Peterborough, so maybe the city made its decision knowing that it would be a money-maker for years to come. Who knows? It's certainly not advantageous for the residents nearby and not any easier for the builder to build on that lot than in another location. All in all, for a city that claims to be green, we're seriously falling short.
Green living is not a fad. It's not a religion. It's part of progressing as a species, being socially responsible and ensuring that we leave things way they were before we got our hands on them. Things like biodegradable products, reduction of chemicals in household cleaners, and fuel-efficient cars are just a few examples of how we can practice green living. As I said before, our city claims to be green. In fact, how often do you see the sticker reading "Peterborough, It's a Natural"? Only problem is that those stickers are on the back of City Works half-ton pickup trucks with eight-cylinder engines. That, my friends, is the definition of irony. The only city-owned hybrid I see on a regular basis is an old, dirty Toyota Prius that spends 90% of its time parked in the King St. parking garage. It's amazingly fuel efficient largely because it hardly moves. Our Fire Chief drives around in a brand new and loaded Dodge Charger R/T with a large eight-cylinder engine for reasons that are beyond my understanding. Decisions like these, along with cutting down trees at an alarming rate, show that green living isn't necessarily at the top of our city's priority list at the moment.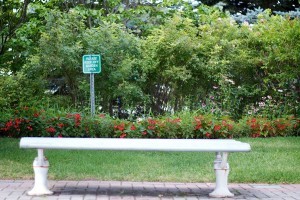 Listen, I don't hope for a world where we throw away our cars, eat granola and sing kumbaya (not that there's anything wrong with that). I only hope for a city that's as green for my daughter and her children as it was for me. I don't mean to sound like Chicken Little claiming that the sky is falling, but it does seem like giving up incredible green space for little or no reason is a bad precedent to set. We all know that the environment is not getting better; it's getting worse. If our city truly is green, we need to practice sustainable living. Planting trees is one step, but planting seedlings at the same pace that you're knocking down trees 40 to 100 years old leaves an obvious gap.
At the end of the day, there may be good reasons for removing trees from our city's green spaces this summer, but no one seems to know what those reasons are and, most alarmingly, no one seems to want to volunteer an explanation.