There are few categories of fans more obsessively loyal than the avid comic book reader. Superhero comics have always struck a chord with outsiders as they glamorize and empower people who struggle in mainstream society.
Translations to the big screen are now myriad and almost always a guaranteed financial boon, but during the '80s and '90s, they were hardly fashionable at the multiplex. What of the original entity survives the often vapid adaptations? It is a mixed bag to say the least.
These characters have all been around for decades and have existed through nearly endless realities and costume changes. But if anyone is up to such a seemingly Sisyphean task, it is Joss Whedon.
Whedon has long been a purveyor of solid if sometimes misunderstood cult fodder and he would clearly understand the trepidations that serious fans would have over a big-screen version over such a beloved and sprawling series as The Avengers — a team comprising the most larger-than-life characters that Marvel Studios has to offer, now portrayed by the most expensive ensemble cast in the history of film.
The price tag for an outing like this may be stratospheric, but it is quickly evident why. You have to spend money to make money. Whedon's The Avengers ($220 million budget) in 2012 was the third-highest grossing film of all time (over $1.5 billion worldwide), only behind two James Cameron-helmed behemoths (Avatar and Titanic).
Avengers: Age of Ultron arrives with a price tag of more than $250 million, with a large cut of that likely going straight to Robert Downey Jr.'s Swiss bank account (who will reportedly be paid $40 million for the third Captain America film). During rounds of bizarre recent press, he has stated his contempt for the mediocrity of the state of independent cinema and the "inexperience" it brings to the industry.
Needless to say, Downey Jr. was born to play Tony Stark aka Iron Man, the charismatic inventor and billionaire who acts as the team's unofficial leader. Fortunately Stark's flame played by Goopy Paltrow is nowhere to be seen. The Hulk (Mark Ruffalo), Thor (Chris Hemsworth), Captain America (Chris Evans), Hawkeye (Jeremy Renner), and Black Widow (Scarlett Johansson) round out the main members of the powerful group.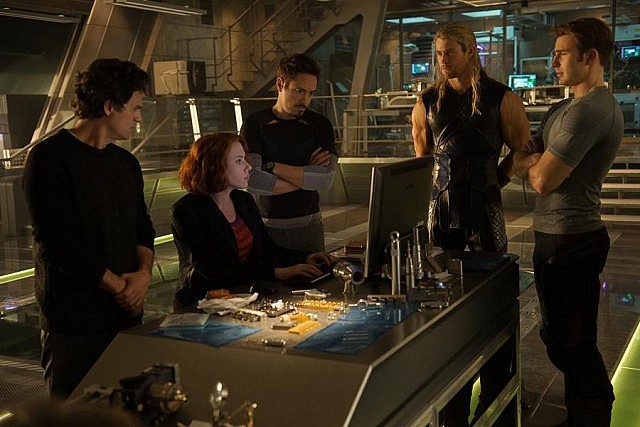 Named for the 2012 storyline but borrowing from decades of plot lines, Age of Ultron may have been designed to be smaller and more intimate than the first film, but it manages the unlikely combination of being both bigger and darker. Finally, we get to mine some of the darker backstories of characters through some hallucinatory flashbacks — keep an eye peeled for a clever Julie Delpy cameo.
That is what makes these films so much fun for fans and casual audiences alike: the shared reality of these characters coming together as they come and go in each other's adventures and major events are playfully hinted at.
Rival comic house DC is trying to get in on the fun, with the more low-rent looking Batman vs Superman and Suicide Squad (featuring Jared Leto shorn of his luscious hipster Jesus ombre and now serving up plucked Juggalo realness as the Joker) set to arrive next year.
Age of Ultron commences with a breathless combat sequence in the wintery wilderness of fictional Sokovia, where our all stars lead a colourful gambit in a bid to retrieve Loki's sceptre from Baron Strucker.
They find unexpected opposition in the powerful and experimentally enhanced Maximoff twins, Quicksilver (Aaron Taylor-Johnson) and Scarlett Witch (Elizabeth Olsen) — a far cry from the husband and wife they played in last spring's Godzilla. These new characters add some badly needed emotion and ambiguity to proceedings that otherwise rely too heavily on endless puns and one-liners.
Once the sceptre is retrieved, the narrative focuses on its use in the creation and corruption of a highly advanced peace-keeping artificial intelligence (AI) system invented by Stark and Banner — which gives birth to big baddie, Ultron.

The main reference for Ultron may be Pinocchio ("No Strings on Me" is ominously recited numerous times in reference to an inanimate being acquiring independent sentience) but the titular villain's emotional desire for its creators' brutal penance is more akin to Frankenstein's creature. Forced into living a seemingly pointless existence, the monster seeks to punish its inventor's great hubris.
Ultron as a character is such a menacing success and manages to be legitimately intimidating — no mean feat in such a Disney franchise — due to the shrewdly chosen presence of James Spader. Spader has always been something of the apathetic slacker's matinee idol. His singular voice and motion-captured mannerisms make Ultron so much more than another evil robot: a naive yet sophisticated biomechanical anti-messiah. Very memorable.
The presence of Ultron creates a much more interesting conflict within the team. Having been developed and activated by Stark and Banner, suspicion and mistrust quickly envelop the others and proper disposal of this cataclysmsic threat becomes considerably cloudier. The blame for the mounting disasters quickly stacks up against former media darling Stark. For if you shake up a can of cola, do you blame the cola for bursting with pressure or the force that shook it?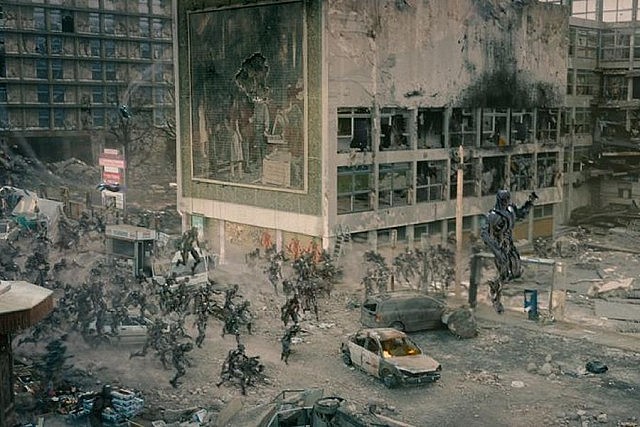 To the women (and a large percentage of men) in the audience who may have trouble identifying with the often-tiring machismo antics, I say sit back and enjoy the stable of international hunks on display.
At least we now have the excellent Elizabeth Olsen to bolster up the feminine ranks, with her extremely appealing interpretation of Wanda Maximoff. Using her powers of magic and mental manipulation, she has by far the most interesting and damaging powers that literally brighten up the already vibrant action. Dressed low-key and (for once) appropriately for combat in the Witch's signature red, this is a character who stands as a refreshing change of pace from Johansson's underwritten and frankly bland "babe" character. I can't wait to see what they do with Olsen next.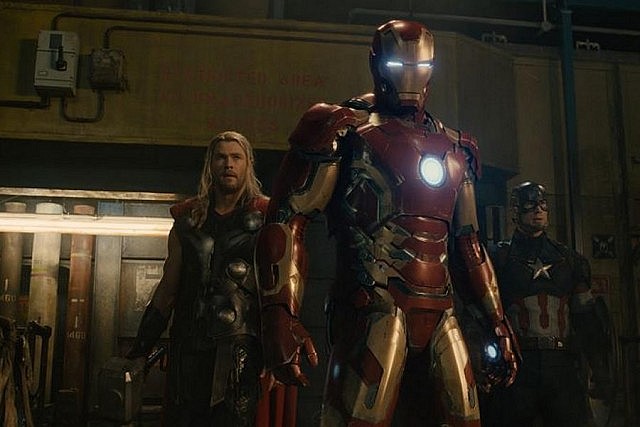 It is the more complex sentiments of Ultron and Scarlett Witch that give the film the tangible emotional effects it so badly needs. Darker? Absolutely. Smaller? Not a chance.
Each set piece dwarves the one before and you think that surely this will be the climax and nothing can top what just happened — until something bigger, louder and relentlessly dramatic explodes in your face. Everything is so well balanced and expertly handled (save for a major waste of time surrounding Hawkeye's secret summer cottage) that the pyrotechnics never become tedious. It's irresistible entertainment that will save you from attempting to find a brain in Paul Blart or a posthumous heart in Furious 7.
By the end of this gargantuan spectacle, you'll be a fan too. And you'd better be: two more Avengers films (parts one and two of The Infinity Wars) and coming in 2018 and 2019.
---
Marvel's "Avengers: Age of Ultron" – Offical Trailer
(All photos courtesy of Marvel/Disney)