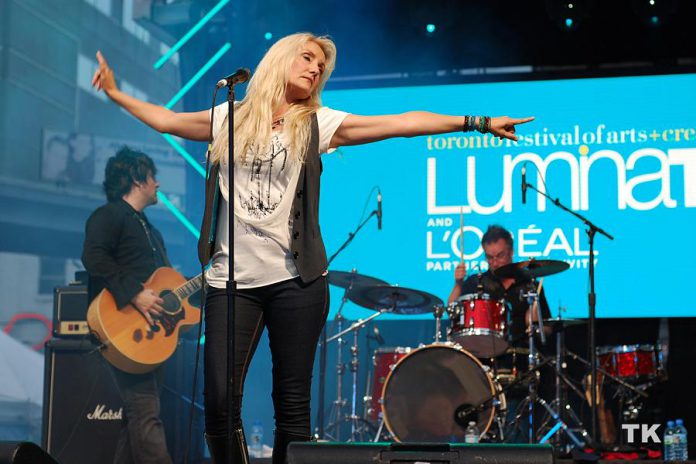 Sarah "Sass" Jordan may be best known to some from her five-year stint as a judge on Canadian Idol, but did you know she once unknowingly auditioned as the lead singer for Van Halen and was rumoured as a possible replacement for Aerosmith's lead singer Steven Tyler?
That may be because Jordan's sultry and raspy singing style — which she brings to Peterborough Musicfest on Saturday, August 8th — invites comparisons to Janis Joplin and Tina Turner and even led to a duet recording with Joe Cocker.
While Jordan was living in Los Angeles, Van Halen was looking for a singer to replace Sammy Hagar. Alex Van Halen called Jordan and asked her if she'd like to hang out with him and Eddie Van Halen at their home studio. At some point during the month she was singing in their studio, it suddenly dawned on her that maybe this was an audition.
"I looked at them and I said, 'You guys couldn't possibly be thinking of having a female singer in this band, could you?'," she explains. "They were behind the mixing board and all I could see was their eyes and the top of their heads. When I asked the question, both their eyebrows shot up a couple of inches, and then they looked at each other with shock in their eyes. I knew I was right!"
Jordan told them she thought the idea was dumb, and Eddie Van Halen has since denied the claims that the band ever considered a female lead singer. Then, in 2010, internet gossip suggested that Jordan was also in talks as a replacement for Aerosmith's lead singer Steven Tyler while he was on hiatus (those rumours were unfounded).
As an award-winning musician, actress, television celebrity, wife and mother, Jordan is somewhat of a Renaissance woman. Born in England in 1962 to a French university professor and an English actress, Jordan moved to Westmount in Quebec as a child. When she was 14 years old, her parents separated and she decided to move out on her own to pursue music as a career.
"I wanted to be a singer," she says. "I never thought about asking my parents if they agreed on my decision."
While in high school, she played in her first band called Sweet Thunder. While still in her mid teens, she moved on to become the bass player in the all-girl new wave quartet The Pinups and later became a backup singer in the Montreal pop group The Box. After several years as a working musician, she released her debut solo album Tell Somebody in 1988 when she was 26 years old.
"It was my only release on vinyl and cassette," she says. "It was all CDs after that."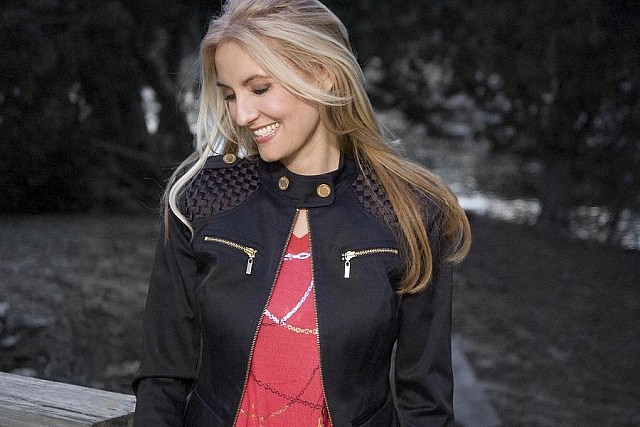 Tell Somebody — which included the hit singles "Tell Somebody", "Double Trouble", and "Stranger Than Paradise" — went platinum in Canada. In 1989, her cover of the 1960s rhythm and blues classic "Rescue Me" became a minor hit and was featured in the Canadian film American Boyfriends. In the same year, Jordan won the Juno Award for Most Promising Female Vocalist.
In 1990, she relocated to Los Angeles and released Racine in 1992, which produced four top 20 Canadian singles: "Make You a Believer", "I Want to Believe", "You Don't Have to Remind Me", and "Goin' Back Again". The record sold more than 100,000 copies in Canada and 450,000 copies worldwide (50,000 short of gold record status) and resulted in Billboard magazine naming her Female Rock Artist of the Year.
"Moving south of the border was the only choice if you wanted success, especially in 1990," she recalls. "If you wanted a career it was the only thing to do. Back then, we used to say Canadian audiences would clap 'north of the applause line'. It's not like that anymore. Canadian audiences are much more enthusiastic than they once were. And not as polite."
In 1992, she also recorded "Trust in Me" — a duet with Joe Cocker — for the soundtrack of the hit movie The Bodyguard (starring Kevin Costner and Whitney Houston) which sold 27 million copies worldwide.
"They already picked Cocker as one singer for the song and they were on the lookout for someone to do the duet with him," Jordan explains. "Costner was driving in his car one day and he heard me on the radio. 'That's the voice I want' he apparently said and next thing I know I'm in the studio singing my part."
Jordan sang her part over a tape of Cocker's voice and only met him a couple of years later when she was his opening act on tour.
"We finally meet and I remind him of our duet," she recalls. "I told him what a big fan I was and continue to be. He had no idea who I was! Twenty–seven million copies and he didn't have a clue."
---
"Make You A Believer" – Sass Jordan with Jeff Healey
---
In 1994, Jordan released Rats. While it was critically lauded and produced two top 10 singles in Canada ("High Road Easy" and "Sun's Gonna Rise"), it didn't perform as well commercially as expected. In 1995, Jordan met her husband Derek Sharp, guitarist and lead singer with the latest formation of The Guess Who who's also played with Alannah Myles, Pat Travers, Red Rider, and the late Jeff Healey.
"He was playing guitar in my band," she says. "We got married and had a baby right away."
In 1996, Jordan moved back to Canada and settled in Hamilton, Ontario. At the request of her label, she changed her sound from gritty rock to pop and released Present in 1997 and Hot Gossip in 2000.
Both records fared poorly critically and commercially and Jordan decided to turn to acting. In 2001, she played the lead role of Janis Joplin in the off-Broadway hit Love, Janis.
"It was the hardest thing I ever did," Jordan says. "It was four nights a week for three months. It was exhausting. I was never a fan of Janis until I did the play. Singing like Janis isn't an easy thing to do but I did really, really well."
She's also guest starred on NBC's Sisters, played a version of herself in the CTV series Corner Gas, and co-starred in the Toronto and Winnipeg productions of The Vagina Monologues.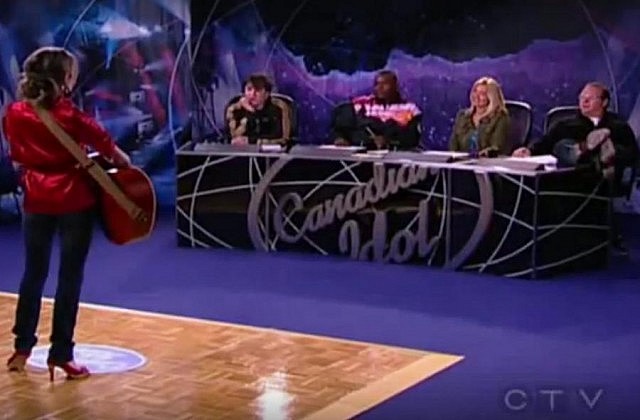 In 2003, she became a judge on Canadian Idol for its five-year run. While it wasn't "her thing", she couldn't resist the money.
"It was a daunting task to sit there and watch so many singers sing a capella every day," she explains. "If not for the cast and crew, I would have gone insane."
While she was making a living from her television work, she didn't abandon performing or recording music.
In 2003, she shared the stage with the Rolling Stones, AC/DC, and others at the SARS benefit concert in Toronto. She subsequently released Best of Sass (a compilation with two new songs) in 2003, Get What You Give in 2006 (produced by Colin Linden), and her most recent effort, From Dusk 'Til Dawn in 2009 (written and recorded with her husband). In 2012, she formed the rock outfit S.U.N. (Something Unto Nothing) with former Whitesnake Billy Idol and Ozzy Osbourne drummer Brian Tichy.
Over the years, Jordan has shared the stage with Aerosmith, Alice Cooper, Cheap Trick, Van Halen, Carlos Santana, Joe Cocker, and Jeff Healey.
Her songs have also been featured on numerous television shows, including Melrose Place, Party of Five, Baywatch, Flashpoint, and Knight Rider.
Between her 35 years as a professional musician and her work in television, Sass Jordan has become a household name to a wide demographic of music lovers. Come to Del Crary Park in downtown Peterborough on Saturday night to hear her perform some of her classic hits and maybe something new too.
---
"High Road Easy" – Sass Jordan
"You Don't Have to Remind Me" – Sass Jordan
"Damaged" – Sass Jordan