It's all about the music and the fans for Doc Walker, which has been called Canada's hardest-working country band. Chris Thorsteinson and Dave Wasyliw, supported by touring members Brent Pearen and Steve Broadhurst, bring their musical work ethic to Del Crary Park on Saturday, August 22nd for the final concert of Peterbourgh Musicfest's 29th season.
Since the band was formed in 1996 by Thorsteinson and Wasyliw, Doc Walker has been a staple of Canada's country music scene. They've released eight albums and 30 hits singles, been nominated for multiple Canadian Country Music Association (CCMA) awards (of which they've won 12), and they've been nominated for multiple Junos (with a win in 2009).
While Doc Walker's earlier work belies a strong influence of country rock bands like The Eagles, their eighth and most recent record — aptly titled The 8th — has a more modern country rock sound.
"I wish Doc Walker had been around in the 1970s," Thorsteinson says. "I think our music kind of lends itself to that time, when the Eagles would make a rock record and then go and make Desperado."
Both Thorsteinson (lead vocals and electric guitar) and Wasyliw (acoustic guitar) were born and raised Portage la Prairie in Manitoba. They're currently touring with Brent Pearen on bass and Steve Broadhurst on drums and percussion (guitarist Murray Pulver stopped touring with the band in 2012).
Doc Walker's sound is a combination of Thorsteinson's country music background and Wasyliw's rock influences, which includes bands like Bob Seger, AC/DC, and The Beatles. But what distinguishes them from mainstream country music is that Doc Walker avoids writing "bro-country" songs, with lyrics about tailgate parties, pickup trucks, drinking, bonfires, and lightly dressed young women.
While Thorsteinson and Wasyliw don't have anything against bro country, they didn't want to go in that direction with their music — they wanted to give their fans another option.
"As an artist, I don't feel I need to sing that type of song," Thorsteinson explains. "I'm probably the biggest redneck you're ever going to meet. I did all those things they talk about in those songs, but I never really wanted to sing about it. That's not the direction we wanted to go."
"We always try to sing about personal experiences," Wasyliw adds. "It makes it more heartfelt and honest. There are songs about our wives and kids, the town we grew up in, and growing up in general: dealing with rising waters and overcoming adversity. There is always something to sing about."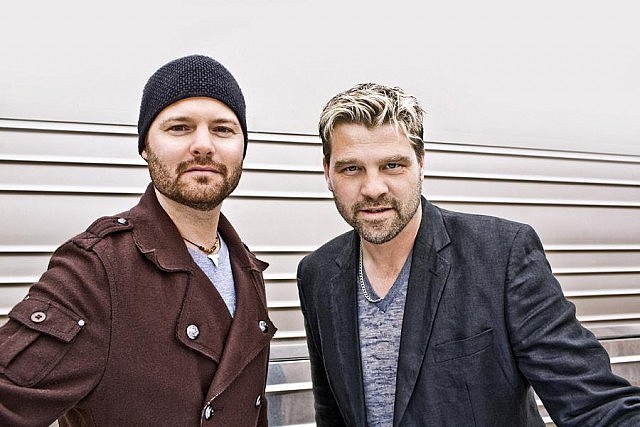 Doc Walker had their biggest success to date with the release of 2008's Beautiful Life, which swept the 2008 CCMA awards (winning Group or Duo of the Year, Album of the Year, Single of the Year, Video of the Year, and Fans' Choice award) and garnered them a Juno in 2009 for Country Recording of the Year.
"It seemed it only took a year for us to go from being newcomers to veterans," Thorsteinson says. "We had three or four records out and it was like, 'Here they are, newcomers to the Canadian country music scene, Doc Walker.' Then we released Beautiful Life and [2009's] Go and it was, 'Here they are, veterans of the Canadian country music scene, Doc Walker!'"
In the age of digital singles, Doc Walker swims against the tide by creating concept albums — rather than writing a set of songs that have little relation to each other.
"With every new album we evolve to some degree," Wasyliw says. "I think it's exciting to go to work and not know what's going to happen next."
But in the end, it comes down to their fans — they write music they love that their fans want to hear.
"There're so many acts out there that make records, put them in stores, and expect them to sell themselves," Wasyliw says. "What you have to do is see your fans. It's a relationship — you have to keep up your end of the bargain."
"Our music speaks to the pride we have in our roots, and the gratitude we have to the fans, and that is the most important thing," adds Thorsteinson. "At the end of the day, all we want to do is write a record that we love, and that we know our fans are going to love and want to sing along to."
So get your best and loudest singing voice ready and head to Del Crary Park on Saturday night to see Doc Walker perform at Peterborough MusicFest's final concert of the season.
---
"Beautiful Life" – Doc Walker
"I'm Gonna Make You Love Me" – Doc Walker
"Driving With The Brakes On" – Doc Walker
"Country Girl" – Doc Walker
"Shake It Like It's Saturday Night" – Doc Walker
"Put It Into Drive" – Doc Walker