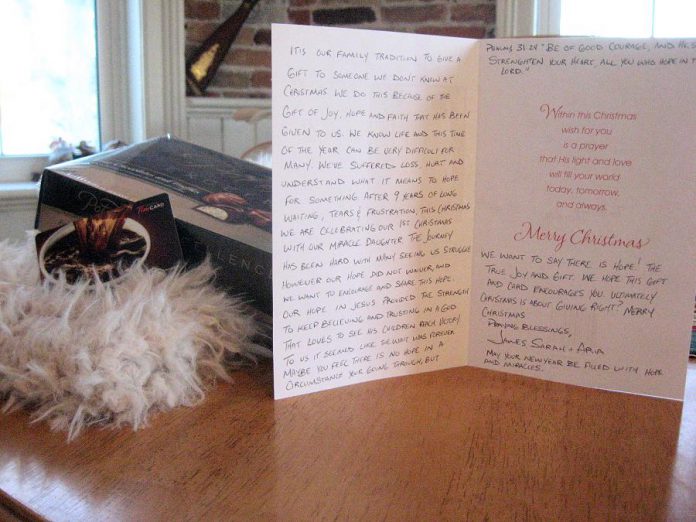 Susan McKenzie of Omeemee, Ontario, wants to thank a family — known only by their first names James, Sarah and Aria — for making her Christmas a very special one.
Susan was working a Christmas Eve shift in her support services job at Ross Memorial Hospital in Lindsay when she was the recipient of a random act of Christmas kindness.
"I was feeling a little sorry for myself," Susan tells kawarthaNOW, "when a couple with a baby and a beautiful red bag approached me on my break and said 'This gift is for you'. After my shock, they explained how for 10 years on Christmas Eve they have a family tradition to give a gift to someone they do not know."
Susan accepted the gift, thanked the family and wished them a Merry Christmas, and they went out the front door into the night.
The gift bag contained a scarf, a box of chocolates, a Tim Horton's gift card, and a moving handwritten card which reads in part:
It's our family tradition to give a gift to someone we don't know at Christmas. We do this because of the gift of joy, hope and faith that has been given to us.
We know life and this time of year can be very difficult for many. We've suffered loss, hurt and understand what it means to hope for something. After 9 years of long waiting, tears & frustration, this Christmas we are celebrating our 1st Christmas with our miracle daughter.
The journey has been hard with many seeing us struggle. However our hope did not waiver, and we want to encourage and share this hope.
Our hope in Jesus provided the strength to keep believing and trusting in a God that loves to see his children reach victory. To us it seemed like the wait was forever. Maybe you feel there is no hope in a circumstance you're going through, but we want to say there is hope!
James, Sarah & Aria

kawarthaNOW kudos to James, Sarah and Aria for celebrating the true meaning of Christmas.