Snowmobiling is a fun and exciting family activity enjoyed by more than four million people across the United States and Canada every winter. It's a safe and an enjoyable form of recreation — but only if done properly and with respect.
Ontario Snowmobile Safety Week starts today and runs until Sunday, January 29th. The Ontario Provincial Police (OPP) and the Ontario Federation of Snowmobile Clubs (OFSC) are encouraging snowmobilers to make smart choices, especially since seven people have died so far this season as a result of tragic snowmobiling accidents.
In January alone, there were six accidents in central Ontario involving snowmobiles, one resulting in a death and the other in paralysis:
Two men snowmobiling on Stoney Lake encountered open water. One made it across the open section but the other disappeared under the water. The body of 51-year-old Jerry Douglas Eadie of Douro-Dummer Township was later recovered.
44-year-old Jake Thomas was snowmobiling on a closed trail in Bracebridge when he struck a hole and was thrown from his machine. The son of Canadian musician and actor Ian Thomas and a father of four, Thomas suffered seven broken ribs, a dislocated hip, and a severed spinal cord injury resulting in the permanent loss of the use of his legs. Friends and family have set up a GoFundMe page for him.
A 49-year-old man left a Manvers Township residence on a snowmobile shortly after midnight to head home. When he didn't arrive home, family members searched and located him in a vacant farmer's field. He was taken to hospital with serious injuries.
A 62-year-old man was snowmobiling on an island near Haliburton when he struck a rock. He was taken to hospital with life-threatening injuries.
A 47-year-old woman was snowmobiling on an OFSC trail near Kinmount when she struck a tree. She was taken to hospital with non-life-threatening injuries.
Two men snowmobiling on Georgian Bay broke through the ice, which was not fully frozen over. The two men were able to make it safely to shore.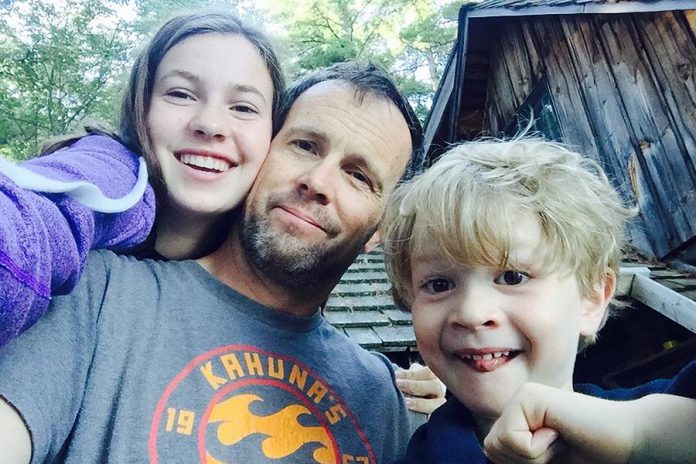 Three of the seven fatalities across Ontario this season were a result of snowmobiles falling through the ice on waterways. The OPP and OFSC are reinforcing the importance of using OFSC trails, especially since ice conditions on waterways are expected to worsen with daytime temperatures well above freezing over the next week.
"We are seeing far too many snowmobilers riding on unsafe ice again this year and our fatalities this season speak volumes about how dangerous this is," says OPP Deputy Commissioner Brad Blair, "We are also seeing riders using OFSC trails that are closed, which is against the law. Safe snowmobiling starts with choosing safe, reliable terrain to ride on. The OFSC does an outstanding job of providing a safe trail system and we want to see snowmobilers using them."
Ontario Snowmobile Safety Week promotes using common sense, making smart choices, riding with care and control and within the law. Here are some tips for arriving home safely after each ride:
Ride sober
Snowmobiling under the influence of any amount of alcohol or drugs carries severe penalties.
The same "warn range" suspensions issued for having a blood alcohol concentration between 0.05 and 0.08 mg that apply to driving a motor vehicle also apply to driving a snowmobile.
If convicted of snowmobiling while impaired, a rider could lose all driving privileges (car, truck, motorcycle, off-road vehicles, and snowmobiles).
Stay on the trail
Staying on an open OFSC trail is safer than riding anywhere else.
Take it easy
Always ride within the speed limit, within your own ability, and according to current trail and weather conditions.
Use hand signals
Habitual use of the hand signals is both the courteous and responsible choice, so get in the habit of using them where it is safe and prudent to do so. The hand signals can be found at www.ccso-ccom.ca/hand-signals/.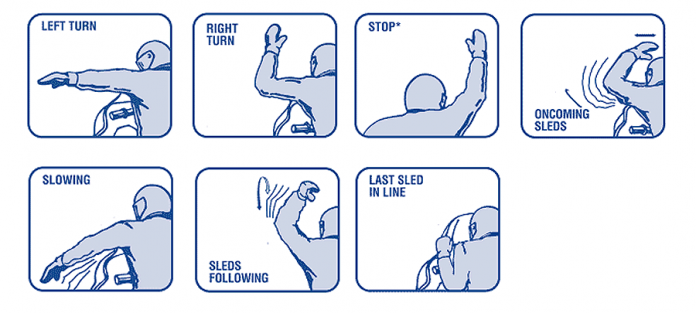 Slow down at night
Ride cautiously at night and never outrun your sled headlights.
See and be seen
Good judgment, depth perception, and quick reaction time depend on being able to see properly at all times.
On the snow, many factors can severely limit your ability to see properly, Slow down and keep right in reduced visibility situations like snow dust, sun glare, heavy falling snow, or when your visor or glasses are fogged up.
Always wear bright colours and reflective materials so others can see you more easily.
Ride with companions
Never snowmobile alone.
Riding buddies can provide immediate assistance for breakdowns, when getting stuck, or in emergency situations.
Always be prepared
Snowmobiling takes place in an unpredictable and uncontrolled natural setting, so each rider needs to expect the unexpected.
As snowmobiling can take you far away from emergency assistance, each rider must be prepared by carrying a tool kit, spare parts, flashlight, first-aid kit, and survival items such as high-energy food, fire-starting equipment, and a compass.
Know before you go: no ice is safe ice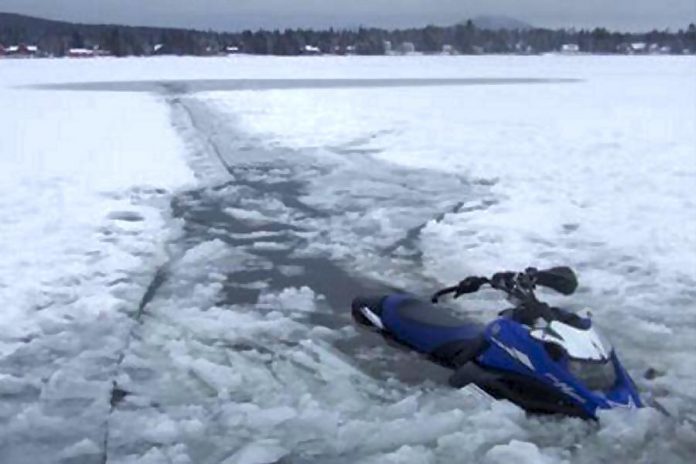 No ice is completely safe. Hypothermia or drowning from riding into open water or falling through the ice are serious risks, as are collisions with fixed objects such as docks, ice huts, or shorelines.
According to research from the Lifesaving Society of Ontario, most drowning victims in the winter are male snowmobilers and most incidents involve open water, ice holes, or thin ice. The Lifesaving Society has the following ice-safety advice for snowmobilers:
keep away from unfamiliar paths or unknown ice
avoid travelling on ice at night
if you must venture onto the ice, wear a thermal protection buoyant suit to increase your chances of survival if you fall through (if you don't have one, wear a lifejacket or PFD over an ordinary snowmobile suit or layered winter clothing)
avoid slushy ice, thawed ice that has recently refrozen, layered or rotten ice caused by sudden temperature changes, and ice near moving water like rivers
never go on the ice alone (a buddy may be able to rescue you or go for help if you get into difficulty
before you leave shore, inform someone of your destination and expected time of return
assemble a small personal safety kit to carry with you — including a lighter, waterproof matches, magnesium fire starter, pocketknife, compass, and whistle — and also carry ice picks, an ice staff, a rope, and a cellphone.
Avoid "road running"
While snowmobiling on the side of a public road is legal and necessary to access trails, you should always:
adjust your speed to the conditions
watch out for parked vehicles and motor vehicles emerging from driveways
always give motor vehicles the right of way
be extra cautious when approaching intersections
observe and respect all traffic signs
slow down wherever snow banks obstruct your view.
For more information about safe and responsible snowmobiling, visit the Ontario Ministry of Transportation website.
VIDEO: Snowmobiling Safety in Ontario