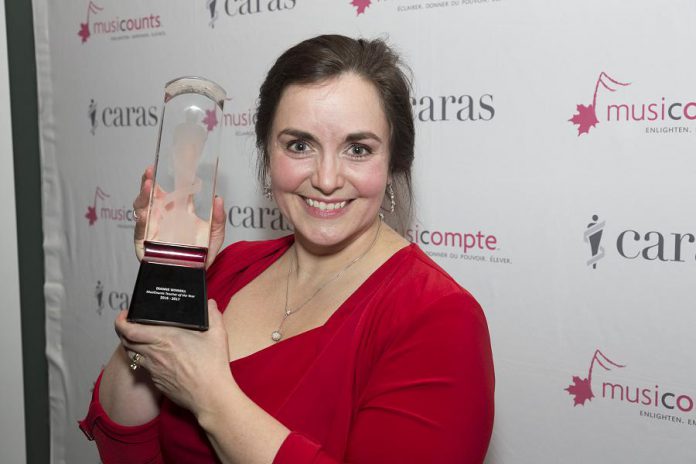 Dianne Winmill, a teacher at North Hastings High School in Bancroft, is the recipient of the 2017 MusiCounts Teacher of the Year Award.
Winmill was in Toronto last Wednesday (February 1) with several of her students to accept the annual award from MusicCounts, Canada's music education charity associated with Canadian Academy of Recording Arts and Sciences and the JUNO awards.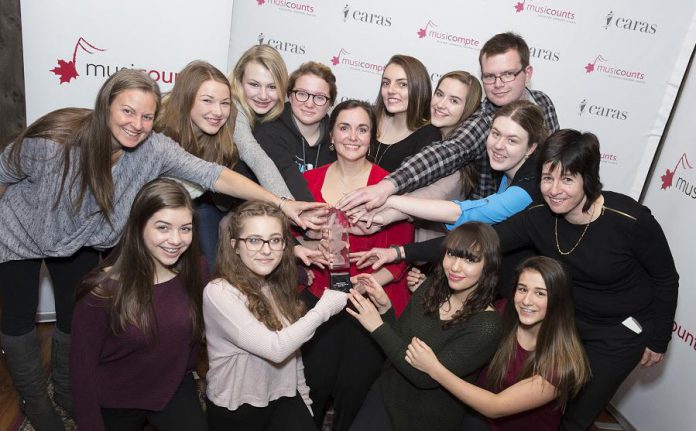 Members of Blue Rodeo, who are the sponsors of this year's award, surprised her by presenting the award in person. It was a special treat for Winmill, as Blue Rodeo is her favourite band.
"I feel completely blessed to be selected by MusicCounts for this remarkable award that recognizes music education across the country," Winmill said. "I would also like to thank Blue Rodeo for sponsoring the award. I am truly honoured and share this with all the music teachers who are making a difference."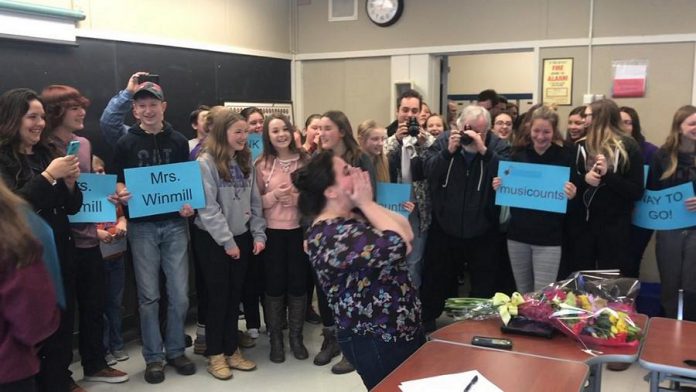 Winmill has been a music teacher for 20 years, with 16 years spent teaching at North Hastings High School. Her passion for music is demonstrated through her tireless work to promote music education in both her school and community. Winmill developed a first of its kind Royal Conservatory music program for her students, is involved in several community music organizations, and through her guidance the school band has also performed for numerous feeder schools and community groups.
As winner of the MusiCounts Teacher of the Year Award, Winmill receives a personal prize of $10,000, as well as a $10,000 contribution to the music program at North Hastings High School. She also receives an all-expenses-paid trip to the JUNO Awards, with VIP treatment during JUNO week (March 27 to April 2). She will attend the Chairman's Reception and the JUNO Gala Dinner and Awards and will walk the red carpet at the JUNO Awards Broadcast on Sunday, April 2nd in Ottawa.
Members of Blue Rodeo (Jim Cuddy, Bazil Donovan, and Colin Cripps) presented Winmill with the award. Following the presentation, her students had an exclusive opportunity to record in the band's Toronto studio.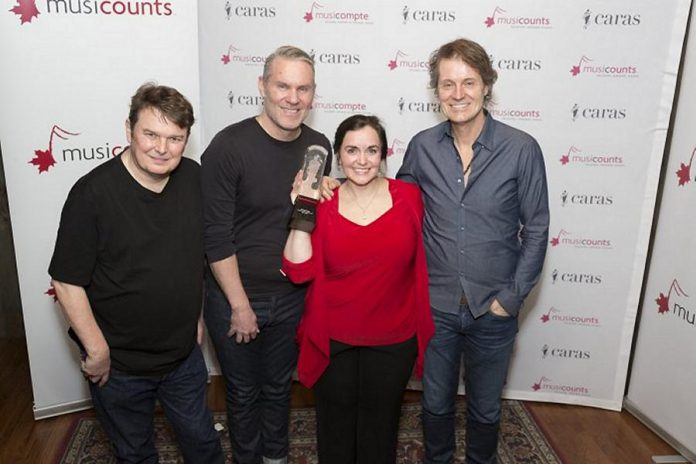 "We are thrilled to sponsor this award as teachers like Dianne do endless work to inspire their students and keep music alive in schools," Cuddy said. "That is very important to us."
"I think the value of music programs is immeasurable in the development of a young person's identity in being part of a community," added Cripps.
Each year, the MusiCounts Teacher of the Year Award is sponsored or presented by an artist. Past presenters have included The Rolling Stones, Michael Bublé, Céline Dion, Shania Twain, Tragically Hip, Anne Murray, Billy Talent, Johnny Reid, Gord Bamford and MAGIC!
"We are honoured to have an iconic band like Blue Rodeo sponsor this year's MusiCounts Teacher of the Year Award," said Kristy Fletcher, director of MusiCounts. "Music education was an important part of their lives, and Dianne's dedication to enhancing the lives of her students through music, both inside the classroom and out is truly inspiring."
VIDEO: Bancroft woman honoured as music teacher of the year (CTV Toronto)