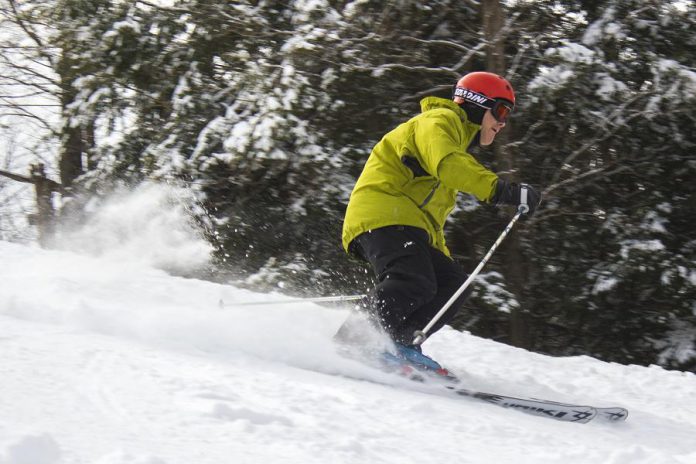 If you haven't been to Sir Sam's before — or you haven't visited yet this season — here are eight reasons why you'll want to make a family trip (or three) to Haliburton in 2017.
---
1. The best conditions for skiing and snowboarding in 51 years
Snow enthusiasts rejoice: Sir Sam's has seen some of the best and most consistent conditions since the Bishop family opened the family-friendly resort 51 years ago. The snow just keeps on coming!
In fact, the Bishops are so confident in this season's conditions they're now offering a weather guarantee: if you leave the resort before noon because of poor conditions, your next day at Sir Sam's is on them.
2. An improved ski and snowboard cross track
VIDEO: Snowboard SkiCross

For over 17 years, Sir Sam's has been home to the only permanent ski and snowboard cross track in Ontario — and they've improved it again for 2017.
This year's course is 25 percent longer than last year's, with a higher start gate and a faster drop-in. New routing for the bottom half of the course include a giant, banked sweeper. There's also an increased number of turns, bumps, and rollers, and the course is faster.
When it's not reserved for races, the cross track is open to anyone who would like to use it. While the track is challenging for experienced racers, it's easy enough for beginners too.
3. Learn how to ski and snowboard (or to do it better)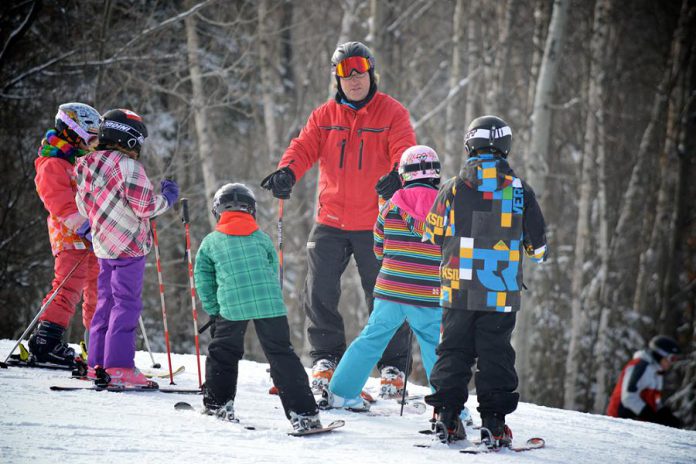 It doesn't matter where you're a snow sports newbie or you own the slopes, Sir Sam's offers instruction in skiing and snowboarding for every member of the family, from tots to teenagers to adults.
All of Sir Sam's instruction programs focus on skills development, safety, and increasing the comfort of guests while they ski or snow board at Sir Sam's — or on any hill.
March Break camps are available both for kids and adults, as well as "Discover" lessons for those who've never skied or snowboarded before (or need a refresher). Private lessons are also available.
Visit sirsams.com for a list of all the available instructional programs and prices.
4. Parents and kids love The Time Tunnel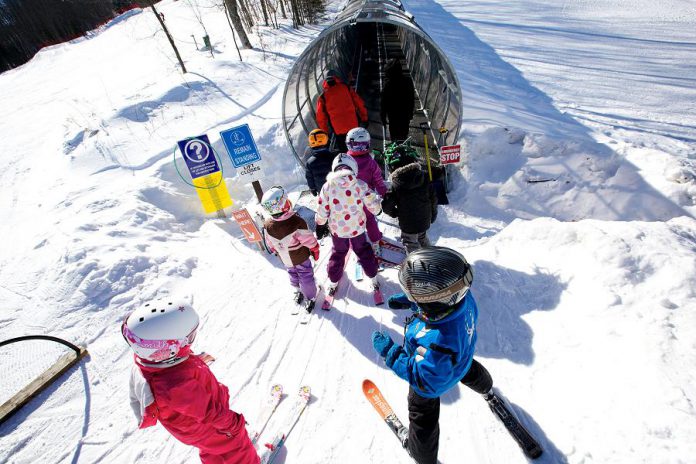 Sir Sam's covered ski lift, dubbed "The Time Tunnel", is the first of its kind in Canada.
Made from durable plexiglass, the 1,110-foot conveyor-belt-style lift carries skiers and snowboarders to the top of the hill, protecting them from the elements.
Parents who are anxious about their new skier using a chair lift will like the peace of mind the climate-controlled and totally enclosed lift provides. Upping the fun factor is the music piped into the lift!
5. Tons of events and activities for the entire family
As Sir Sam's is a family-friendly resort, there are lots of activities for the entire family. Here's what's coming up:
Algonquin Outfitters Demo Day – Saturday, February 18
This is a great chance to try out some new skis, and take advantage of special deals on gear. Popcorn and candy floss will be available for the kids.
Family Day Weekend – Saturday, February 18 to Monday, February 20
There'll be plenty of activities over the Family Day long weekend at Sir Sam's. Visit sirsams.com for details.
Sir Sam's Ski Challenge – Sunday, February 19, Sunday, February 26, and Saturday, March 4
This exciting family-friendly racing event continues on Sunday afternoons in February, wrapping up with the Ski Challenge Final on Saturday, March 4th, where one lucky winner will walk away with $1,000!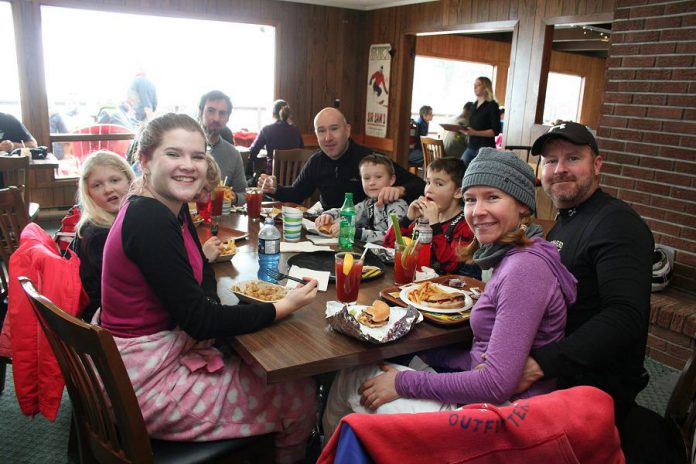 Ladies' Day – Friday, February 24
This ladies-only event features a day of skiing, racing, indoor games, great food and camaraderie. Set to the theme of "Heroines & Villains", you choose your side and dress to save the day or to take over the world. Prizes for the day will be awarded at 7 p.m. The $150 per person fee includes lift ticket, rentals, breakfast, lunch, and dinner. Please book in advance.
March Break at Sir Sam's – Friday, March 10 to Sunday, March 19
Sir Sam's will be offering a full week of events and activities, camps for kids and adults, and special deals to make your March Break memorable. Visit sirsams.com for details.
Spring Splash 2017 – Saturday, March 25
Say goodbye to winter and welcome spring by skiing over open water! This event also features an après dinner and dance and prizes for best costumes. The cost is $45 per person for the dinner and dance (please book in advance).
For details about all these events and to book, visit Sir Sam's website at www.sirsams.com.
6. Check the conditions before you make the drive to Haliburton
Want to see what conditions are like at Sir Sam's right now? Check out their two popular hill cams!
HILL CAM: Time Tunnel

HILL CAM: Time Tunnel

7. Affordable rates for families, seniors, and groups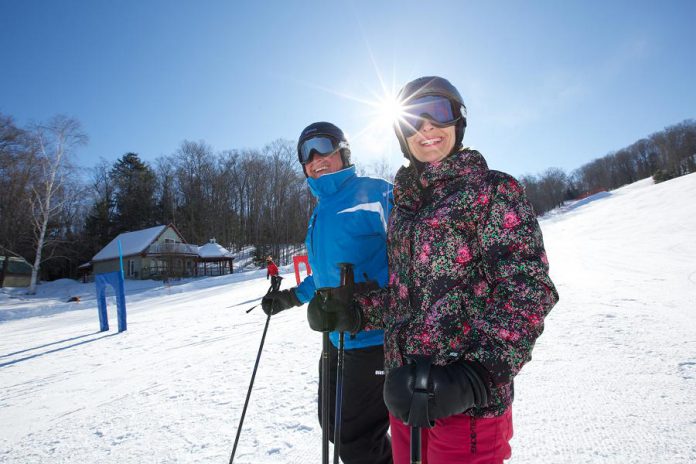 Sir Sam's wants to make family fun affordable by offering special discounts, including:
Daily lift tickets for families (two adults and up to three children under 19) are only $199 on weekends and $105 on weekdays (not including holidays).
The Sunday Special allows you to ski or snowboard from 12:30 to 4:30 p.m. for $30 for lift tickets and $15 for rentals, taxes included.
Reduced rates for seniors (60 years or older).
Reduced rates for school groups and corporate groups.
For a full list of rates, including daily lift tickets, season passes, eight-pack lift tickets, and special packages, visit sirsams.com.
8. Win a free family pass to Sir Sam's!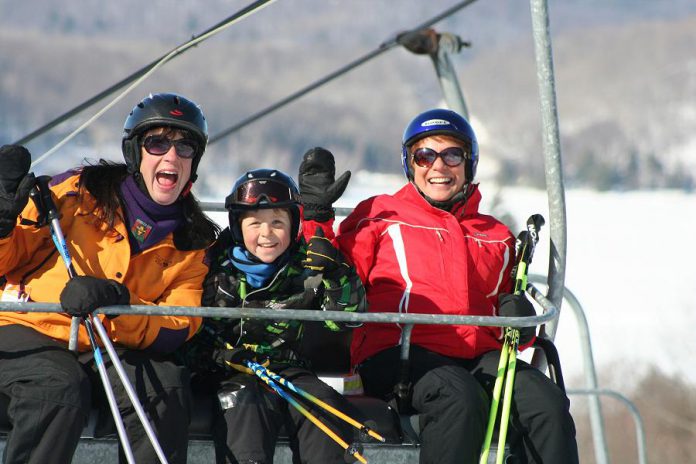 Courtesy of Sir Sam's, kawarthaNOW is running a contest where you can win a one-day family pass to Sir Sam's! The pass includes trail and lift passes, rental equipment, lessons, and lunch for a family of five — a value of $500!
Entering is easy: just sign up for kawarthaNOW's weekly VIP e-news. All VIP readers will be eligible for the contest.
All photos courtesy of Sir Sam's.