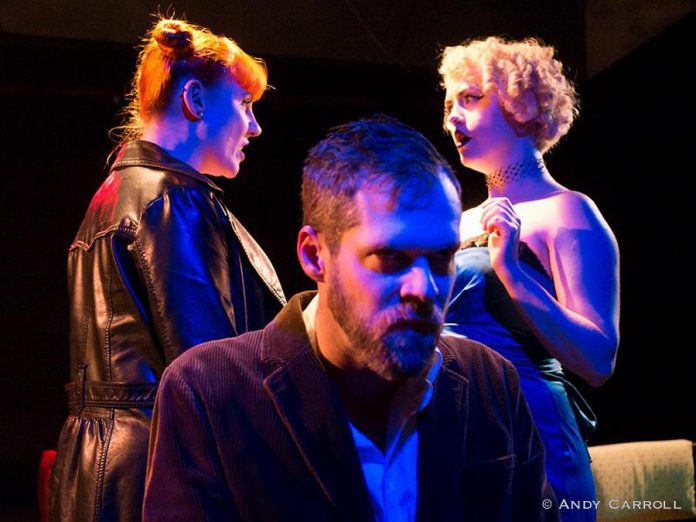 Originally scheduled for December 2016, The Theatre on King's (TTOK) production of Jean-Paul Sartre's existential classic No Exit finally hits the stage on Thursday, February 23rd.
Directed by Ryan Kerr with assistance from Simon Turner, No Exit was months in the making — but the wait was well worth it.
The best known literary work of the French philosopher, No Exit first made its debut in Paris in 1944. The play was the source of Sartre's most famous quote "L'enfer, c'est les autres", which roughly translates to "Hell is other people."
The one act play revolves around three characters: Joseph Garcin (Derek Bell), Inès Serrano (Nikki Weatherdon), and Estelle Rigault (Quinn Ferentzy). A coward, a seductress, and a murderer, the three recently deceased souls find themselves damned in hell. But instead of the fire and brimstone and torture they were expecting, they are locked together in an elegant room with nothing but each other's company.
While awaiting their fate, the characters are able to see the people they left behind and eventually reveal to one another their sordid stories and the reasons they ended up in this place. As their conversation continues, different dynamics between the characters emerge, from lust and desire to disgust and hatred. Eventually the trio realizes just why they have been bundled together, and discover that the banality of their final fate is crueler than any sadistic torture chamber could offer.
There is much to love about TTOK's No Exit, but what really makes the show is the wonderful cast assembled for the production. As Ryan Kerr pointed out to me, while many of the people involved in the show are known throughout the Peterborough artist community, for the most part this is the first time the majority of them have appeared in the TTOK space.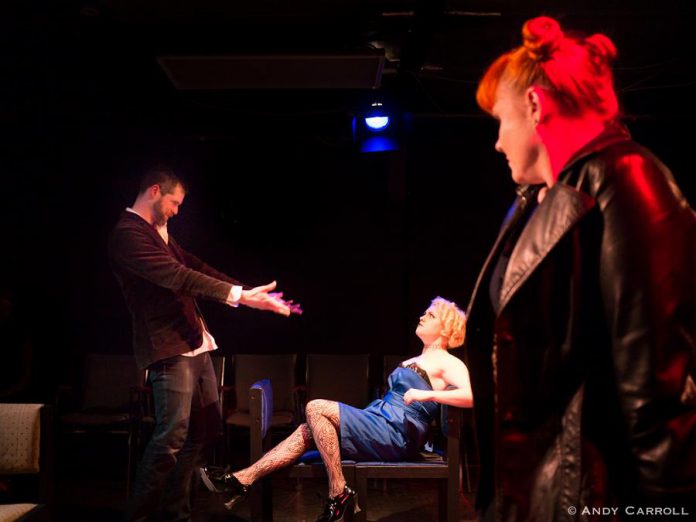 Derek, Nikki, and Quinn play beautifully off of each other. Through a combination of lust and disgust for one another, the characters break each other down and expose their inner demons. The result is a show about the confessions and mind games of three truly terrible souls, but ones that are captivating enough to make you want to watch.
Derek Bell gives an interesting performance as Joseph Garcin. Emotional and proud, there is also a sense of pathos to the character who, even in hell, tries to find validation of the life he left behind. It's hard to like Garcin, but Derek manages to give the character such a tragic disposition that he becomes the figure that the audience most empathizes with, thus making him the anchor of the performance.
Nikki Weatherdon plays Garcin's foil Inès as a hostile and abrasive ball of darkness, who prods and needles Garcin at every turn. The scariest member of the trio, Inès is also the strongest, and her constant attempts to seduce Estelle gives the performance some nice moments of eroticism. Nikki is just delicious to watch.
But it is Quinn Ferentzy who steals the show as Estelle. In her stage debut, Quinn shines bright white under the lights and beautifully plays off her two co-stars. Potentially the most complex and bleakest of the three characters, Estelle is the personification of evil and desire, with both Joseph and Inès feeding into the lust that she creates.
But what is most disturbing about Estelle is the fact that, while her co-prisoners seem to have different degrees of remorse for their crimes, she is completely indifferent to everything and everybody, both in her current situation and her past life. Quinn beautifully portrays a sociopath in a fantastic debut performance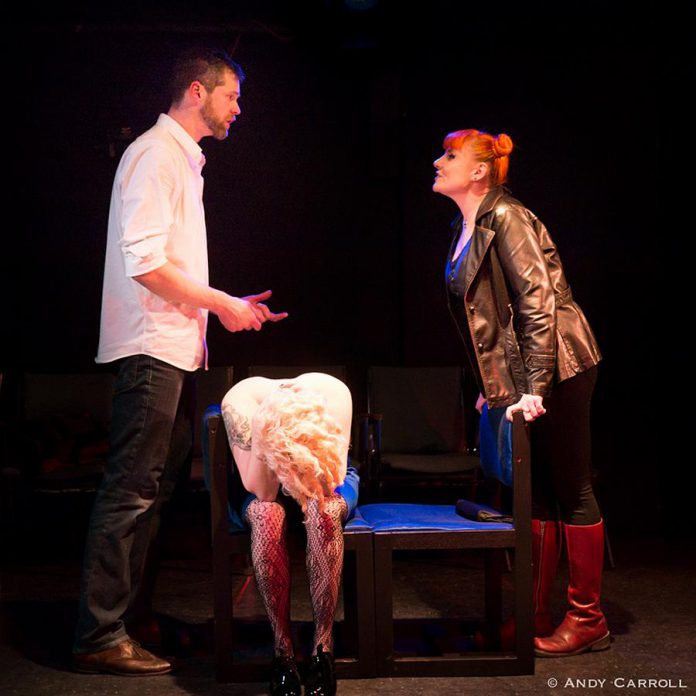 I want to give a special shout out to the fourth member of the production, Jean Francois Tremblay, who has the small role of "the valet" in the show's opening moments. A familiar face within the local theatrical community, in recent years Jean-Francois has stayed off the stage working within promotion and stage management. No Exit is not only the first time that Jean-Francois has worked at TTOK, but it's his first return to the stage since 2014.
It's such a joy to see Jean-Francois back on stage and he is sardonic and wickedly funny in the role. Although a small role, it is a standout performance. Hopefully Jean-Francois won't wait so long to get on the stage again.
While No Exit is cerebral in nature, the ideas and concepts expressed in the play — life, death, lust, regret, morality, and evil — are not so complex that the audience can't comprehend or relate to the material. It's brilliant, yet still accessible. Furthermore, Sartre's commentary on hell is interesting, and makes us ponder if perhaps we are living in hell already.
As a result, No Exit is just good theatre and the kind of show that makes TTOK such an important theatrical institution. With a lot of choice for entertainment in Peterborough this weekend, make this show a priority as No Exit runs for only three nights, Thursday, February 23rd to Saturday, February 25th. Performances begin at 8 p.m. and tickets are $10 at the door (or pay what you can).