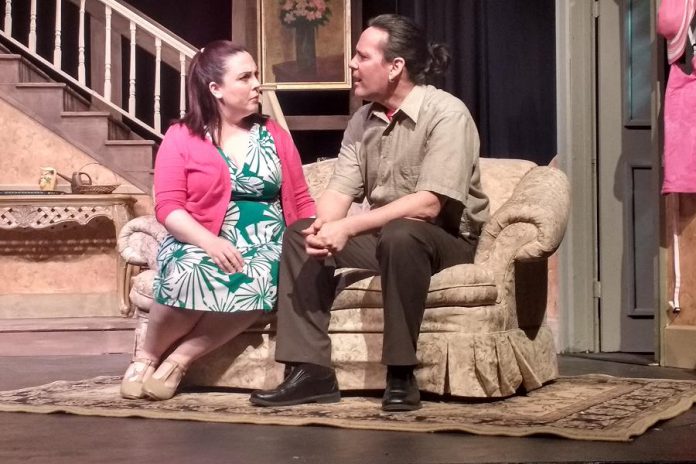 I've often noted that this year has been one of the boldest and most unusual seasons for the Peterborough Theatre Guild. In comparison to the usual Guild fare, the shows they have picked have been out of the ordinary.
In A Life Before, running from Feburary 24th to March 11th, director Robert Ainsworth pushes unusual past 10 and up to 11.

This year's Guild entry for the Eastern Ontario Drama League Festival, A Life Before is an play written by Ainsworth and making its debut on the Guild stage. A good-natured supernatural thriller about past lives, A Life Before is filled with mystery, melodrama, and a few well-placed chills.
When Noah (Derek Weatherdon) and his new bride Sarah (Natalie Dorsett) returns to his childhood home for a temporary stay, not only does Noah's past catch up with him, but so does somebody else's. After Noah is plagued by nightmares and flashbacks about a life that he never lived, his mother Carol (Jacquie Butler) reveals that as a child Noah claimed he had lived another life before as a boy named Jeffrey.
With the help of an eccentric psychiatrist friend named Mason (Keith Goranson), Noah begins to discover another reality beyond his own. However, when Noah's paths cross with a lonely elderly woman named Anna (Linda Driscoll), the pieces of his past life begin to fall into place, solving a decades old mystery and revealing the truth about the sinister "Jigsaw Man" who haunts Noah's dreams.
A Life Before is a compelling original show that will keep the audience on the edge of its seat. While the mystery itself is at times predictable, it never really matters: the story is so engaging and the characters so likeable that the audience becomes invested in the characters' journey. The result is an intriguing tale of reincarnation, past lives, and the joining of two families — one from the present and another from the past — that are looking for answers about the mysterious Jeffrey.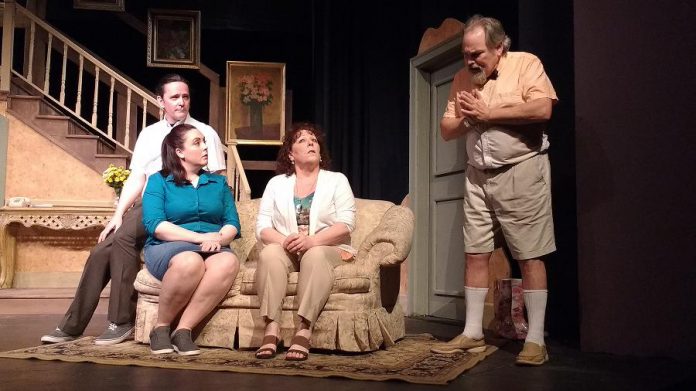 The strength of A Life Before isn't just the well-crafted story, but also the individual quirks that make the characters so real.
Derek Weatherdon gives a multi-dimensional performance as Noah, who puts on a series of different faces and emotions as his past lives haunt him. Somewhat goofy and often confused in the role of Noah, Derek can switch off the normal and transfer over to scary at breakneck speed. By changing his posture, his face, and his voice, Derek's transformation into Jeffrey is very effective, creating instant goosebumps for those watching. This is a juicy role for a good actor, and Derek is fantastic as the centre of this production.
But Derek is also lucky to have a talented cast of supporting co-stars to work along, including Natalie Dorsett as his upbeat and supportive wife, Jacquie Butler as his cynical and overbearing mother, and Keith Gorman as an over-the-top cheese-puff-eating psychiatrist. Each of these characters brings his and her own charm to the show, as well as providing key support for Derek.
But the real emotional twist comes when Linda Driscoll, in the role of Anna, joins the story near the end of the first act. I don't want to give much away about her character or role in the play, but once she joins the rest of the cast, both the mystery and the heart of the show come together. Linda gives a strong performance and the scenes where she interacts with Derek are among the best.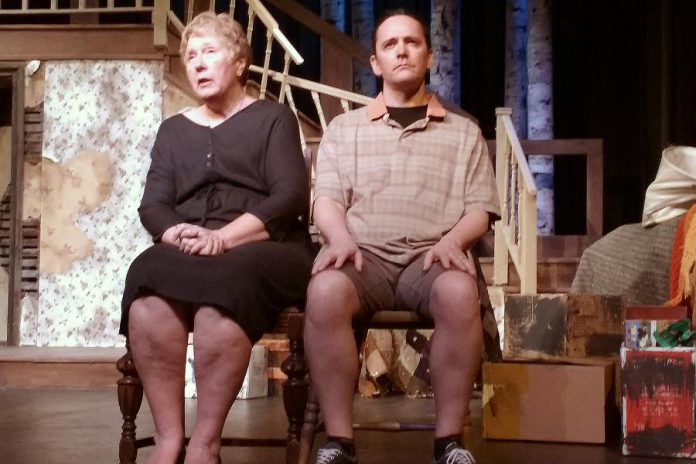 I also want to give mention to the very elaborate and functional set created by Carolyn Boyer. In the first act, it becomes a stylish living room/dining room combination with grand paintings and multiple levels. However, in the second act the very same set comes apart to double as the ruins of an old homestead. It is a fascinating set piece — a true work of art itself. Paired with some eerie soundscapes created by Andy Duncan, and the second act takes an eerie turn.
Although A Life Before isn't the typical show audiences are used to from the Guild, it should become an instant crowd pleaser. While the mystery and subject matter may challenge some audience members, the show has a friendly charm throughout. The heart of the play is a well-told story of two souls living within one man.
A fantastic show with a wonderful cast, I am sure that A Life Before will bring Robert Ainsworth much success, and the show is completely buzz worthy. No matter how well it does when it's adjudicated for the Eastern Ontario Drama League Festival on March 10th, in my book A Life Before is a winner.
If you have an interest in the supernatural, or are just looking for something a bit different A Life Before is a show you'll want to see. The play runs from February 24th to March 11th at the Peterborough Theatre Guild at 364 Rogers St. in Peterborough. Tickets are $20 for adults, $18 for seniors, and $11 for students, available at the Guild box office.