Candy Palmater has been called a squaw and a half breed; she's been sidelined in the Roman Catholic church; and, she's been told to give up: "people like you don't do well at university," she was told by a high school guidance counsellor.
She's also fought the gender-equality battle — and won — in almost as many corners as she has years to her name.
On Wednesday morning (March 8), the 48-year-old comedian and inspirational speaker led 150 women through alternating tears and laughter to a realization that each was capable of overcoming great obstacles and of creating meaningful change.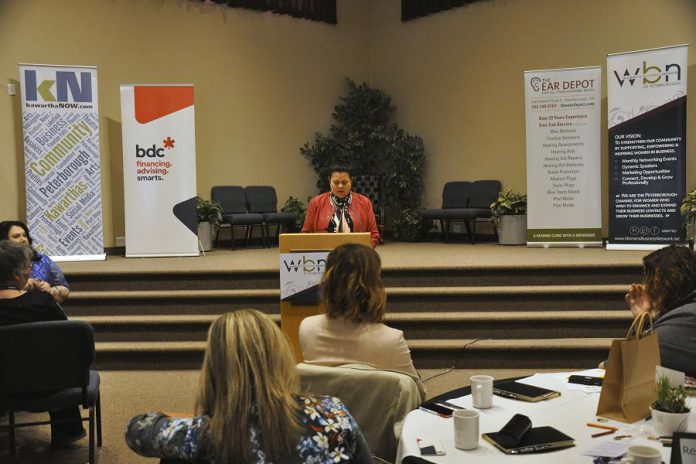 And the prescription was as simple as it is complex: love yourself.
Develop a "love affair" with yourself, Palmater told the sold-out crowd at Peterborough's inaugural International Women's Day Conference.
"When you really develop that love for yourself — and it's a hard road, you have to work at it — there's this secret, and I wish women and girls would believe this: when you really love yourself, people can see what you feel."
That form of self-confidence is exactly what the women gathered in the Ashburnham Reception Centre were eager to grow on International Women's Day. Not because they want to advance their careers, or further their pay cheques, but because they want to feel independent, strong, equal, and solid. To them, that's success.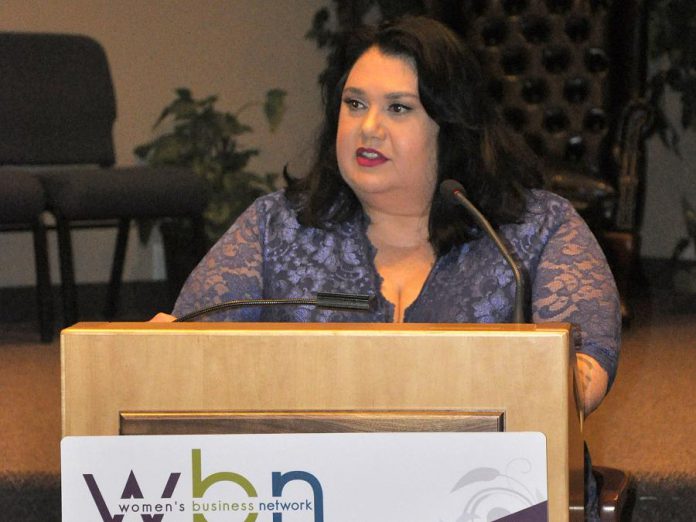 Hosted by the Peterborough Women's Business Network, the conference was geared to inspire, empower, and equip women to become just that.
As Palmater sat on a stool at the front of the room in a shiny royal blue dress, her presence was palpable, her humour edgy yet gentle and playful, and her message clear: if you don't think of yourself as a miracle, a precious gift with something to offer, you should.
It is up to women of this generation, Palmater encouraged, to ensure there is no more servitude by women in the future, or in other parts of the world.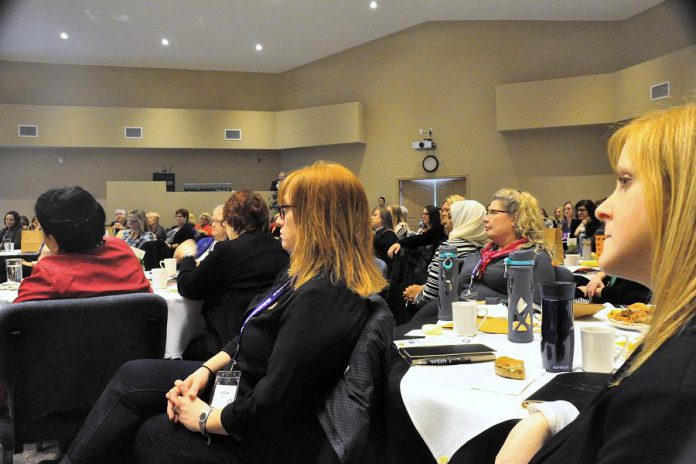 Palmater told her life story, beginning with her first five years as an adored child of a timid, loving white mother and a recovered alcoholic, mysoginistic aboriginal father. The impoverished family had retreated to a house in the woods where they sold Harley Davidsons.
Palmater's first five years were idyllic, she says, but the fairy tale ended five years later, when she went to school.
"It was a constant struggle about fairness," she said, from playing baseball (not softball) to serving mass with the altar boys. "To me, it was always about even-stevens, or fairsies. If I could play as well as most of the boys, why couldn't I play?"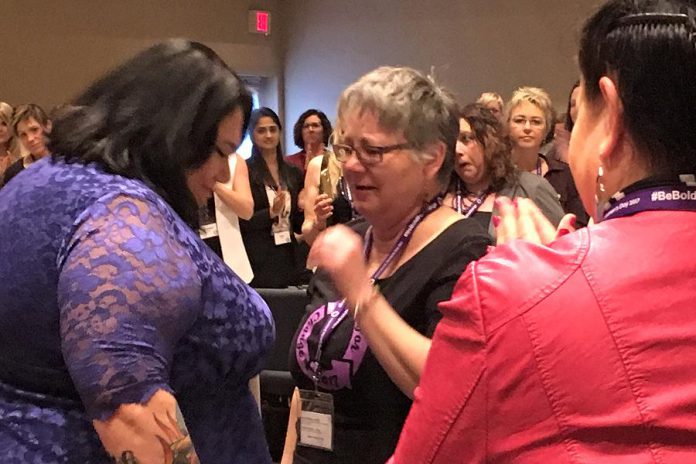 She won most of her battles, and eventually turned the heart of her dying father, who, in the end, was able to see how his daughter was helping the cause of all women, and how that was a good thing.
She entered law school, was valedictorian of her class, joined a corporate law firm, then abruptly left that job to become a comedian. And, she succeeded at that too. The Candy Show ran a successful five seasons on CBC Television.
"Look in the mirror, and look deep into your own eyes," she told the women in the audience. "Only you know what your true passion is. Only you know that fire that burns inside and how hard you will work for it.
"I try every day of my life to move closer to be that person I was meant to be. I forgive myself when I make mistakes. The mistakes are meant to be."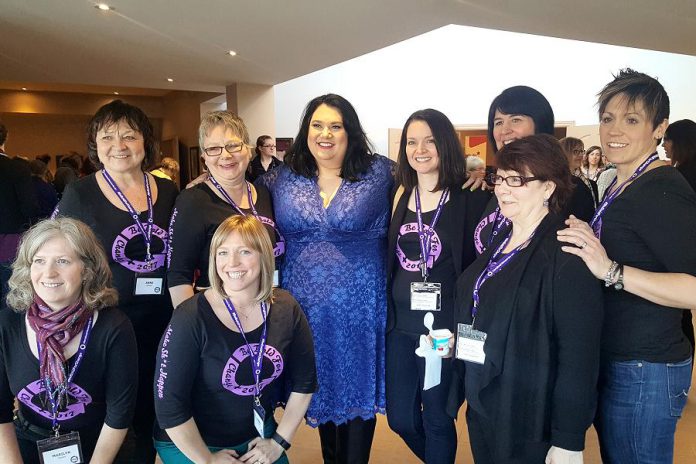 Palmater's audience was captivated, some wiping tears amidst the smiles.
"I think I'm most struck by her passion for fairness," said Peggy Pettifer-Jones, of Christian Horizons, who attended the conference with others from that organization. "And how we must stand up for fairness. That's the important message."
Barb Hinsberger-Fox of Agilec also attended with colleagues.
"I like the way she talked about fairsies and taking action," she said. "Take action, don't just complain and whine."
After Palmater's morning keynote, the International Women's Day Conference continued for the remainder of the day, with three concurrent morning workshops, an afternoon keynote from career coach Sarah Vermunt, three more afternoon workshops, and a closing keynote from Peterborough performer Linda Kash.