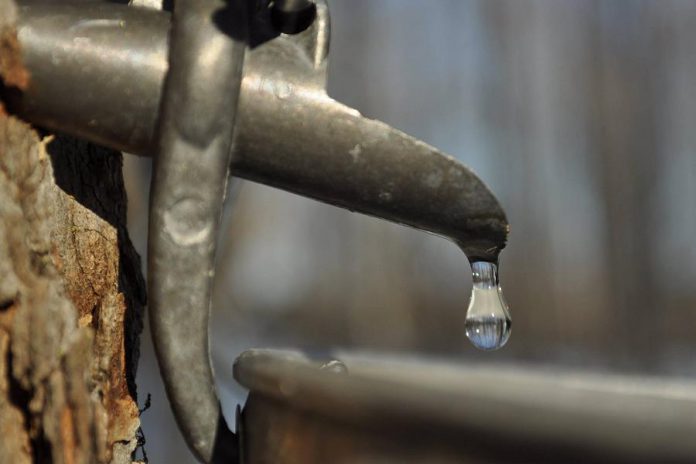 ---
B.O.S.S. Business Owners Sharing Solutions – March 30th
Jeannine Taylor, Publisher at kawarthaNOW.com, will speak with a panel of Chamber members who will share practical tips and strategies for websites and effectively using social media for business.
Jeannine has owned and operated kawarthaNOW.com since 1996. With 200,000+ unique monthly readers and a minimum of 300,000 weekly impressions on social media platforms, kawarthaNOW.com has a proven track record of internet success!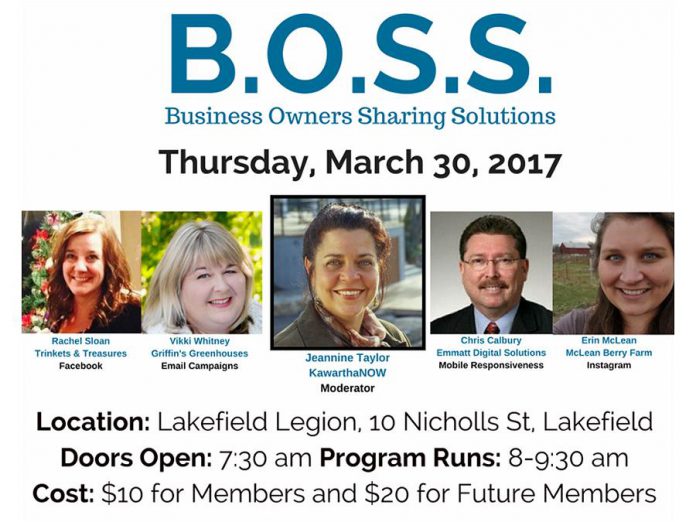 Save the date: Chamber Volunteer Appreciation Breakfast
Available Space: Partnership Opportunity – Lakefield Intermediate School

The Kawartha Pine Ridge District School Board had previously made it known that it was their intent to demolish the Intermediate Wing of LDISS. After discussions with the Kawartha Chamber of Commerce & Tourism, they have extended the deadline for expressions of interest from potential tenants.
If you are interested in obtaining more information regarding this Facility Partnership please contact Greg Kidd at KPR DSB (Greg_Kidd@kprdsb.ca). If you are comfortable doing so, a confidential message to the Kawartha Chamber's General Manager (generalmanager@kawarthachamber.ca) would also be appreciated — particularly so if you are looking for partner/s with whom to share the space.
Parties interested in this opportunity would need to submit a firm expression of interest in writing by March 24th, 2017, with resolution agreement by March 31st, 2017.
Government of Ontario Announces New Energy Strategy: Ontario's Fair Hydro Plan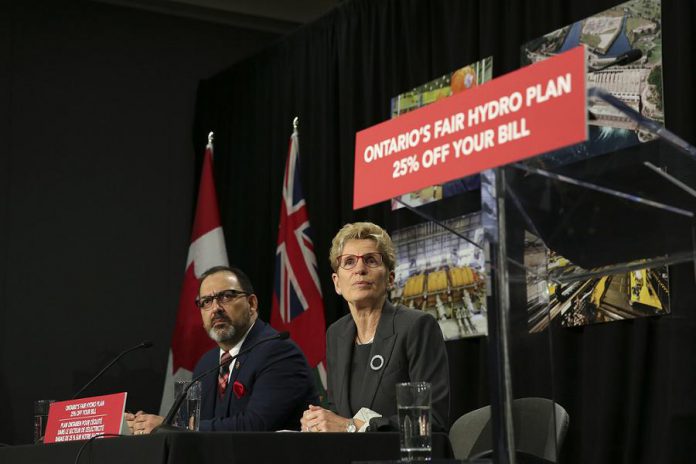 The Government of Ontario responded to the Ontario Chamber of Commerce's (OCC) call to support the growth of the provincial economy through the reduction of electricity rates.
The Fair Hydro Plan will seek to mitigate the rising cost of electricity in Ontario. Expected to take affect in summer 2017, the Plan will provide an approximate savings of 17% (25% when including the previously announced 8% HST rebate) to consumer's hydro bills.
Ontario's Fair Hydro Plan will also link future rate increases to the rate of inflation over the next four years and provide further rate relief to the province's most vulnerable citizens.
2016 Census Population and Dwelling Counts
The first dataset from the 2016 Census was released on February 8. You can find all the census highlight tables at www.statcan.gc.ca. In addition, there are tools to help you start generating portraits of your community.
Two short Census in Brief articles focus on aspects of these counts that are relevant from a public policy perspective:
Buckhorn Maplefest Begins This Weekend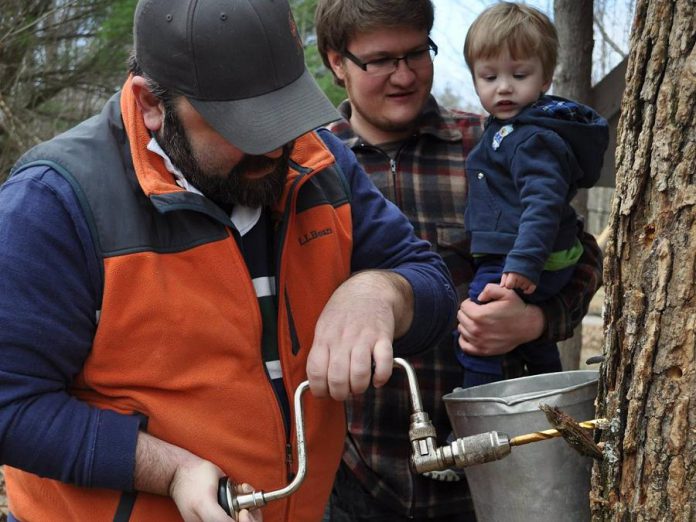 Buckhorn Maplefest begins this weekend at McLean Berry Farm, and runs every weekend this month from 9:30 a.m. to 4 p.m. (March 11th and 12th, 18th and 19th, 25th and 26th).
Admission is $7 per person or $25 for a family of four. No charge for children under two.
There is nothing quite as sweet as springtime and Buckhorn Maplefest proves this every year! Enjoy fun activities for the entire family. Go on a wagon ride, eat delicious pancakes with fresh maple syrup or see how the sweet stuff is made, there is something for everyone!
Peterborough Economic Development Announces Starter Company Plus
On Sunday, March 5th, Peterborough Economic Development launched Starter Company Plus, a new program funded by the Government of Ontario to support entrepreneurs as they start and expand their business in Peterborough & the Kawarthas.
The new Starter Company Plus will support all entrepreneurs over 18 who are out of school looking to pursue full-time entrepreneurship. This program has been designed to support business start-ups and expansions for companies under 5 years old.
Member to member deal: WSI Complimentary Internet Business Analysis
How is business? What's driving the most sales, producing the most success? How do you compare to your competitors? How do your clients find you? Where do you spend your marketing dollars with what kind of return on your investment?
Peter Thomas of WSI Business Transformations (266 Charlotte St., Suite #408, Peterborough, 705-974-2068, peter@wsibusinesstransformations.com) is offering a Complimentary Internet Business Analysis. Learn more.
Welcome new members
CMRK.NETworks
www.facebook.com/CMRKNETworks, 1384 Yankee Line, Unit 2, Ennismore, 705-536-0769
CMRK.NETworks is a local company that can service most alarms on the market, from installing new door contacts to new motion sensors. We also do CCTV service and installs from older Analog systems to new IP systems. Our Monitoring stations are top notch and can provide service via phone line, internet connection or cell service! We can also offer a number of other services that you might need!
Dr. Catherine Kirk Family Chiropractic
www.facebook.com/dr.kirkchiro, 157 Queen Street, Lakefield, 705-652-8009
Dr. Catherine Kirk's Family Chiropractic has been offering gentle wellness chiropractic care for patients from infancy to the elderly to optimize health at all ages for over 23 years. Currently offering 50% off initial consultations for all new and returning patients until April 30th, 2017. Located on Queen Street in Lakefield, next to Lakefield Vision Care, open Tuesday to Thursday.
Fire in the Sky Productions
www.facebook.com/fireintheskyproductions, 1384 Yankee Line, Unit 2, Ennismore, 705-536-0769
Fire in the Sky Productions in located in Ennismore and operated by Richard Szjkowski, his wife Charlotte, and daughter Crystal. They started their retail consumer fireworks business in the summer of 2013. Fire in the Sky Productions has done special effects for Peterborough Theatre Guild and for 4th Line Theatre. The family has also worked on shows such as Canada Day for Peel Police, New Year's for the Town of London, the Lakefield Campground, and PolarFest.
Kenwood Drafting & Design
379 Cosh's Road, Bobcaygeon, 705-341-1948, kenwood.drafting@gmail.com
For over 20 years, Michele Kennedy has been making dreams come true for her clients. Michele provides architectural design and drafting services to her clients who come to her from all over the world. With certification for both residential and commercial design (including the Ontario mandated BCIN registration), Michele is able to work with a variety of clients for custom homes, cottages and renovations as well as a vast array of businesses.
Law Office of Graciela D. Cubias
cubiaslaw.ca, 10020 Highway 28, Unit 5, Apsley, 705-872-4100
Graciela practices primarily in the areas of residential and commercial Real Estate, Wills & Estates, Corporate Law, and Litigation. She utilizes her wealth of experience, sincerity, and confidence when representing her clients. She actively participates in Continuing Learning Education seminars thereby staying in tune with developments in the field. In turn, she enjoys being able to bring that knowledge to others and has held learning seminars for the public and other professionals.
Upcoming Events
Free Income Tax Clinic – March 16th
March for Meals at Community Care – March 22nd
Performing Arts Lakefield: Micah Barnes' New York Stories – March 24th
For more information about the businesses and events listed above, please visit the Kawartha Chamber of Commerce & Tourism website at kawarthachamber.ca.
All photos supplied by Kawartha Chamber of Commerce except where noted.