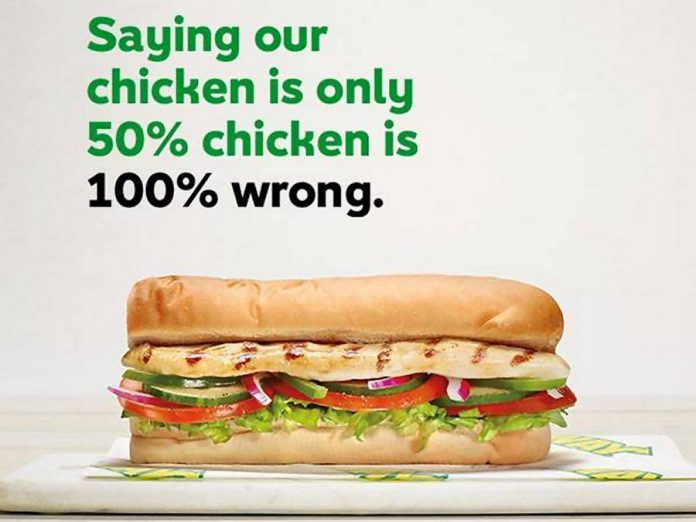 Trent University in Peterborough is standing behind its Wildlife Forensic DNA Laboratory, following criticism from fast-food chain Subway and skepticism from some food scientists.
The Canadian Broadcasting Corporation's Marketplace news program contracted the lab to complete DNA analysis on chicken samples from various fast-food chains.
On chicken samples tested from Subway, the lab's results showed significant amounts of soy DNA, in some cases more than 50 percent. Samples from other fast-food chains, including McDonald's and Tim Hortons, did not show high levels of non-chicken DNA.
After the CBC February report went viral, with international headlines like "Subway sandwiches only contain 50% real chicken", Subway's president and CEO Suzanne Creco, issued a statement rejecting the findings.
"The stunningly flawed test by Marketplace is a tremendous disservice to our customers," Greco said. "Our customers can have confidence in our food. The allegation that our chicken is only 50 per cent chicken is 100 per cent wrong."
Subway has since released the results of two independent tests conducted at Maxxam Analytics in Ontario and Elisa Technologies, Inc. in Florida. The tests used enzyme-linked immunosorbent assays, a technique commonly used in the food industry to detect potential food allergens.
The Maxxam testing detected 5.3 parts per million of soy proteins in the chicken, under one percent, and the Elisa testing detected 3 parts per million of soy protein, also under one percent.
VIDEO: The chicken challenge: Testing your fast food – CBC Marketplace
Some food scientists have also expressed skepticism about the Marketplace results.
Ars Technica contacted Mary Ellen Camire, a professor of food science and human nutrition at the University of Maine who is also the former president of the Institute of Food Technologists (a nonprofit scientific society of food scientists).
Camire questioned the CBC's choice to use a DNA test from a lab not specializing in food science, saying that food scientists don't typically use DNA analysis.
Ars Technica also contacted Joseph Marcy, the head of the food science and technology department at Virginia Polytechnic Institute and State University. Marcy told Ars Technica it is "ususual" to use DNA testing, adding "I just don't have a lot of confidence in the way that the testing was done."
In a news release issued today (March 7), Trent University defended the lab's results, stating that the testing CBC contracted the lab to perform "is characteristic of many forensic DNA tests the laboratory is well-known for undertaking under contract for clients, law enforcement, courts and organizations internationally."
"At Trent we are proud to champion independent research," states Dr. Leo Groarke, president and vice-chancellor at Trent University. "Defending good science is one of the key roles of universities in society. We are proud of the work of our Wildlife Forensic DNA Laboratory, its faculty and staff. It is important to stand up for sound scientific findings, particularly when they are unpopular."
"The Wildlife Forensic DNA Laboratory at Trent University has earned a prominent international reputation for its outstanding work in the field of DNA forensics," adds Dr. Neil Emery, vice-president of Research and Innovation at Trent. "The University stands by the quality of the DNA Laboratory, its professors, scientists and technicians who do important work and contribute to the advancement of DNA testing techniques. This includes expertise in meat identification and involvement with over 750 forensic cases."
According to Trent University, the DNA Lab — which is part of the Natural Resources DNA Profiling & Forensic Centre — has contributed to many well-known tests and cases, many of which have made media headlines.